Jharkhand to get first tribal theme park
Theme park 'an ambitious project to exhibit the lifestyle, art, culture and craft practised by different tribal groups'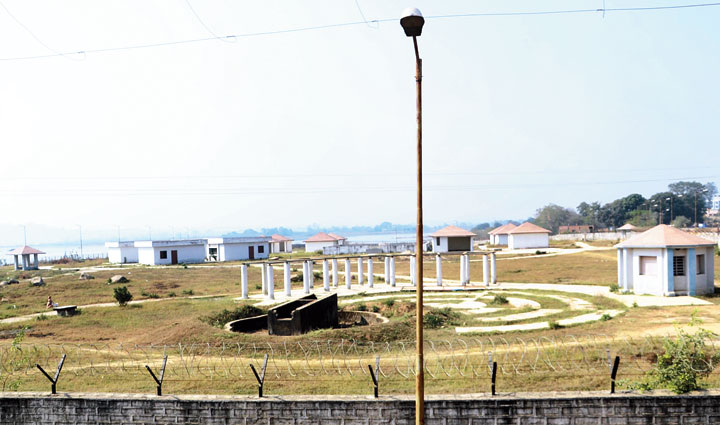 The Hatia Dam park at Dhurwa in Ranchi.
Telegraph picture
---
Ranchi
|
Published 24.01.20, 06:32 PM
|
---
Jharkhand's first tribal theme park will come at Hatia Dam Park in Dhurwa, around 15km from the state capital, senior officials said.
The state tourism department has decided to set up the tribal theme park under public private partnership mode at the over-5-acre park that currently has only food kiosks, slides for children, benches for the elderly, and walking trails.
The theme park that will come up "is an ambitious project to exhibit the lifestyle, art, culture and craft practised by different tribal groups in the state of Jharkhand," state tourism director Sanjeev Kumar Besra said. "We would like to invite private agency with rich credentials in architecture for the project at the existing park in Dhurwa. We are keen to complete the project as soon as possible after selection of an agency."
The tourism department had invested over Rs 2.5 crore to build the existing park in Dhurwa. However, lack of maintenance has led to damage of the park infrastructure.
"The private agency will not only create infrastructure themed on tribal lifestyle at the park but would also ensure operation and maintenance of the facilities for a specific period and pay an annual amount to the state tourism department," said tourism deputy director Bidyanand Sharma. "The park will display — apart from tribal arts and craft — tribal medicine, cuisines and have live performance of folk dances and songs."
The park will also have live demo for making mahua wine, lac bangles, painting (Sohrai), fashion show for tribal textiles and exhibits on traditional huts and weapons along with performances by tribal musicians and dancers. There will be a heritage collection of silk and cotton sarees and dress materials made by tribal artists, bags, grass-made mat and coir collection.
"It would be a unique experience as people can see the richness of tribal arts, culture and lifestyle," said deputy director Sharma.
Senior officials in the tourism department said they would be selecting the project management consultancy by the end of February and a period of six months is expected for sanction of the detailed project report from the state building construction corporation. After sanction of the building construction wing, the work order would be issued to the private agency.
"We hope that the project would be ready with completion of construction work by early 2021. Though it is at a preliminary stage but the cost would not be less than Rs 20 crore," said a senior official in the tourism department.
Morning walkers at the park were excited.
"It would be one of its kind in eastern India and would become a major tourist spot," said Suresh Kumar, a trader from Dhurwa and a regular morning walker. "After the tribal theme park is ready it would remain busy throughout the day as against now when it is being used only by fitness enthusiasts for morning and evening walks."