Jharkhand techie walks for child beggars
17000 km padyatra to create public opinion & help rehabilitate street kids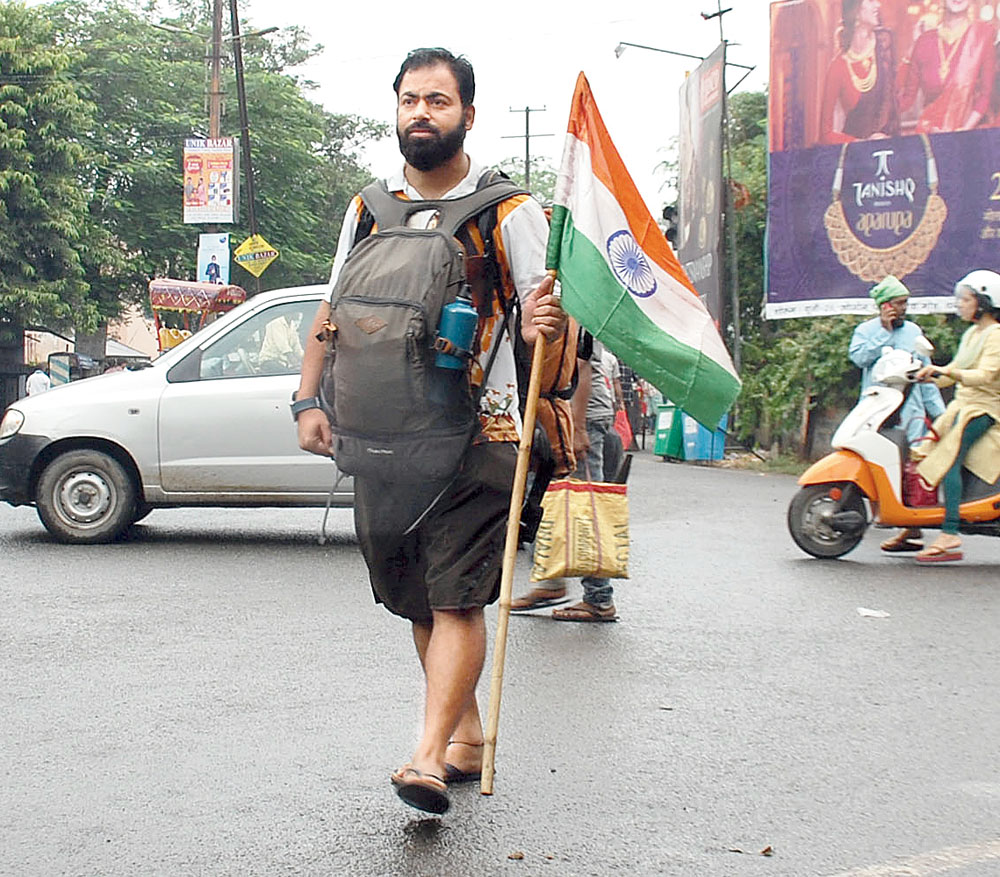 Powerful steps: Ashish Sharma at Randhir Verma Chowk in Dhanbad on Thursday
Picture by Gautam Dey
---
Dhanbad
|
Published 12.10.18, 08:28 AM
|
---
He was a mechanical engineer with a cushy job in Delhi when one da y, after work, he saw a nine-year-old drug addict begging on a street in a place called Rohini.
So moved was Ashish Sharma, now 29, that he decided to travel through the length and breadth of India on foot to create awareness about the need to rehabilitate these children and eliminate child begging from India.
Ashish, who reached Dhanbad on Wednesday evening from Purulia in Bengal, as part of his nationwide 17,000km padyatra campaign titled Unmukt India launched on August 22, 2017, from Jammu, said he had to create awareness on the plight of child beggars and the need to rehabilitate them in society.
Ashish, who walks 35km to 40km daily with his backpack and the Indian Tricolour, said most people think of "urchins" as a nuisance. "But they are also kids who have had very unfortunate or tragic lives. They deserve to get a shot at life, at health, education and sports," he said.
Son of a private firm employee and a homemaker, Himanshu and Neelam Sharma, Ashish had a normal childhood in Delhi, he said. "A boy of nine watches cartoons on TV, plays cricket and tries to avoid doing homework," he smiled. "Imagine the contrast, a nine-year-old drug addict begging on the street. Though I personally put eight such boys to school after meeting the first one at Rohini in
Delhi 18 months ago, and
am bearing their educational expenses, I think the government and society as a whole should come forward to
curb child begging," he said.
In Dhanbad, Ashish met students of IIT(ISM) management department and later visited Chhai Gadda locality near Dhanbad station on Wednesday where he interacted with child rag-pickers. On Thursday, Ashish also met a young crusader, Dev Kumar Verma, who runs two schools called Pathshala in Katras to provide free education to over 100 child coal-pickers.
Ashish will go to Bokaro on Friday from where he will reach Ranchi, Jamshedpur, Ghatshila, Khunti and Gumla before entering Chhattisgarh next week.
"Besides interacting with the people and the media, I am also trying to interact with IAS and IPS officers wherever to discuss ways to rehabilitate child beggars at a structured, policy level," Ashish said.
He added he hoped to reach Kanyakumari by February and end his march at late former President A.P.J. Abdul Kalam's house at Rameshwaram. "And, I
will also hold an awareness rally in Delhi on June 14, 2019, with all my findings during my campaign, which I hope will help NGOs and policy-makers and individuals alike," he said.