Jharkhand sponsors lifeguard training for batch of 100
State dreams of becoming adventure tourism destination, and is not leaving safety to chance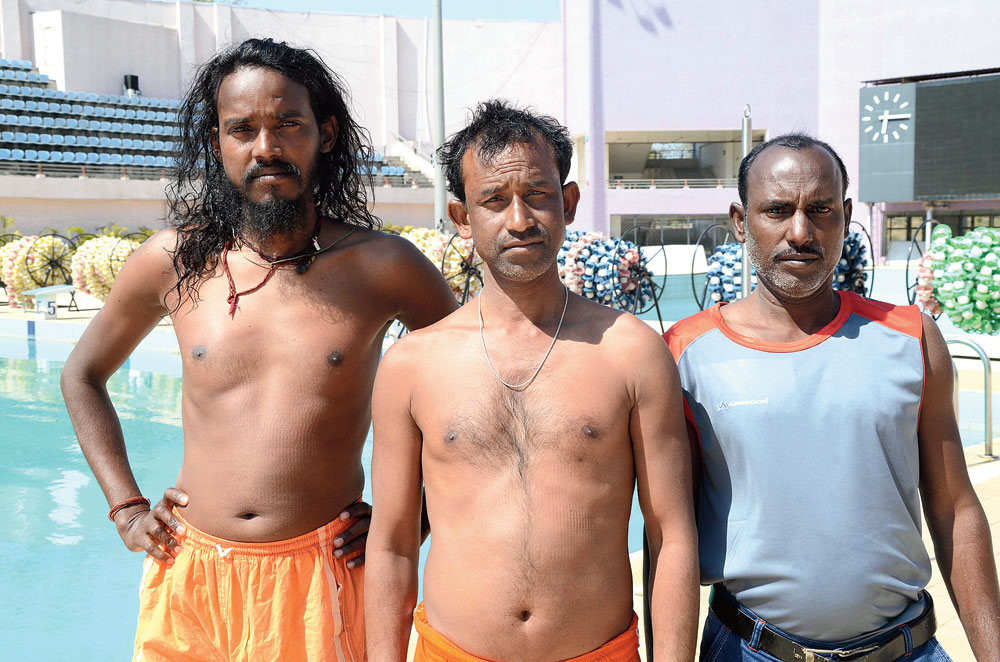 Saviours all: Pinku (from left), Dara and Nepal at Veer Budhu Bhagat Aquatic Stadium in Hotwar, Ranchi, on Tuesday.
Picture by Manob Chowdhary
---
Ranchi
|
Published 19.02.19, 06:54 PM
|
---
Strong response, stronger kick and strongest intuition are the three key qualities of an unbeaten lifeguard.
The first makes him or her act as a primary rescuer before paramedics arrive, the second is the basic prerequisite to save a drowning victim when your hands are engaged and the last, but never the least, helps narrow down the search area when seconds matter.
As many as 100 youths from across the state are being trained in techniques to save lives in water, the programme sponsored by the tourism department primarily meant to further its ambitious plan to turn Jharkhand into an adventure sports destination.
A batch of 20 young men began the first round of training under National Institute of Water Sports, Goa, at Veer Budhu Bhagat Aquatic Stadium at the Hotwar mega sports complex on Monday. The 9am-5pm daily training, which includes professional rescuer CPR and first aid practices, besides diving techniques, will continue till February 27.
After the initial phase, two sessions each of 10 days will prepare 80 more youths who will also be absorbed by the government once its adventure tourism project takes off later this year.
"The youths, besides picking up lifeguard skills, are also learning how to handle speedboats. This course is being taught at Kanke Dam. The state is sponsoring the entire training," said state tourism director Sanjeev Kumar Besra.
"Once their training is complete, these men can help save lives during festivities like Chhath. Job avenues will be available for them in water sports. They will also get a licence to operate speedboats. The state will benefit in turn by promoting adventure tourism," Besra added.
Instructor from Goa Sameer Kosbe said the basic prerequisite to train as a lifeguard was to know how to swim well.
"The trainees do not need any academic qualification. All they need to do for course eligibility is swim 100m freestyle in three minutes, besides being adults. Trained lifeguards can apply for jobs anywhere in the country or open their own water sports centre," Kosbe said.
The primary role of a lifeguard, the instructor said, was pretty self-explanatory: to guard lives.
"Guards are trained to effectively scan a body of water and the surrounding area to prevent and respond to emergencies. They are trained in professional rescuer CPR and first aid practices, and are taught how to anticipate potential problems before they arise," Kosbe said, adding that another instructor would join them after the first batch.
Pinku Kumar, a trainee from Dhanbad, said he felt extra confident after Day One. "I have saved people earlier, but by adopting the trial and error method, which required more than one attempt. Now, I am learning techniques that will allow me to reach a victim in one shot," he said.
Dara Mahto from Ramgarh was excited to learn CPR or cardiopulmonary resuscitation. "Maintaining the airflow in a drowning victim requires practice and precision. I am also picking up decision-making skills and how not to lose sight of my target (the victim)," he said.
Nepal Choudhary, a trainee from Seraikela-Kharsawan, is sanguine the training would improve his stamina. "To become a lifeguard, you need to hold your breath for longer than two minutes at a time. Trust me, that is quite a challenge even for the best of swimmers. I am learning better rhythmic breathing, which helps save oxygen during a rescue," he explained.