Jharkhand shooter waits for government aid
The Dalit from Asdhir village in Hazaribagh has been pursuing Rs 6 lakh for a rifle but to no avail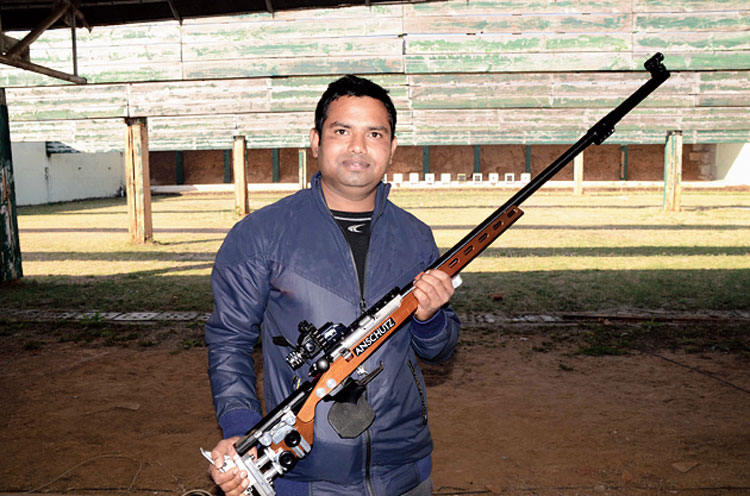 Akash Kumar Ravidas in Ranchi on Friday
Picture by Manob Chowdhary
---
Jamshedpur
|
Published 15.03.19, 06:29 PM
|
---
Jharkhand's lone international shooter Akash Kumar Ravidas won an individual gold and a team silver early this month at a national meet, but with a borrowed rifle, a practice that the 30-year-old has been following for years.
The Dalit from Asdhir village in Hazaribagh has been pursuing Rs 6 lakh for the rifle sanctioned by the state sports department but to no avail.
"Khel vibhag ke chakkar laga kar thak gaya hun. Paisa February mein milna tha par ab tak mamla latka hua hai (I have become tired by regularly approaching the sports department. I was supposed to get the money in February but they are still dilly-dallying)," Akash said over phone from Ranchi.
"Officials sometimes say they are yet to hold a meeting to release the sanctioned money and at other times claim that the money has been exhausted. I am really disappointed. Governments in other states are so helpful to sportspersons. But here things are just the opposite," he added.
Akash is still competing in national competitions with borrowed rifles as he simply cannot afford an imported one, which costs about Rs 5.5 lakh. Luckily he did not have to pay a rent for the borrowed rifle when he won gold and silver (in 50m rifle shooting) at the 1st national Master Games Shooting Championship in Dehradun from February 24 to March 2.
"I borrowed the rifle from fellow Jharkhand shooter Snigda Singh. I am grateful to her. Otherwise I could not have afforded the daily rent of the equipment. Snigda gave her rifle without charging rent which comes to at least Rs 15,000 per day," Akash, son of truck driver Dhaneswar Ram and sahiya Devki Devi, added.
Akash also shot with Snigda's rifle at two national selection trials in New Delhi earlier this month. He had to however shell out Rs 12,000 for pellets at both the places.
Akash has represented India in several international competitions in Germany, Kuwait, Czech Republic and South Korea. He has won an individual bronze at the Junior Asian Meet in Kuwait in 50m rifle shooting. He managed to compete in these international meets as shooters were provided rifles.
Otherwise it would not have been possible for him to compete in competitions abroad.