Jharkhand: Run for khatian-based domicile and job policies
It began from Birsa Munda Chowk in Bokaro and culminated near Randhir Verma Chowk in Dhanbad, covering a distance of about 42km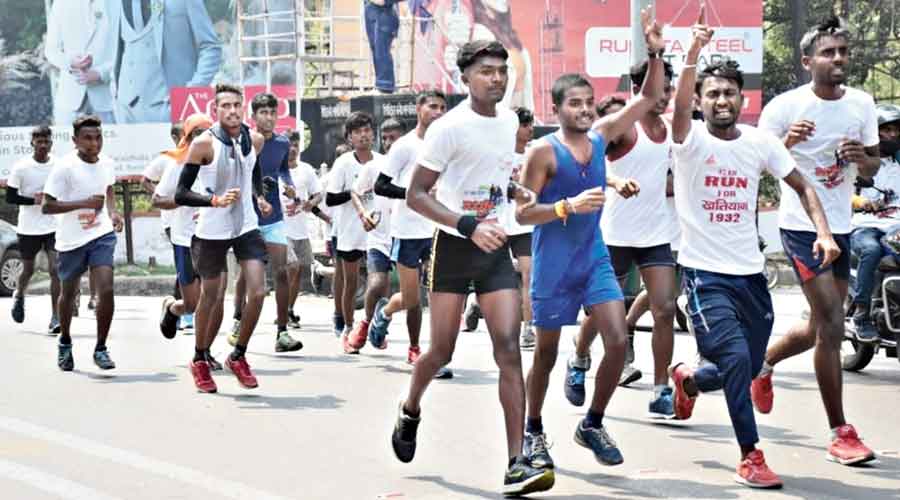 Participants of the Run for Khatian at Dhanbad on Sunday.
Shabbir Hussain
---
Ranchi
|
Published 21.03.22, 01:28 AM
|
---
A 40km "Run for Khatian" was organised on Sunday by people demanding consideration of the 1932 khatian (land rights records) as the basis for formulating domicile and employment policies in Jharkhand.
"The run began from Birsa Munda Chowk in Bokaro and culminated near Randhir Verma Chowk in Dhanbad, covering a distance of about 42km," said Sohrai Hansda of Jharkhandi Bhasha Sangharsh Samiti that organised the run.
About 600 persons participated in the run braving the scorching sun, he said, adding they wanted the state government to clearly define the issue of domicile and employment in the state without delay.
The protesters were encouraged by former state minister Geetashree Oraon who recently resigned from the Congress on and former Silli MLA Amit Kumar Mahto who resigned from the JMM on the language issue.
Mahto, wearing a T-shirt and shorts, ran with the protesters the entire distance and reached Dhanbad as supporters showered flower petals on them. 
They also shouted slogans such as 1932 khatian lagu kare hoto (1932 Khatian have to be implemented) and Pahle niti, baad me niyukti (policies first, then appointment).
"As many as 18 states of the country have adopted khatian or land records for identifying local residents," Mahto claimed after reaching Dhanbad and warned that the state government had better not played with the issue.
The JMM in its election manifesto had stated that the state's domicile policy would be based on the 1932 khatian and as such, must keep its premise, some of the protesters reminded.
"We are not against the interests of anyone in particular," Mahto said, adding anybody showing the land rights records of his or her family recorded in the 1932 khatian would have the eligibility for 3rd and 4th grade jobs in their respective districts.
It all started when on December 24, 2021, the Hemant Soren government issued a modified notification including Bhojpuri, Magahi and Angika as regional languages allowed for writing tests for X and XII passed candidates for filling up vacancies in 3rd and 4th grade jobs at district level.
The protest began when Bhojpuri and Magahi were included as regional languages for Dhanbad and Bokaro districts.
The local people organised protest rallies, burnt effigies of MPs and MLAs of the region, irrespective of their political affiliation and formed a 40km long human chain across Bokaro and Dhanbad districts, demanding withdrawal of the modified notification.
Though the government later withdrew it, the agitators kept on insisting on the adoption of domicile and employment policies based on the 1932 khatian.
"Local children must not be deprived of 3rd and 4th grade jobs at district level," Mahto said, adding that the run was just a form of protest and they would decide their next course of action after reviewing the situation.