Jharkhand opens up state's foreign scholarship to all students: Hemant
In Hazaribagh, chief minister distributes assets of over Rs 22 crore among 26 lakh beneficiaries, hands over job letters to 600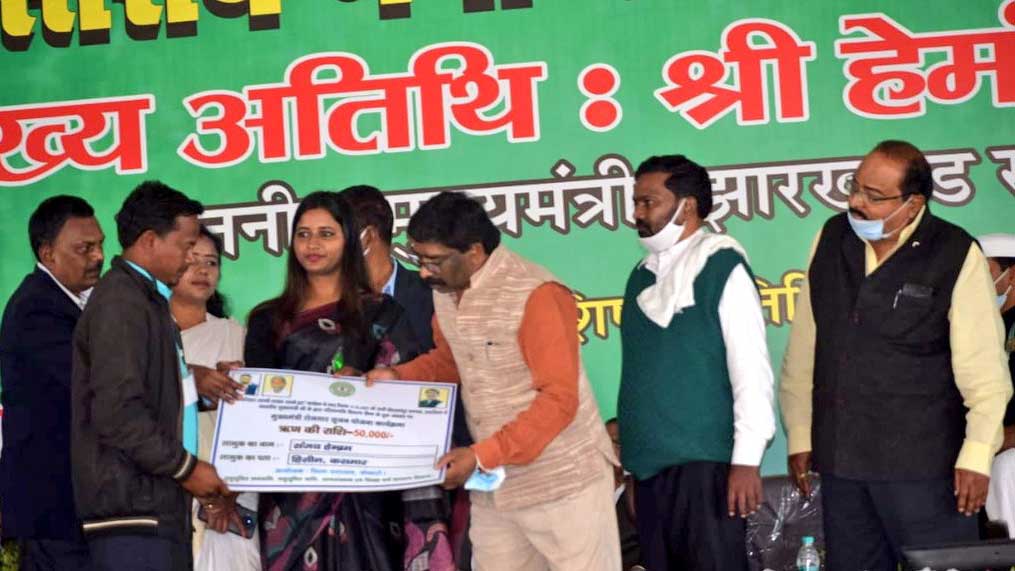 Chief Minister Hemant Soren at the event on Saturday
Twitter: @HemantSorenJMM
---
Ranchi
|
Published 11.12.21, 07:59 PM
|
---
The Jharkhand government will soon encourage and support meritorious students from all sections of the society to pursue higher studies abroad under its foreign scholarship scheme, which was so far only available for tribal students of the state, chief minister Hemant Soren said on Saturday while addressing an event in Hazaribagh.
"We have sent six meritorious tribal students to foreign countries for higher studies. Soon, students from all sections of society will be eligible for this scholarship and be able to pursue higher studies abroad," said Hemant during an event under the government's flagship welfare campaign, 'Aapki Sarkar, Aapke Adhikar, Aapke Dwar.'
The Hemant Soren-led coalition government in Jharkhand launched the Marang Gomke Jaipal Singh Munda Pardeshi Scholarship Scheme earlier this year to encourage tribal students to pursue higher education in top foreign universities.
During Saturday's event, Hemant distributed assets worth more than Rs 22 crore among close to 26 lakh beneficiaries of different welfare schemes in the state. He also handed over appointment letters to about 600 newly-recruited local residents.
Hemant said that all Jharkhand residents who have an annual income of less than Rs 8 lakh will be able to avail aid from the government for their medical expenditure.
"All elderly people above 60 years in every village of the state would be linked to the pension scheme. The government will give pension to every widow, elderly and disabled person. For treatment of serious diseases, the government would help every person whose income is less than Rs 8 lakh," said Hemant.
In a bid to generate employment for local youths and provide livelihood opportunities to local residents, the government has made it mandatory to give all tenders worth less than Rs 1 crore to local people, said the chief minister, adding that companies investing in Jharkhand will also have to prioritize local residents for jobs.
#आपकेअधिकार_आपकेद्वार हजारीबाग स्थित गांधी मैदान में प्रमंडल स्तरीय मेगा परिसंपत्ति वितरण कैंप में माननीय मुख्यमंत्री श्री हेमंत सोरेन ने विभिन्न योजनाओं से संबंधित जिले के लाभुकों के बीच परिसंपत्ति का वितरण किया। @JharkhandCMO @prdjharkhand @RanchiPIB @rnuddkranchi pic.twitter.com/6RMhm3dXPh

— DCBokaro (@BokaroDc) December 11, 2021
Hemant said that so far over 2.5 lakh grievances have been registered under the 'Aapki Sarkar, Aapke Adhikar, Aapke Dwar' scheme of the government, and more than 2 lakh of them have already been addressed.
The 'Aapke Adhikar, Aapki Sarkar, Aapke Dwar' campaign, a 45-day programme aimed at ensuring the benefits of various government schemes reach the people, was launched on the birth anniversary of freedom fighter Birsa Munda on November 15 at his native village Ulihatu in Khunti district.