Jharkhand news digest: JMM backs caste based census
Elsewhere in the state: Farmer killed by wife and son; Liquor smugglers arrested on way to Bihar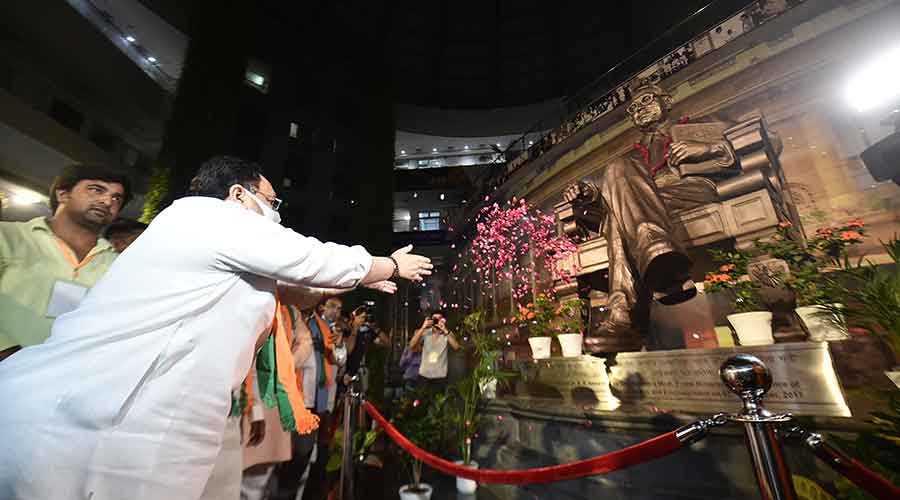 BJP National President JP Nadda pays floral tribute to Dr. B.R. Ambedkar during a felicitation ceremony of cabinet ministers from OBC category, organised by BJP OBC Morcha at Dr Ambedkar International Centre in New Delhi on Wednesday, Aug 11, 2021.
PTI
---
Published 12.08.21, 12:25 AM
|
---
Ranchi: The Jharkhand Mukti Morcha has welcomed the 127th Constitution amendment Bill, 2021 (OBC Bill) which was passed by the Lok Sabha on Tuesday but demanded the Narendra Modi government to remove existing cap of 50 per cent on the reservations in the country and inclusion of caste based census in the upcoming nationwide census. 
The passage of the OBC bill will restore states' power to make their own OBC list and notify it for reservation as per their needs.
In Jharkhand, OBCs are demanding for 27 per cent reservation from existing 14 per cent. Almost all the political parties promised to work for it in their poll manifestos during the 2019 assembly elections in the state.
The JMM and Congress, part of ruling alliance too individually promised for 27 per cent OBC reservation.  
Addressing a press conference in the evening, JMM's general secretary Supriyo Bhattacharjee welcomed the developments in the Lok Sabha but raised doubts on Centre's intention behind the move.
He said, "We welcome the passage of 127th amendment bill of the Constitution giving rights of deciding reservation of OBCs to the states. It is a welcome break from Modi government's attempts to destroy country's federal system."
(Our correspondent)
Farmer killed by wife and son Hazaribagh: A 60-year-old farmer, Banshi Saw, was beaten to death by his wife and son in Pundri village under Simaria police station in Chatra district on Monday evening.
Officer-in-charge of Simaria police station, Gobind Kumar said after a dispute over some family related matter, Saw's wife Jirwa Devi and son Deepak Kumar started beating him with a lathi at home killing him on the spot.
He said both have been arrested with his minor son Deepak being sent to a correctional home. He said they had recovered the lathi used to kill Saw. An FIR has been lodged against the duo and the body handed over to relatives after post mortem at Chatra Sadar Hospital.
(Vishvendu Jaipuriar)
Liquor smugglers arrested on way to Bihar Hazaribagh: A joint team of Chatra district police and excise department arrested three smugglers with 14,300 bottles of country made liquor and 792 bottles of foreign liquor, who admitted that they were going to Bihar.
Alcohol is banned by the Nitish Kumar government in Bihar. Due to this, many gangs are now active in bordering districts including Chatra, Koderma and Hazaribagh supplying liquor to the state, making huge profits.
The arrested three smugglers were identified as Jaywant Kumar, Amit Kumar and Ranjeet. All three are residents of Hazaribagh.
Subdivisional police officer Avinash Kumar confirmed the recovery.
(Vishvendu Jaipuriar)