Dhanbad: Coal town has opted to make alternate arrangements for power supply in a bid to tackle power cuts plaguing the city. Dhanbad Municipal Corporation in an attempt to have continuous power supply for its residents has got into an arrangement with Tenughat Thermal Power station and Dumka grid. The move aims at decreasing the city's dependency on DVC for its power supply. Proper infrastructure to facilitate a steady power supply in almost all power stations of the Dhanbad town through the Kandra Grid is being developed.
Underground cable laying work to connect Kandra Grid through the Bhuli based Power Servo Amplifier is already complete and line charging is in progress to begin power supply from Kandra to Bhuli PSA through Raniband. This work is also likely to be completed within the next three days
Talking to The Telegraph Online, Ajit Kumar, General Manager of Dhanbad Area of Jharkhand Bijli Vitran Nigam Limited said, " We are sat present drawing around 60 megawatt of power from Kandra Grid and by connecting Bhuli with Kandra grid we will be able to draw around five to ten megawhat more power from Kandra Grid to supply in remaining parts of the town." He added that the effort to connect Bhuli PSA with Kadra Grid is in sync with JBVNL effort to decrease dependency on DVC in phase wise manner.
Notably, the load shedding was planned by DVC to realize the pending dues with JBVNL.
Praduman Choubey
IIT (ISM) launches skill development centre for daily wagers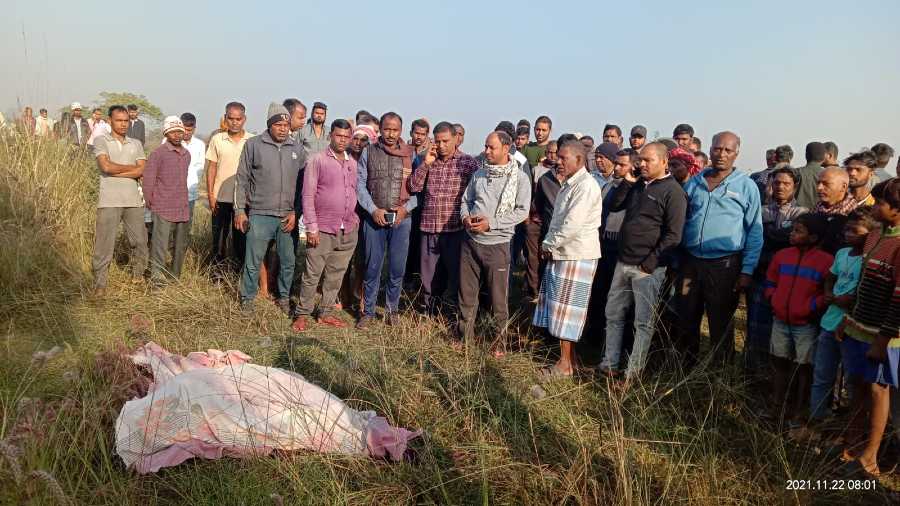 Villager assembled around the mortal remains of the octogenarian trampled to death by the elephant. Manoj Sinha
Ramgarh: An octogenarian who had gone to obey nature's call early on Monday morning was trampled to death by a wild elephant at Chumba village under Kuju forest range area. The deceased was identified as Baijnath Sahu, 80 years old and the body has been sent for post-mortem.
Forest department sources said, "The deceased's next kin will get Rs 4 lakh compensation by the department. The wild elephant had come from Badakagaon area and later returned to nearby forest."
Following the incident, a large number of villagers reached the spot and informed the forest department officials. Gloom and shock is prevailing in the village. Villagers have demanded adequate compensation for the kin of the deceased. They have also demanded security from wild elephants. They have suspicion the elephant will again return to the village and harm human life and properties including standing crops.
The attack of wild elephants is very common in Ramgarh district and its adjoining areas. Many people have been killed by herds of elephants. They have also damaged properties and standing crops. Forest department has no permanent solution to control the attack of wild elephants.
Manoj Sinha
IIT (ISM) launches skill development centre for daily wagers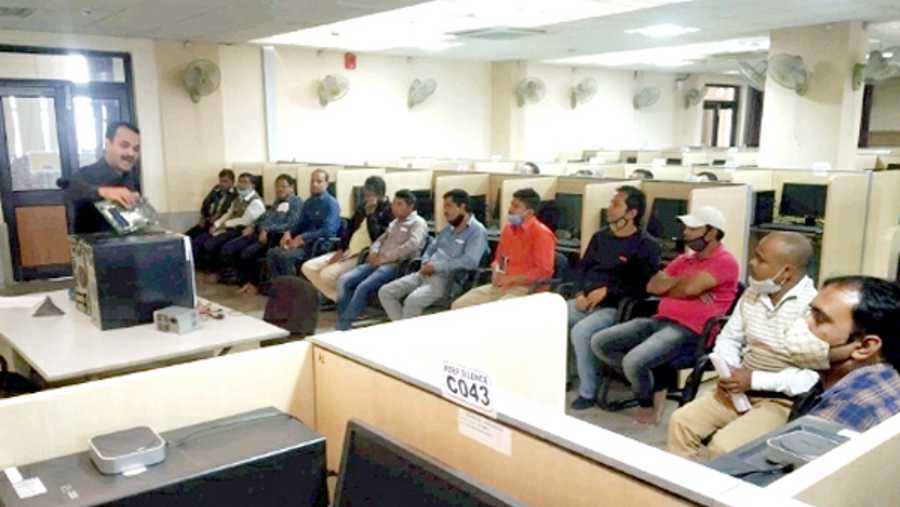 Skill development training programme for daily wagers in progress, on Monday. Gautam Dey
Dhanbad: To sharpen skills of daily wagers in a bid to make them employable, IIT (ISM) has launched a skill development centre (SDC) within the institute campus.
Over 231 daily wage earners of the district have already registered at the centre and are getting trained for different segments. For instance 48 are enrolled with sessions on plumbing, 12 for welding, 37 for machining, 39 for development of electrical Skills and 95 for a course on computer fundamentals.
Alok Sinha, one of the several faculty members of the institute, said, "Theory classes as well as hands-on training is being provided as part of the 30-hour course."
He further informed that the classes have begun on November 13 and emphasis is being given on training in the simplest language.
For sessions on mechanical engineering, MoU is being signed with Indo-Danish Tool Room for the certification for courses.
Rajiv Shekhar, Director of IIT (ISM) said, "The objective of this SDC is to develop skilled manpower who can earn their livelihood according to their capacity and capabilities and to contribute to the economic growth of the nation."
In a related development a new startup of IIT (ISM), ADUZA Robotics and Automation Pvt Ltd established by two full time faculty members of Mechanical Engineering department of the institute Arun Dayal Udai and Zafar Alam was inaugurated at the institute today.
Praduman Choubey