Jharkhand: MSME plea for hand-holding
ICC state council chairman Avijit Ghosh said only 45 lakh of the total 6.33 crore micro, small and medium enterprises availed bank loans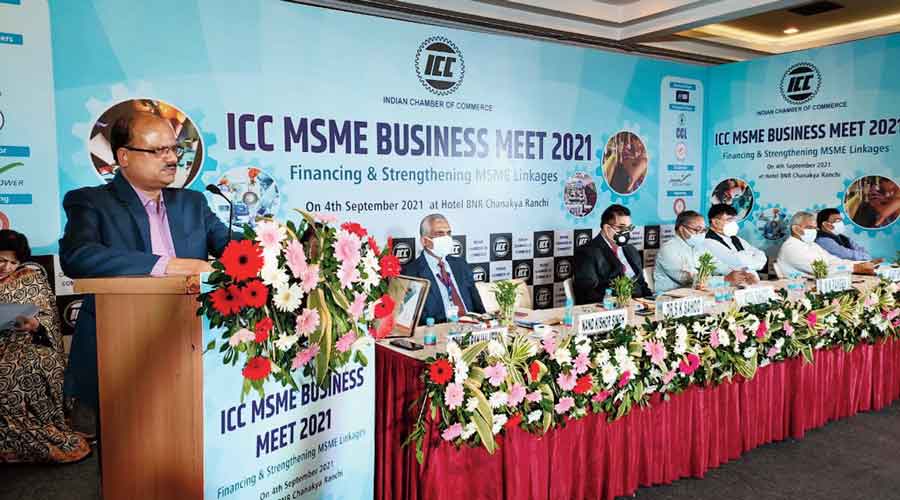 A speaker at the meet.
Manob Chowdhary
---
Ranchi
|
Published 05.09.21, 01:43 AM
|
---
The micro, small and medium enterprises (MSME) in Jharkhand face the same problems as other businesses do.
This was revealed during a daylong business meet organised by the state unit of the Indian Chamber of Commerce (ICC) at a Ranchi hotel on Saturday for exploring possibilities of creating a favourable ecosystem for the MSME.
Though some panellists pointed out the opportunities the MSME sector could grab, those actually running micro and small enterprises in the state said the ground reality was entirely different.
"The ongoing expansion of the Indian steel industry offered enough opportunities but the MSME sector didn't realise its potential and showed no inclination to capture those," said Atul Bhatt, chairman and managing director of Mecon Limited in Ranchi.
"Indigenously built components could reduce import dependence on China and eastern Europe," he said, adding that the opportunities were still there as India was the potential "epicentre for growth of steel industry and the solution for crises that may crop up have to come from within the country".
ICC state council chairman Avijit Ghosh said: "MSME sector, with its 6.33 crore units, is the backbone of Indian economy."
Ghosh added that the MSME sector provides employment to 12 crore people and contributed 45 per cent of the total exports.
But only 45 lakh of the total 6.33 crore MSME units availed bank loans, resulting in 50 lakh units getting either sick or closed, he said, adding that the banks should organise outreach programmes in rural areas for giving loans to such units.
"The Union government has introduced many financial schemes and also incentives for helping MSME units to flourish," said S.K. Sahoo, joint director in the MSME ministry, adding that loans were released to 89 per cent of eligible applicants in Jharkhand.
"The MSME sector, despite being the growth driver contributing 31 per cent to the country's GDP, mostly depends on funding from informal sources," said Nand Kishore Singh, a deputy general manager of State Bank of India.
Only 22 per cent of the total MSME funding was being sourced from banks and other financial institutions, he further said, adding that lack of financial information was the reason behind it.
"The ground reality is entirely different," contested Philip Matthew, president of the Jharkhand Small Industries Association, adding that bank officials often pretended to be ignorant about the schemes when its members approached them for collateral-free loans.
"Besides loans, MSME units in Jharkhand also face the same problems as other industries in getting pollution clearance certificates and renewal of licence," said Matthew's predecessor Y.N. Ojha, adding that a single-window-system was still a distant dream for them.