Jharkhand Janadhikar Mahasabha appeals to govt to shift ailing Stan to hospital
The Ranchi-based tribal rights activist complained that he had developed Covid-19 symptoms at Taloja Central Prison in Navi Mumbai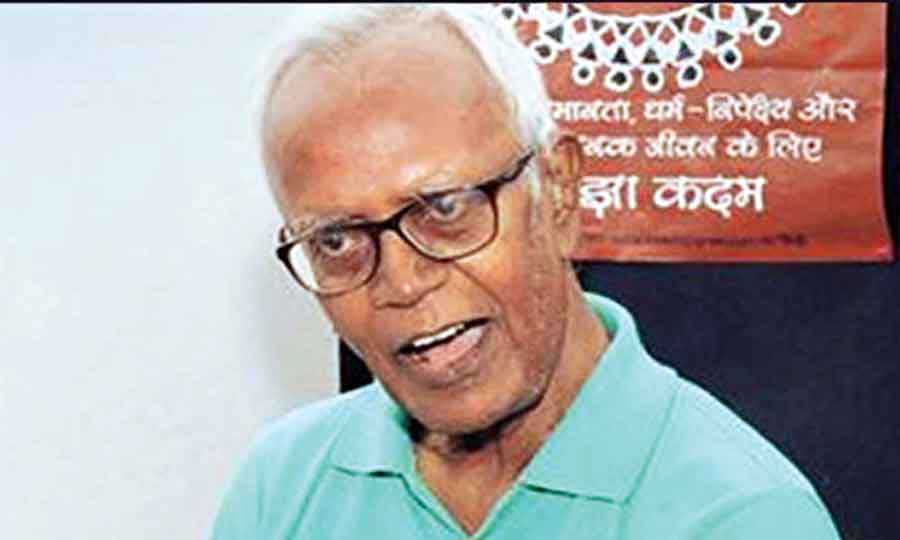 ---
---
The Jharkhand Janadhikar Mahasabha, a coalition of progressive civil rights organisations, on Monday wrote to Maharashtra home minister Dilip Walse Patil urging him to shift octogenarian Jesuit priest Father Stan Swamy to a good hospital after family members of the Ranchi-based tribal rights activist complained that he had developed Covid-19 symptoms at Taloja Central Prison in Navi Mumbai.
"Stan Swamy is a Parkinson's disease patient with severe tremors in both hands. As a result, he has trouble drinking from a glass, taking bath and washing clothes on his own. He also has a serious hearing problem and needs hearing aids for both ears. He was operated twice for hernia in the recent past. Stan had called up his colleague (Fr Joe Xavier, director of the Bangalore-based Indian Social Institute) on May 14 and shared that he was feeling very weak and fragile. Stan has fever, cough and a running stomach. He was given antibiotics by the 'ayurvedic' doctor of the jail.
"The medicines did not help much. He is yet to be tested for Covid. He has also not yet received first vaccine shot," the letter said.
It was signed by rights activists Aloka Kujur, Bharat Bhusan Choudhary, Elina Horo and Siraj Dutta, all members of the Mahasabha.
The letter says that there are reports of rising Covid cases in the Taloja jail and suggests: "In this situation, Stan should be immediately shifted to a good hospital and given adequate medical treatment. It will be really helpful if he
is shifted to a hospital like Holy Family (a super-speciality hospital in Mumbai) or
Holy Spirit (charitable trust hospital in Mumbai) where his Jesuit colleagues can take care of him."
The letter, copies of which have been sent to Maharashtra chief minister Uddhav Thackeray, further said:
"Stan is an elderly and ailing person with limited mobility and no history of violence against others…. We also sincerely hope that he gets immediate bail."
Stan's elder brother Irudaya Swamy had told the media on Sunday that the 84-year-old priest has severe cold, fever, body pain and diarrhoea and that he could not attend the call of his legal counsel on May 15.
"We have no doubt that he is affected by Covid-19. We are worried," the 90-year-old man from Tamil Nadu told a virtual news conference.
Father Arockiasamy Santhanam, spokesperson for the National Lawyers Forum of Religious and Priests, said that they plan to urge the National Human Rights Commission (NHRC) to send a team of doctors to the prison to examine the situation and direct the government and prison authorities to attend to the health needs of prisoners such as Fr Stan.
"The NHRC has issued many protocols to be strictly followed in the prisons. But it seems the Taloja prison does not follow any of the Covid protocols and the prison authorities do not have any respect for the NHRC," alleged Fr Santhanam.
He had also attended the virtual news conference organised on Sunday by the relatives and friends of Fr Stan and 15 others arrested in the Bhima-Koregaon case.
The Jesuit lawyer wants the prison authorities to "respect health rights of  prisoners".
"Health is a fundamental right and very well part and parcel of Article 21 of the Constitution. We hope the Taloja (jail) will not become an Auschwitz," he added.
Fr Stan was arrested by the National Investigation Agency on October 8, 2020, from his residence near Ranchi on the charges of having links with Maoists and plotting to overthrow the government.
The counter-terrorism agency flew him to Mumbai where a court remanded him to jail a day after his arrest.
Fr Stan and 15 others have been arrested under various sections of the Indian Penal Code and the anti-terror law Unlawful Activities (Prevention) Act, 1967.