Jharkhand Janadhikar Mahasaba condemns attack on chief minister's convoy
The rights group also appealed to the government to curb rising incidents of sexual violence in the state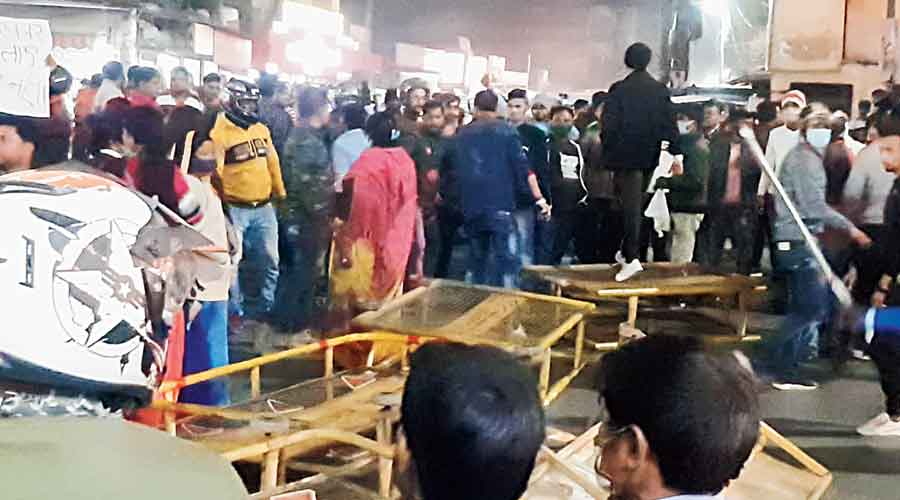 ---
|
Ranchi
|
Published 07.01.21, 07:54 PM
---
Jharkhand Janadhikar Mahasaba (JJM), a conglomeration of rights body, on Thursday condemned the attack on chief minister's convoy on Monday evening and also appealed to the government to curb the rising incidents of sexual violence in the state.
JMM said the violent attack on the CM's convoy also showed the failure of police administration at large. Demanding the state government to take action in the alleged rape and murder case of a young girl in Ormajhi, whose body was recovered on Sunday, JMM has suggested to prepare a comprehensive strategy after a public discussion to curb sexual violence in the state. "The strategy can include improvements in law and order situation, training on gender equality and justice in educational institutions and government agencies and so on," it said.
"Violence against women continues unabated in Jharkhand. The recent incident of rape and beheading of a woman in Ormajhi has exposed this once again. Even after three days, the police are yet to identify the culprits. This incident also raises serious questions on the law and order situation in the state. It is worrying that despite the formation of a Jharkhandi government, violence against women has not yet reduced. Five rape cases per day (on average) have been reported in 2020 as compared to an average of four cases per day in 2019," it added in a statement.
The BJP Yuva Morcha had protested across the state on January 4 against the Ormanjhi incident, and in the same evening, the chief minister's convoy was stopped, stoned and vandalized by a mob at Kishoreganj chowk. "Many senior BJP leaders justified this attack as "violence by an angry public". In a democracy, political opposition and protests demanding action from the state have their importance. But, the mob attack on the CM's convoy in Ranchi and consequent justification by BJP leaders raises many serious questions," it noted.
The right's body claimed that Manuwadi ideology is against the rights of women. "It is not surprising that right-wing forces which belief in Manuwad are raising the issue of violence on women in a violent, masculine and patriarchal manner," it said, adding that such violence also increased widely in Jharkhand during the BJP's double engine government at the Center and the state.
"Lynching of Adivasis, Dalits and Muslims by mobs while chanting religious slogan is a glaring example. Today, the same mob opposed a tribal CM with religious slogans and hooliganism. The attack on the CM's convoy indicates the dissatisfaction of right-wing forces against Jharkhandi government based on the principles of Adivasi identity," said JMM in a statement.