Jharkhand high court reserves order on Shravani Mela for July 3
Godda MP seeks judicial intervention to allow annual fair at Deoghar amid rising cases of Covid-19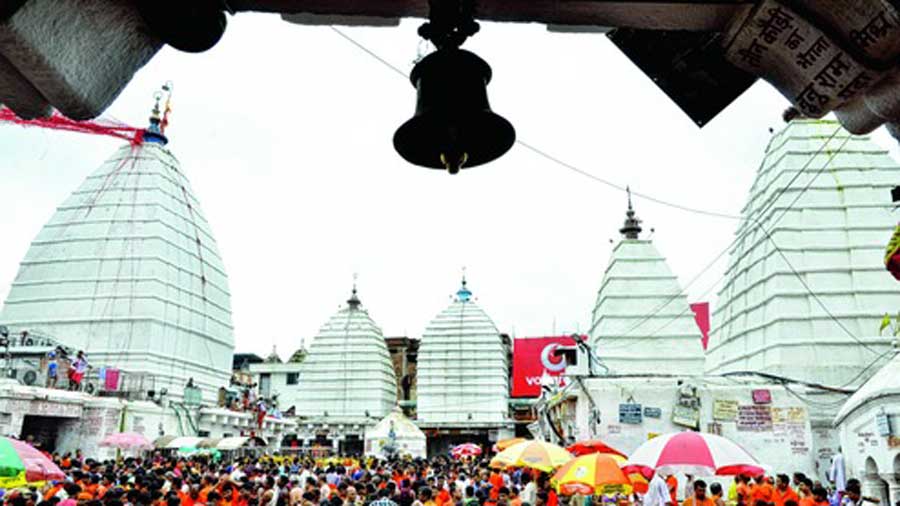 ---
|
Ranchi
|
Published 30.06.20, 11:50 PM
---
Jharkhand High Court on Tuesday reserved its order on a petition by a BJP MP to allow the historic Shravani Mela at Baba Baidyanath Dham in Deoghar to be held amid the rising cases of Covid-19.
Godda MP Nishikant Dubey sought the court's intervention in allowing the one-and-a-half month fair at a time when the Hemant Soren-led UPA government in Jharkhand decided to keep all places of worship closed in view of the global pandemic.
The bench, comprising Chief Justice Ravi Ranjan and Justice Sujit Narayan Prasad, on Tuesday deferred the case till Friday after the court recorded arguments.
The Shravani Mela is scheduled to start on July 6.
Millions of devotees from across the globe visit Deoghar at this time of the year to offer prayers at the Baba Baidyanath Dham in Deoghar and Baba Basukinath Temple in Dumka.
Chief minister Hemant Soren, while announcing relaxations of the lockdown restrictions earlier this month, had clarified that religious places would be the last to open in the state.
The government on Tuesday told the court that such fairs, if allowed, will have large gatherings, which may lead to Covid-19 transmission.
The government lawyer also informed the court that the government had extended the lockdown till July 31, and permission for the fair cannot be granted in the larger interest of public health.
Dubey's lawyer Ravi Prakash Mishra said the government should allow the fair with necessary restrictions, as completely prohibiting the rituals may hurt the religious sentiments of devotees.
The petitioner told the court that the Union ministry of health and family welfare had issued a detailed circular on June 4, stating that religious places of worship for the public will only remain closed in containment zones.
The decision of the state government to keep religious places closed was against the Centre's directive, he added.
The petitioner had made the Jharkhand government, the Deoghar deputy commissioner, the Baba Baidyanath Temple Management Board and the Panda Dharma Rakshini Sabha as the respondents in the case.
Later, the court also made the Bihar government a party in this case.
During the fair, devotees from Sultanganj in Bihar walk more than 100km with kanwars to offer holy water on the Jyotirlinga (representation of Shiva) at the temple.
Dubey contended that daily prayers during the Shravani Mela in Deoghar and Basukinath had not been stopped during the worst natural calamities in the past and even during epidemics like cholera and plague in the 19th century.
Dubey also referred to the recent judgment of the Supreme Court, which allowed the Rath Yatra at Puri with certain conditions and sought a similar order for the Shravani Mela.
The petitioner added that the annual fair is statutorily mandated by record of rights framed under the British Rule (Act of 1876), which grants a unique and special importance to Baba Baidyanath Temple and Basukinath temple.