Jharkhand: Hemant Soren reply to 'disqualify' query
The panel had issued notice to the chief minister on May 2 after scrutinising a reference sent by Jharkhand governor Ramesh Bais on March 25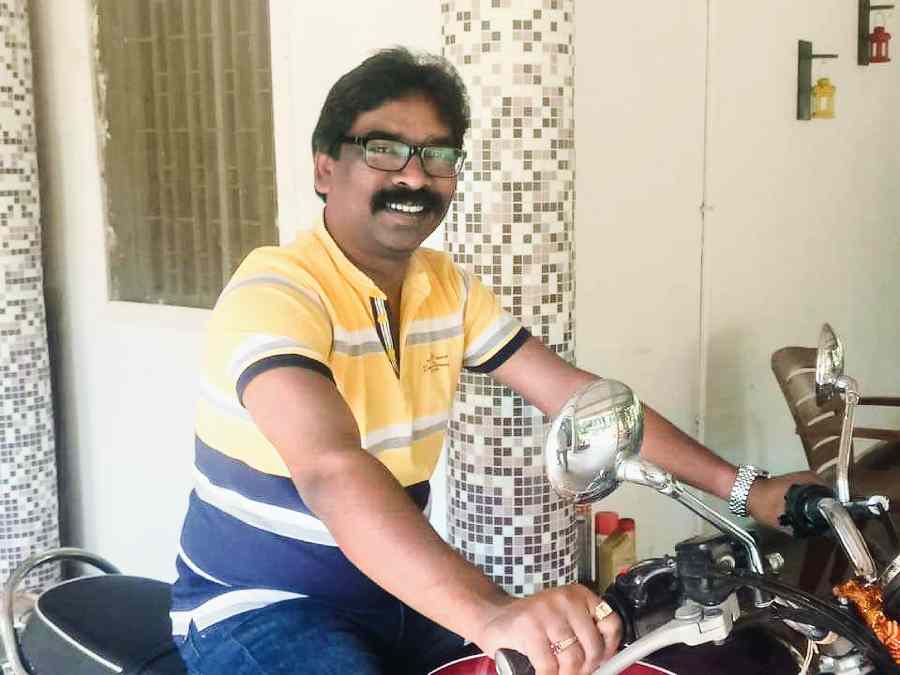 Hemant Soren.
Manob Chowdhury
---
Jamshedpur
|
Published 21.05.22, 01:35 AM
|
---
Jharkhand chief minister Hemant Soren has replied to the Election Commission notice that he was liable to be disqualified from the Assembly because of a stone quarrying lease in his name last year.
The reply, which was taken by a special messenger on Thursday evening, was received at the Election Commission of India (ECI) office in Delhi on Friday.
"The reply of chief minister Hemant Soren to the ECI notice has been sent and received at the ECI office on Friday," confirmed JMM central general secretary and the party's spokesperson Supriyo Bhattacharya.
The reply has been drafted after consultation with renowned legal experts like S. K Mendiratta (one of the longest serving legal advisors to ECI), retired justice V. N Khare, Kapil Sibal and Abhishek Manu Singhvi among others.
On May 5 Hemant Soren had sought a four-week extension from the ECI to give his reply citing illness of his 67-year-old mother Roopi Soren who was undergoing treatment at Hyderabad then (She has returned to Ranchi earlier this week) and the documents of ECI being in Hindi and
that he needed time to arrange for transliteration from
Hindi to English for proper appreciation and understanding of the contents by his legal counsel.
Soren had also requested for personal hearing by the commission through his legal counsel before the  Commission formulates its opinion in the matter for tendering it to the  governor of Jharkhand under Article 192(2) of the Constitution of India.
The panel had issued notice to Hemant Soren on May 2 after scrutinising a reference sent by Jharkhand governor Ramesh Bais on March 25. It told Soren to respond by May 10 and later on his request asked him to file a reply by May 20.
Earlier this month, Hemant countered a petition in the Jharkhand High Court that sought a Central Bureau of Investigation probe into the mining lease.
Soren had told the High Court in an affidavit that the mining lease for a 0.88 acre (3,500 sq metre) parcel of land on the outskirts of state capital Ranchi was originally granted to him on May 17, 2008, on lease for 10 years. Soren's affidavit said he applied for renewal of the mining lease in 2018 but the application lapsed.
The affidavit acknowledged that he did apply for renewal "sometime in 2021" when Ranchi deputy commissioner invited fresh applications and that the lease was granted to him subsequently as per the laid down procedures.
However, Soren said he did not obtain the consent to operate and on February 4, 2022, he applied to surrender the lease before commencing any extraction and the same was subsequently accepted by the department upon payment of the prescribed fees.
A BJP delegation led by former chief minister and party national vice-president Raghubar Das had asked governor Ramesh Bais in February to dismiss Soren and have him prosecuted for corruption.
In April, the EC asked Jharkhand chief secretary Sukhdev Singh to submit all documents related to the lease.