Jharkhand CM Das claims ODF success, Opposition sceptical
Government claims it has built 40 lakh toilets but most exist only on paper: Opposition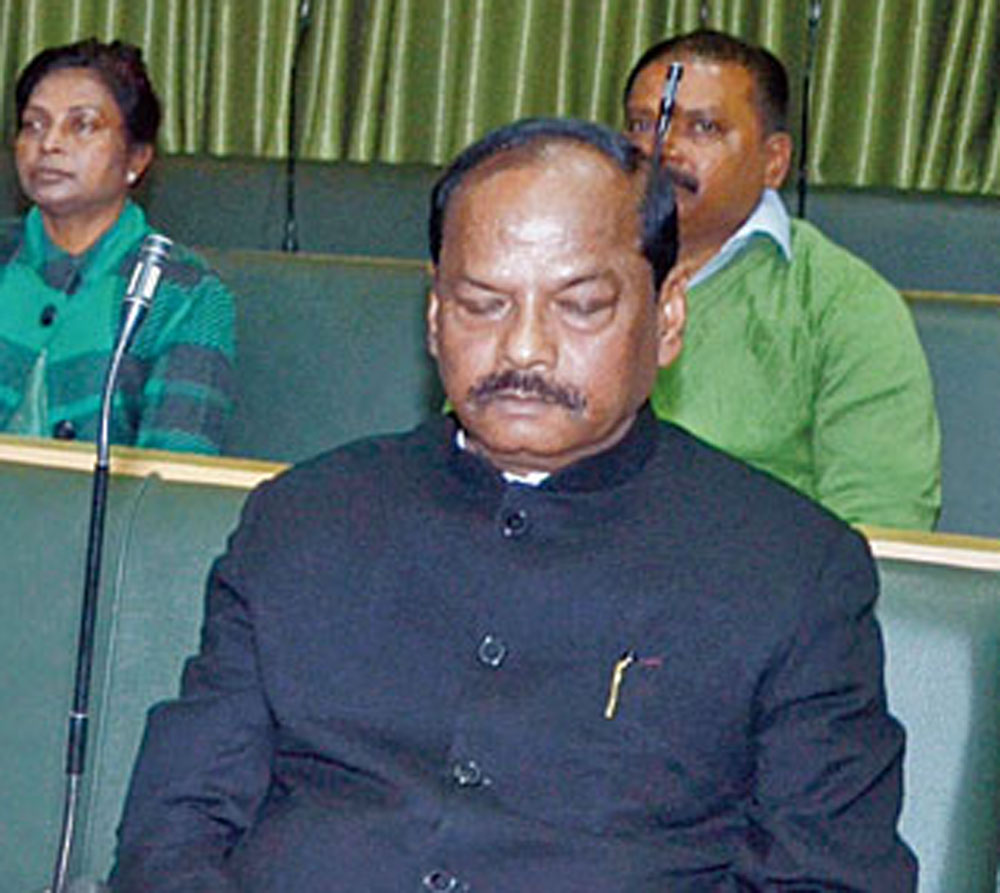 Chief minister Raghubar Das attends the budget session of the Assembly in Ranchi on Wednesday
Picture by Prashant Mitra
---
Ranchi
|
Published 30.01.19, 06:53 PM
|
---
Chief minister Raghubar Das mounted a stirring defence of his government's swachh mission achievements by claiming in the Assembly that the stigma of open defecation had been erased from Jharkhand, countering the Opposition's contention that the government's claim of having built 40 lakh toilets was hollow.
Responding to criticism from JVM's Pradeep Yadav, the chief minister reminded the House on Wednesday that nobody took care of basic problems of the people in the last 70 years. "Prime Minister Narendra Modi felt the pain of women and girls, and a nationwide drive was started. Today, I can claim that 99.99 per cent households of Jharkhand have toilets. The figure was only 18 per cent when we came to power," Das said.
The chief minister also announced that his government had set a one-year deadline to ensure water supply in 1,500 parched villages of the state.
Yadav raised the issue of toilets, claiming that while the state government had said it had constructed 40 lakh toilets, most existed only on paper. Also, he added, that the state government declared Jharkhand open defecation free (ODF) when the fact was that a large number of people still lacked this basic facility.
"The toilets (constructed) are too small and their structure is so weak that if you enter one of them and spared your arms it will collapse. It is so badly built that even pigs won't like to using it," Yadav said, leaving minister of water resource and sanitation Chandra Prakash Choudhary fuming.
"We don't claim 100 per cent success but you can see behavioural changes among people. The government has regularly been carrying awareness campaigns. Once a village is declared ODF a survey is conducted within three months. After six months, a second survey is conducted," he said, adding that three more surveys are done, one under National Annual Rural Sanitation Survey, another one by Jharkhand State Livelihood Promotion Society and a third one by the state government after enrolling an agency to conduct a sample survey.
Yadav's remarks sparked heated arguments between members of the treasury benches and Opposition.
State urban development minister C.P. Singh challenged Yadav to visit any village of the state to justify his claims. At one point, the chief minister rose from his seat and snubbed Yadav. "Don't mock Jharkhand. You don't know how toilets have changed the lives of women and girls who had to wait till evening to attend nature's call," he said.
Das said that women masons, referred to as "rani mistri" and "jal sahiyas" played a key role in the drive to construct toilets across the state.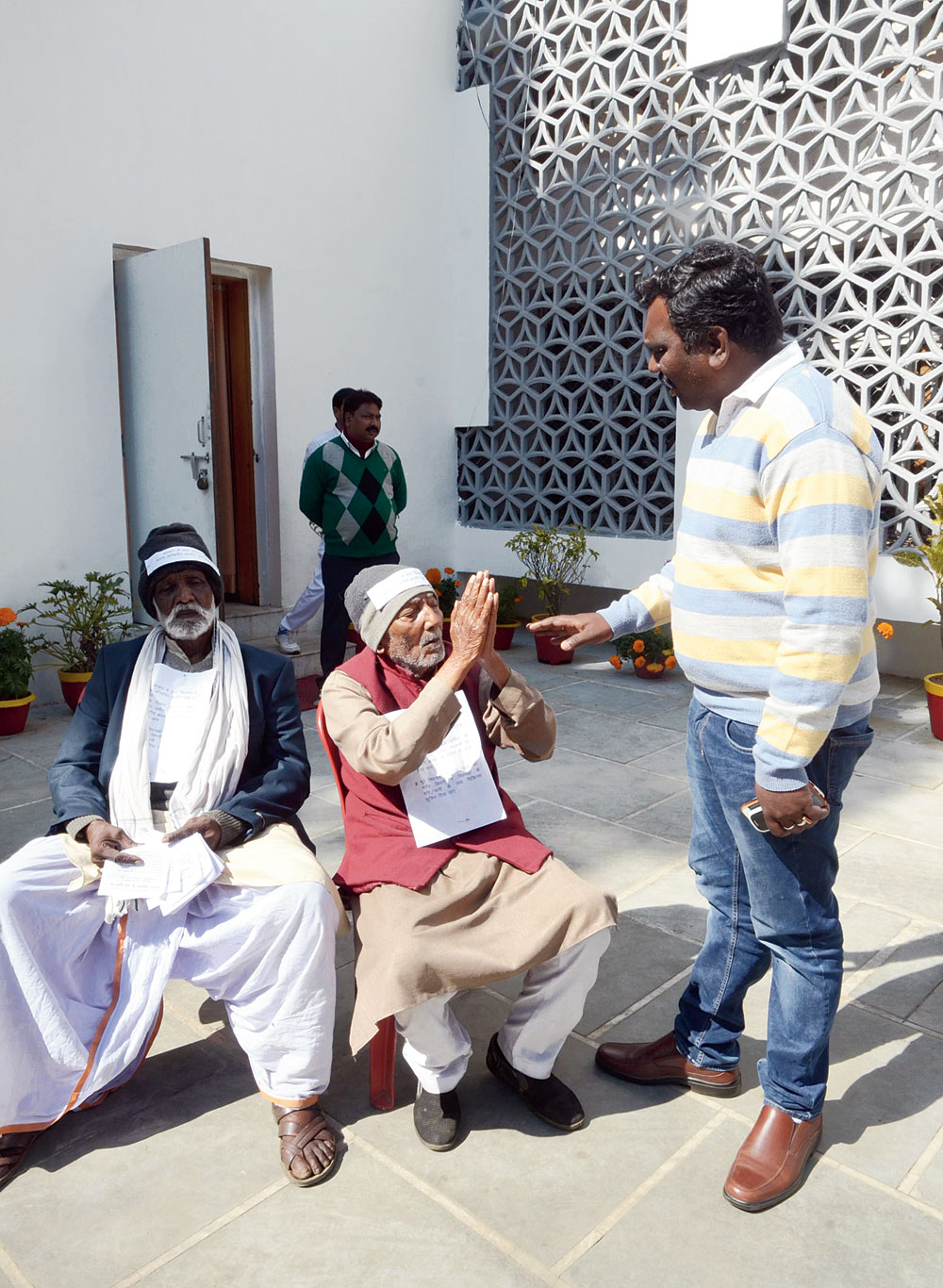 BJP's Radhakrishna Kishore asked about water supply in rural areas through pipelines. He said as per the national rural drinking water programme, each individual must be supplied 55 litre water per day. But the state government was able to supply only 25 litre per day. Kishore also pointed out that in Jharkhand there were as many as 1,500 villages where people were forced to use contaminated water.
In his reply, minister Choudhary said as of now, the state government was able to provide 40 litre to each individual a day. "Earlier, only 12 per cent rural areas had water supply, which, at present, is 32 per cent. By year 2020 we will be able to achieve 50 per cent and by the end of year 2022 we will cover all of Jharkhand," he said.
Choudhary said the state government had started work on 350 water projects of which 113 had been completed.
The chief minister stepped in to say that all affected villages would be connected with pipelines for water supply.
But the state government was cornered on the issue of poor solid waste management (SWM) with a question being raised by BJP's Raj Sinha, who wanted to know when Dhanbad would have a solid waste management system.
Singh, who is minister of urban development department, said that infrastructure in Ranchi and Dhanbad would be made operational by March 2020, adding that the government had decided to set up SWM systems in all districts.
"How can the government ensure SWM for Dhanbad by March 2020 when land has not yet been identified? Even in Ranchi, the project is in a shambles," Sinha countered.
BJP's Manish Jaisawal also raised doubts over the viability of a SWM project in Hazaribagh as the land identified by the government was disputed.
JVM MLA Yadav alleged corruption in the project to which the minister promised to action if he provided evidence.