Raghubar Das asks people for 10 years
Chief minister flays JMM in Dumka stronghold, makes waves in Massanjore tourism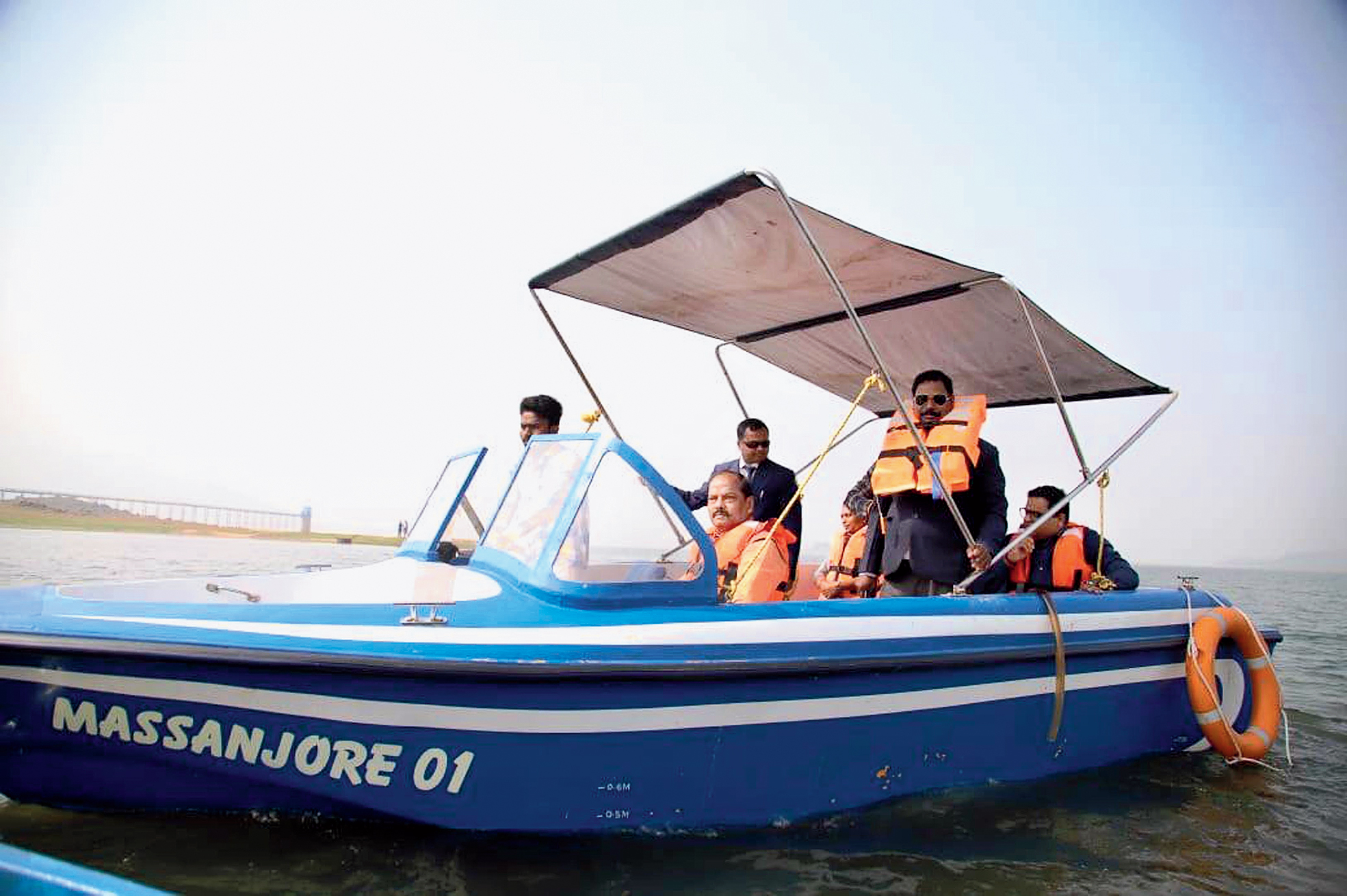 Cruise mode: Chief minister Raghubar Das (seated in front) enjoys a boat ride at Massanjore dam in Dumka on Tuesday.
The Telegraph picture
---
Ranchi
|
Published 04.12.18, 07:14 PM
|
---
Chief minister Raghubar Das on Tuesday inaugurated a tourist complex in scenic Massanjore under Shikaripara Assembly seat in Dumka, a JMM bastion with long-time MLA Nalin Soren, asked people to give him "10 more years" and blasted the JMM and Congress for keeping Santhal Pargana backward.

Making a push to increase tourist footfall to the dam flanked by hills, the chief minister launched the newly renovated Tourist Boat Club, with furnished rooms and suites, guests, cafeteria, conference hall, facilities for indoor games table tennis, billiards and carrom, a children's park with swings and slides and a sunset point. Two boats have also been launched.
Though it is not clear when people can book rooms in the complex, the state government's cabinet meeting on January 11, 2019, with a likely focus on the development of Santhal Pargana, will be held here. However, visitors can book the boats.
Das also approved of a fresh project of mud huts at Massanjore to give tourists an authentic rural feel with modern amenities.
This apart, on Tuesday, Das held a jan choupal in Bansbona village under Shikaripara Assembly seat as a part of his mass connect programmes in JMM strongholds since Sunday, after Barhait and Jama. JMM executive president Hemant Soren represents Barhait and his party colleague and elder sister-in-law Sita Soren Jama.
Talking to villagers in Bansbona, CM Das spoke on the initiatives of the BJP-led governments at the Centre and state, including rural electrification.
"I never tell lies in politics. I believe in convincing people and taking them along. I will never mislead you with false promises. I know this is a difficult job. But, I always mean what I say. I will go ahead with my mission to honestly serve you. Just give me 10 years time and see things for yourself," he told villagers in Bansbona.
Alleging that the JMM never wanted rural electrification, he said, "The JMM never wanted electricity to come to your homes. Because if your houses were lit up by electric bulbs, your children would have started studying and gathering the latest updates from TV channels. The JMM was always scared that if people were educated and knew their due rights, their (JMM's) own days would be over."
Targeting the Congress, he said the party ruled over India for over five decades but did nothing for Santhal Pargana. Dumka is one of the six Santhal Pargana districts.
"Jharkhand should have had at least 124 power grids, but only 38 came up here in 67 years of Independence. But only in the past four years (under BJP rule in Centre and state), setting up of 80 new power grids has begun.
"How can positive changes come about in any area without electricity? We had only three medical colleges here. Now five new medical colleges are coming up. Have you heard about Pradhan Mantri Jan Arogya Yojana (Ayushman Bharat) with health insurance cover up to Rs 5 lakh per annum? All because only Modiji thinks about the poor," Das said.
The chief minister also approved a cocoon bank and appreciated suggestions on water conservation and agriculture. He directed DC Mukesh Kumar to complete ongoing projects, especially those concerning vulnerable tribes, soon.
But when a woman asked the CM to help her with coal or firewood because she could not afford LPG cylinders, Das stayed noncommittal, as he was when prodded on a constituent college status to a degree college in Raneshwar for NAAC affiliation.