Jharkhand cabinet minister makes time for field work
Satyanand Bhokta reached his native village Kari earlier this month and set about ploughing his field the next day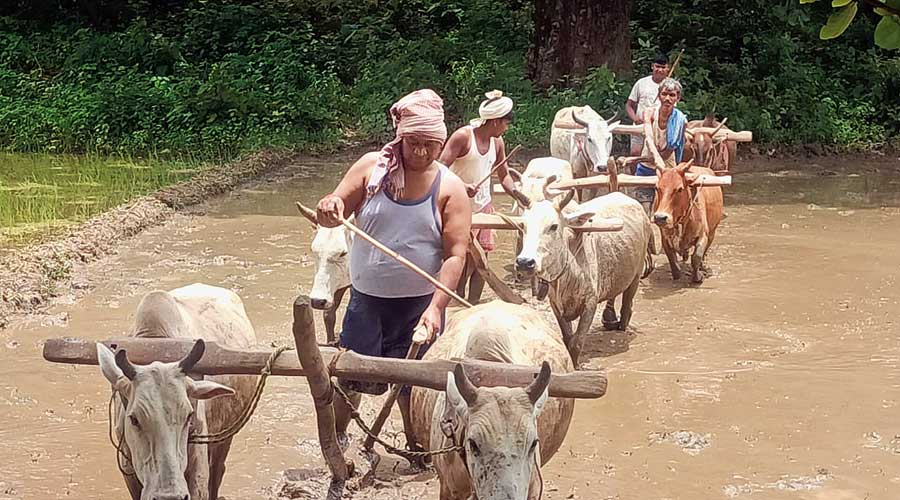 Satyanand Bhokta ploughs the field at Kari village in Jharkhand's Chatra district.
Bhola Prasad
---
Jamshedpur
|
Published 16.08.21, 12:10 AM
|
---
Far from the political hubbub in Ranchi, a cabinet minister in the Hemant Soren-led government in Jharkhand has found time from his schedule to work in his field during the sowing season.
Rashtriya Janata Dal legislator from Chatra and state labour minister Satyanand Bhokta reached his native village Kari under Moktama panchayat in Chatra district, over 200km from Ranchi, earlier this month and set about ploughing his field the next day.
"I keep myself informed about my field. During paddy planting season I make it a point to be in my village to lend a supporting hand to plough the field along with my relatives. In fact in our village there is still a tradition of helping other villagers in planting paddy during the sowing season. I will be doing this work in my village for four days before returning to Ranchi," said Bhokta.
The 50-year-old lawmaker did not show signs of tiredness even after putting in over six hours of work on the field.
"I have been ploughing and also looking after livestock in my house since childhood. So my body is attuned to this work. Even after I became a minister, I find time from my busy schedule to be in my village and find out the problems. I always suggest to my farmer friends and brothers to opt for multiple cropping to increase their income instead of depending solely on paddy. I also request the young generation not to feel embarrassed in doing work in the field as paddy is still our main diet," said the minister who worked between 8am and 2pm in the 10-acre field.
Bhokta said that agriculture production would help the villagers tide over the impact of inflation in the long run.
"We have seen the sky-rocketing prices of fuels which has led to an increase of almost all edible items. The villagers should focus on increasing agricultural production so that they have enough food for themselves even after selling it in the market. I always suggest to farmers in my village to carry out vegetable production and also grow maize to supplement their income. With the cooperation of the villagers, we have built a good number of wells (around 75), including deep bore ones, which help in irrigating the land quickly instead of depending solely on monsoon," said Bhokta.
He also keeps in mind his responsibilities as a minister.
"It takes three hours to reach Ranchi from Chatra. I make it a point to attend meetings in Ranchi in time even though I am tied up with work in my village during the sowing and harvesting season (November-December). Our government is also considering training the farmers in modern methods of farming," said Bhokta.