Do-or-die in Santhal heart
Dumka Assembly seat with 2,45,293 voters has over 52% (including Christians) and 10% Muslims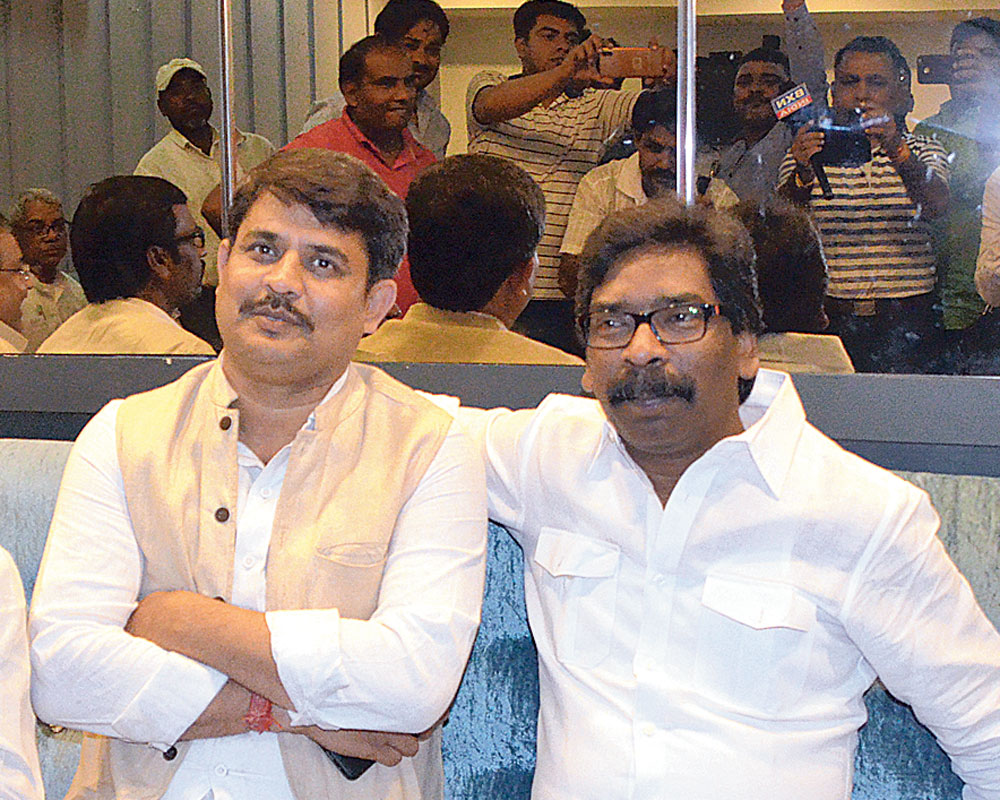 ---
---
Dumka Assembly constituency, also the sub-capital of Jharkhand, some 270km northeast of Ranchi, is the heart of Santhal Pargana and its most prestigious seat.
As in 2014, Dumka is again witnessing a battle between JMM working president Hemant Soren and the BJP's Louise (also spelt Lois) Marandi. Only, in 2014, Marandi, in her maiden poll plunge, had done the unthinkable, defeated Soren Junior by a margin of nearly 5,000 votes in Dumka that had then been seen as the invincible JMM fortress.
In the 2019 Lok Sabha polls, in another big upset, the BJP captured the Dumka parliamentary seat with Sunil Soren defeating JMM patriarch and eight-time MP Shibu Soren by a margin of 47,590 votes. This Assembly polls, the JMM faces a tough battle in Dumka where its sitting MP and MLA are from the BJP.
Prime Minister Narendra Modi's Dumka rally on Sunday must also be playing on the JMM's mind. The rally made national ripples for Modi's comments on how those spreading violence related to the Citizenship (Amendment) Act could be identified by their clothes. Modi also accused allies Congress and JMM of cheating tribals and doing nothing for them while in power.
Yet, for all these seeming advantages, BJP leaders in Ranchi and Dumka privately admit it would not be a cakewalk. "The Dumka battle is very tough this time. The JMM has tried to make forays into the BJP's OBC vote bank by raising the OBC roster issue. It remains to be seen if back-to-back rallies (in Dumka and Barhait) by Modiji have their effect on voters," a BJP youth wing leader in Ranchi said.
Dumka Assembly seat with 2,45,293 voters has over 52 per cent tribals (including Christians) and 10 per cent Muslims. The rest are OBC and general voters.
Vinod Pandey, JMM central general secretary, explained that the OBC roster in Dumka district was missing for the last few years. "So, the OBC population got no reservation benefits. That's a failure of the state government."
The JMM is also relying on the time-tested jal-jungle-jameen mantra for the tribal vote bank. JMM spokesperson Supriyo Bhattacharjee said: "Everyone knows how the BJP government tried to usurp tribal lands, though the PM claims no tribal would be harmed."
A JMM youth wing leader in Dumka said they would win for another reason. "In 2014, a bulk of Christians in Dumka had voted for Marandi (a tribal Christian) but after atrocities against Christians in the garb of the anti-conversion law, they will vote for the JMM."
Marandi said she'd win. "The BJP government has given free LPG cylinders, healthcare and houses to the poor and made roads even in remote villages. People see our work," said the MP.
Dumka votes today