Both winners in fray again
Mamta and Amba want to be madam minister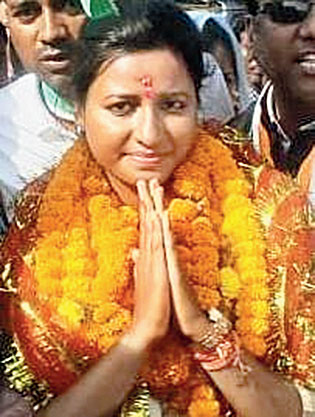 Amba Prasad
Picture by Vishvendu Jaipuriar
---
Hazaribagh
|
Published 26.12.19, 07:44 PM
|
---
Two women, one mission.
It's an open secret that the two new lawmakers from the Congress, Amba Prasad of Barkagaon Assembly seat, and Mamta Devi of Ramgarh, are eyeing cabinet berths in the new Hemant Soren-led government.
Supporters of both Amba and Mamta aver that their leader is ahead. No one knows what the final outcome will be.
Even on social media, supporters of Amba and Mamta are posting messages demanding a cabinet rank for their leader. Amba's supporters have gone ahead demanding the education portfolio for her, claiming that as a law graduate, she is best suited for the post.
Mamta being a simple graduate, her supporters are not demanding a specific portfolio for her, but they do want her to become a minister.
Both Amba and Mamta are young, first-time MLAs. However, their backgrounds are vastly different.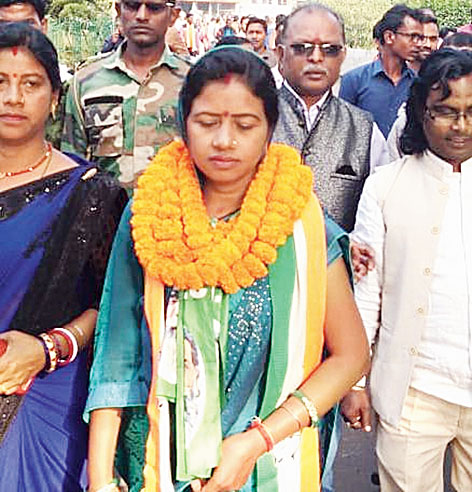 Mamta comes from a humble background with her husband Bajrang Mahto running a roadside eatery at Gola in Ramgarh. Amba belongs to the high-profile Sao family in Barkagaon.
Her father Yogendra Sao was an MLA from Barkagaon in 2009 and an agriculture minister in Hemant Soren's last government, before he was forced to step down owing to his alleged links with Jharkhand Tiger, a banned outfit. But owing to his mass protests to safeguard land of villagers, his wife Nirmala Devi got elected from Barkagaon in 2014 on a wave of popular support.
This time, Amba capitalised on her own popularity and that of her parents to win the seat.
Congress insiders told The Telegraph that both Amba and Mamta busy in meeting influential party leaders so as to become a minister.
They said it is not hidden from anyone in the Congress who the supporters of Amba and Mamta are.
In fact, party leaders are caught in a fix. "While the party wanted to give opportunity to a woman MLA to work as a minister, both Mamta and Amba are in race, and not only their supporters but the duo themselves are leaving no stone unturned to get a seat in the Hemant Soren cabinet," said a Congress leader.
Amba is new in politics but Mamta has worked as a zilla parishad member and is known to be efficient, the Congressman added. "She is quietly competent, and she has also dislodged the Ajsu Party from Ramgarh by defeating Sunitaji, the wife of heavyweight Ajsu leader and MP Chandraprakash Choudhary," the Congress leader said.
"It was seen as an impossible task but Mamta, with her hard work and grassroots appeal, did it."
But he added that Amba had the advantages of powerful connections and the glamour that comes with it.