Jabs for 900 on Day One of Dhanbad's mega vaccination
District administration plan to help those living in remote areas who could not book slots online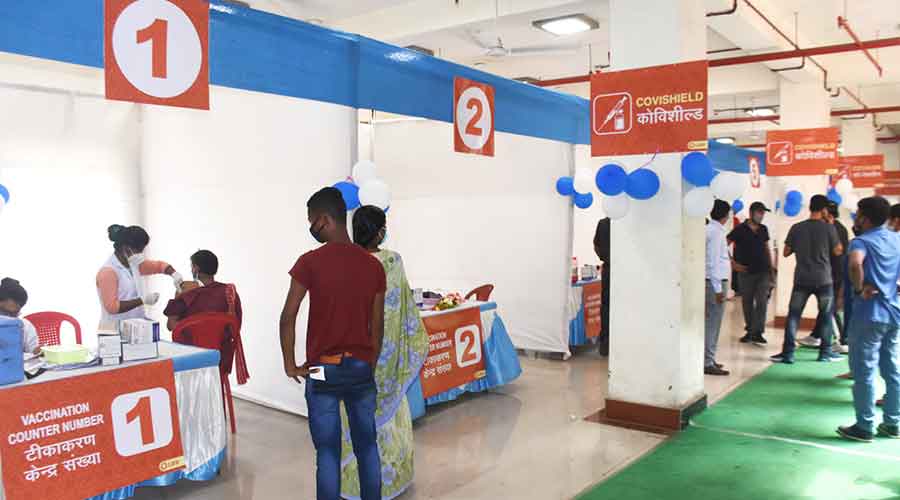 ---
Dhanbad
|
Published 02.10.21, 05:45 PM
|
---
Dhanbad district administration launched a mega vaccination drive at IIT (ISM) shopping complex on Saturday  during which 900 beneficiaries were administered doses of the  Covishield vaccine.
Kumar Tarachand, the  ADM (Law and Order) of Dhanbad who inaugurated the drive in the presence of  Dhanbad Civil Surgeon Shyam Kishore Kant and Vikas Rana and  District Reproductive and Child Health Officer (DRCHO)  Vikas Rana, said, "The special drive, besides helping the people of remote areas who could not book the slot online,  will also help  accelerate the vaccination drive in  the district."
Rana told The Telegraph Online , "The mega drive will continue at the same centre. Although we targeted  900 doses on the inaugural day, we will soon increase it to 2,000 doses per day."
Rana said the mega drive was being held  in addition to  vaccines being given  at other centres across the 10 ten blocks of the district including Dhanbad, Tundi, Topchachi, Govindpur, Purbi Tundi, Nirsa, Egarkund, Kaliasol, Bagharma and Baliapur. 
 In Dhanbad on Saturday,  vaccinations were carried out at  54 centers, including 17 centers of Dhanbad Sadar, 12 of Jharia, seven of Topchanchi, six of Baghmara, four each of Nirsa & Tundi and two each of Baliapur and Govindpur.
"Covishield  doses are being given at at the  mega drive but depending on the availability of vaccines, Covaxin may also be given," Rana said and added that manpower for the  drive was being provided by Care India, an NGO carrying out a vaccination drive at Ranchi and Jamshedpur.
Pratyusha Kumari, an M Tech (Electronics Engineering) student of IIT (ISM) who took the second dose of Covishield at mega camp said, "We returned  to thw campus after a gap of around 18 months on September 1. Since we arrived here after taking the first dose at our home town of Ranchi, we were concerned. But now that we got our second doss, we feel  quite safe."
Ravi Kumar Agrahari, a classmate of Pratyusha who also took the second dose at  the mega camp, said, "The arrangements at the mega camp were good and my parents back home at Siddharnathnagar in UP who were also concerned about our safety at the campus, felt getting to know that I had got my second jab on Saturday."