Information kiosk at Dalma to open for tourists next week
Clay bottles, plates and hats made of leaves to be sold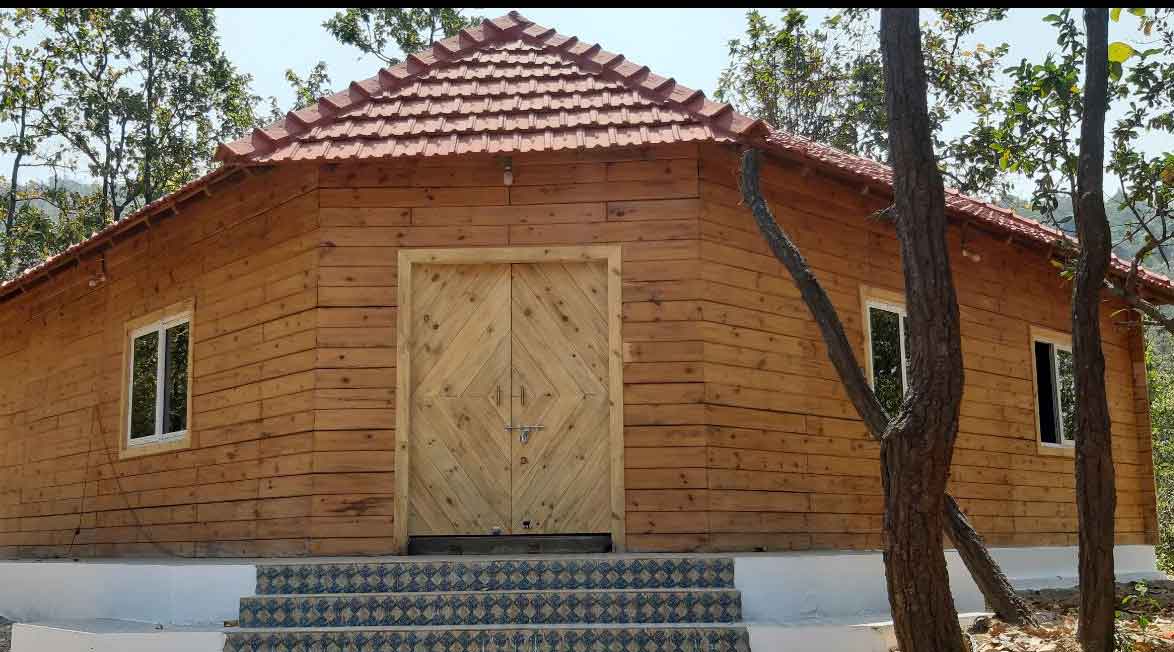 Information kiosk inside Dalma wildlife sanctuary
Bhola Prasad
---
Jamshedpur
|
Published 01.04.22, 02:50 PM
|
---
The much-awaited information kiosk inside Dalma wildlife sanctuary, 30 km from Jamshedpur, is set to  open for tourists next week. The Rs 40-lakh facility, part of eco development project, is located at Makulakocha, the gateway to the sprawling 192 sq km elephant abode.
The kiosk, a wooden structure, has a resting hall for the visitors. Entry tickets will also be sold from the kiosk. The hall (with furniture) has been furnished and toilets are in place. So, the visitors while buying the tickets can also take some rest.
Dalma range officer (West) Dinesh Chandra confirmed that the information kiosk will be opened for tourists next week. "Barring painting on a small portion in the front, rest of the work has been completed. We were waiting for the opening of the kiosk but things  remained pending due to some reason or the other, including Covid-19 the pandemic," he added.
According to him, clay bottles made by villagers living inside the sanctuary and its periphery will be sold from the information kiosk. Besides clay bottles, plates and hats made from leaves will also be available at the kiosks. Honey collected by villagers living inside the sanctuary will also be sold. "These items are being currently sold from near the ticket counter," Chandra added and said the renovated museum will also be inaugurated later this month.
The range officer informed that a women group in Chandil (in Seraikela-Kharsawan district) will be selling home-made spices from the information kiosk. The villagers can earn some extra money by selling their respective items.
Use of plastic is strictly banned inside the sanctuary and clay bottles would be a handy option for the tourists. Plastic ban was being strictly implemented inside the sanctuary. Tourists visiting the sanctuary with plastic bottles are asked to deposit money at the ticket counter. The money is refunded if they deposit the bottles at the counter. For example, tourists need to deposit Rs 20 for carrying plastic bottles inside the sanctuary. This would deter tourists from throwing plastic bottles inside the reserve.
Tourists also throw plastic and thermocol plates inside. So, plates made from leaves are a handy option for them. Unlike plastic items, clay bottles and leaf plates can be discarded inside the reserve. The effort of promoting clay bottles will also keep the sanctuary clean and tidy. The effort will also keep the environment  clean.
Tourists from Jharkhand, Bengal, Bihar, Odisha and Chattisgarh flock the sanctuary in summer and winter to enjoy quality time amid flora and fauna.