Howrah to Shalimar terminal change for 8 passenger trains
The idea is to ease the load on the busiest station of the east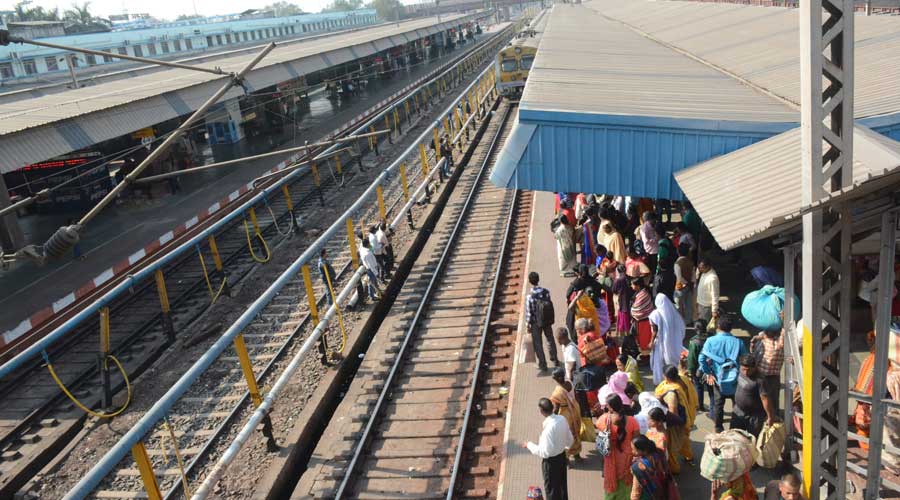 The Tatanagar railway station.
Picture by Bhola Prasad
---
Jamshedpur
|
Published 23.10.21, 06:18 PM
|
---
As many as eight South Eastern Railway trains, some of them going  through Tatanagar and other stations of Chakradharpur division, will have a new address of origin  soon.
SER has decided to shift the starting station, from Howrah to Shalimar, of  passenger trains that stop at Santragachi (in both Up and Dn directions).The move is to ease the  load on Howrah station – the busiest railway junction of the eastern region.
According to SER's Garden Reach (Calcutta) headquarters  on Saturday, the  Howrah-LTT Special, which goes via Tatanagar, will start from Shalimar from November 4. While returning, it will end it's journey at Shalimar from  November 2.
Similarly, Shalimar will be the originating and terminating station for: 
The Howrah-Porbandar Special from January 15 and January 13, 2022. 
The  Howrah-Okha Special from January 18 and January 16.
The  Howrah-Vasco Da Gama Special from January 1 and January 4.
The Howrah-Hyderabad Special from  January 2 and January 4.
The Howrah-Chennai Special from January 14 and January 15.
The Howrah-Puri Special from January 14 and January 14.
Officials at the SER headquarters said there will be no change in arrival and departure timings at Shalimar and at other enroute stations