How to beat plastic? Make oil & bricks
Students display recycling models at National Olympiad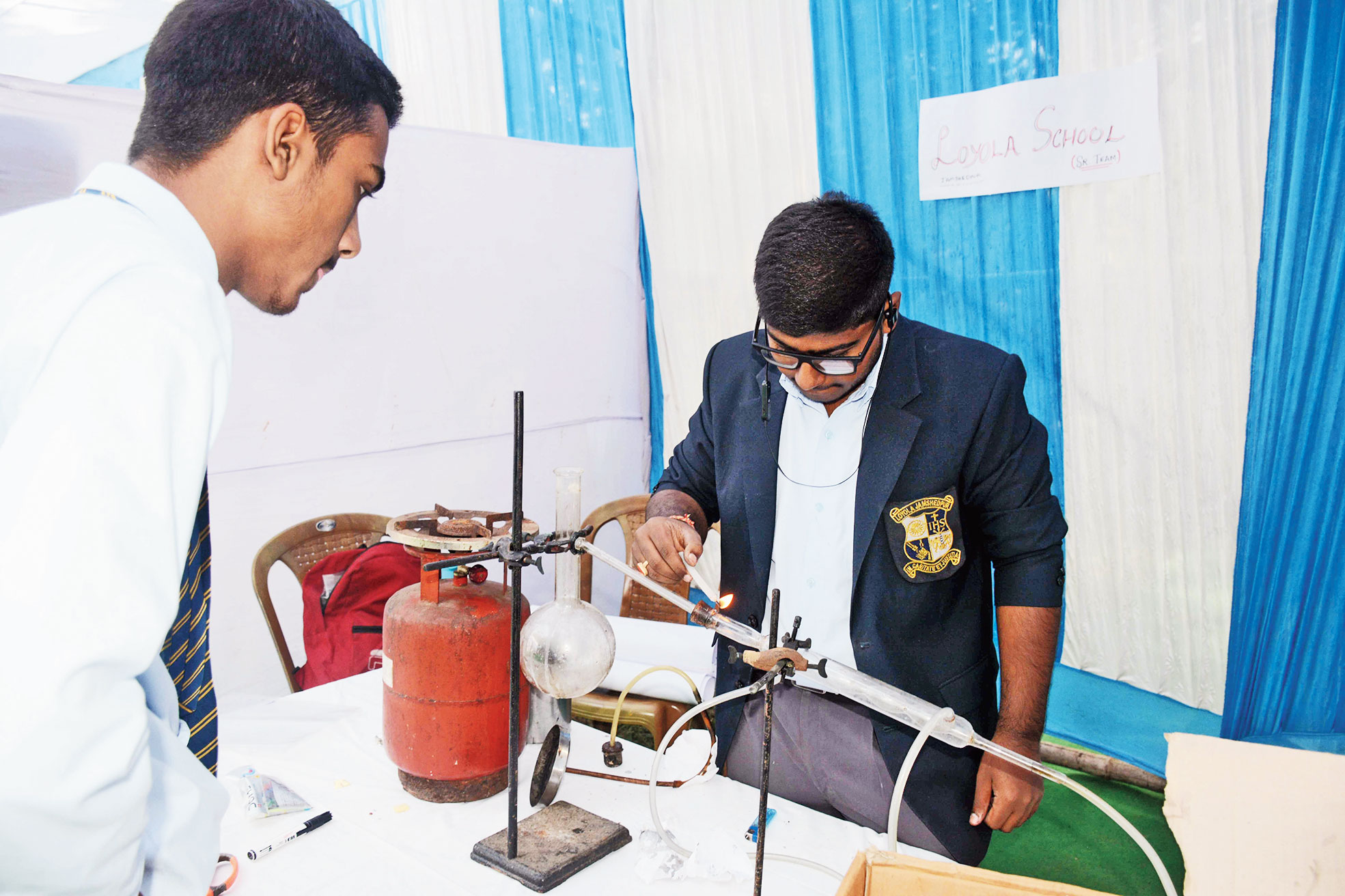 Loyola School students demonstrate the process of extracting oil from plastic at Institution of Engineers in Jamshedpur on Sunday.
(Bhola Prasad)
---
Jamshedpur
|
Published 11.11.18, 06:27 PM
|
---
At a time the entire world is fighting plastic pollution, a group of students has used their knack for science to innovate ways to beat the menace.
Over 150 students of Classes VIII to XII from across Jharkhand and nearby states took part in a two-day National Creativity Olympiad, which concluded at Institution of Engineers in Sakchi on Sunday.
On the concluding day, around 60 students from 15 teams showcased their models to recycle plastic. From converting plastic into oil to compressing plastic into bricks, students put their best ideas forward at the competition that was held for the 17th consecutive year.
In the senior section Little Flower School, Telco, and Atomic Energy Central School, Tamolia, bagged the first and second prizes, respectively, while in the junior section Jamshedpur Public School, Baridih, and Srikrishna Public School, Bistupur, came first and second, respectively.
Students of Carmel Junior College created a clean green factory system to treat waste generated from factories. The model, presented by Class IX students Kunal Kathuria, Aditya Roy, Swapnil Dutta and Arnaav Shah, showcased how heat and dust emitted from the factory chimney can be converted into electricity using Peltier effect. They also attached a plastic deformation unit that can be used to compress plastic waste using hydraulic pressure.
"At this exhibition we could only generate 900MV electricity but if this process is carried out in a factory it can generate larger amounts. Besides, we have also used filters to eradicate harmful gases," explained Kathuria.
Another team from Loyola School demonstrated how plastic can be heated to produce oil. "This will be the future of our nation when we will run out of natural resources. We heated plastic and depolymerised it through condensation. While we bubble the vapour through water, the oil gets collected as a residue that can be fractionally distilled and used as a fuel," said Dhrubo Chattoraj, a Class XII student of Loyola School.
On Saturday students from Durgapur, Tirupati, Kanpur, Ranchi, Bokaro and Jamshedpur took part in a competition where they had to make an underwater model based on a self-propelling machine. Students were judged on design, use of materials, weight, extra load and depth and propulsion in water.
"Students apply their brains and really work hard to create something new. They have created wonderful models that can be replicated on a large scale," said Rohit Kumar Singh, an NIT student who was also part of the organising committee.