Ranchi hotels limping back to business as usual
'We are now getting a maximum occupancy of around 60 per cent', says hotelier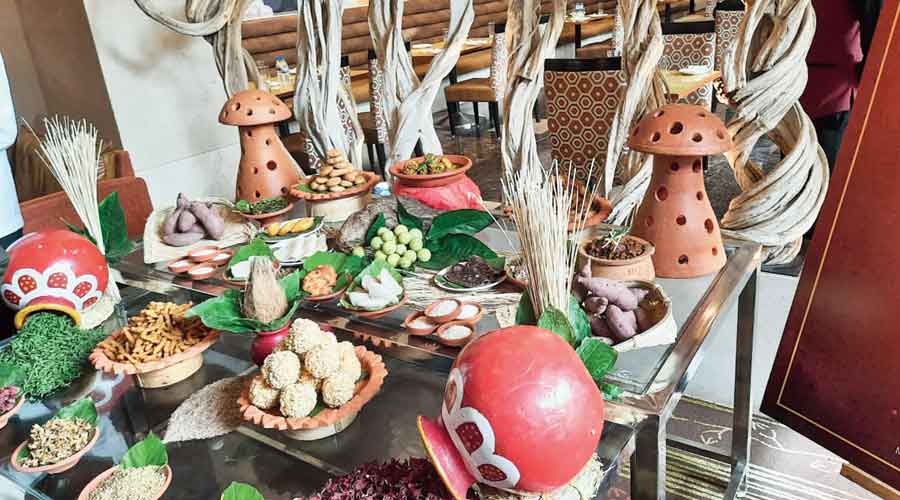 Some dishes and their ingredients on display at the Radisson Blu hotel
Manob Chowdhary
---
Ranchi
|
Published 03.02.21, 12:52 AM
|
---
Hotels in the Jharkhand capital that were allowed to operate over three months ago during the unlock phases are still slowly limping back to business as usual.
"It's (business) picking up slowly," said Shantanu Guha Roy, general manager of Radisson Blu Hotel in Ranchi, that claims to be "the only international hotel of Bihar and Jharkhand".
Asked about the present occupancy position, he said: "Our guest count is about 75 to 80 per cent of our capacity during normal times but we are now getting a maximum of around 60 per cent."
Chandrakant Raipat who owns two hotels — Green Acres and Green Horizon — in the city, said: "In real terms, that actually means the hotels are now running with an occupancy rate of around 45 per cent of their capacity, which is far from satisfactory."
"The hotel business here depends mostly on corporate guests," Raipat further said, adding that his hotels would run satisfactorily only when the business activities become normal.
"Our present occupancy rate is even less; it now varies between 30 to 40 per cent of our capacity," said the front office manager of another posh hotel of Ranchi who did not want to be identified.
In order to boost business, Radisson Blu started a nine-day food festival from Tuesday. "This is for the first time after about a year that we are organising a food fest — Jharkhand Food Promotion — at one of our restaurants called Waterfront Cafe," said Devesh Kumar, the hotel's associate director of sales.
He said they would serve Jharkhand specialities at dinner every evening to interested guests even if they are not staying at the hotel. "We have found that guests like indigenous dishes from across Jharkhand," said executive chef Ramchandra Oraon.
He said these traditional dishes are cooked in various ways — boiled, roasted, fried or in curry. He said some of the dishes are prepared in less oil and spice. "This event is a step taken to rediscover many untapped treasures and secret recipes of Jharkhand that could make forgotten dishes a preferred meal offering health benefits with great taste," Oraon said, adding that their main ingredients would be locally sourced organic vegetables and tubers.
Asked to name a few dishes, he said dhuska, rugra, dobki, phutkal saag, bathua bori, sanai phool bori, chhilka roti, dudhori, mudaua maas (mutton curry), murga jhoor (chicken curry), fish items, arsa and meetha khaja were on offer.