Hope floats for Ranchi Lake makeover
Rs 13-crore project includes a Swami Vivekananda statue and 2 bridges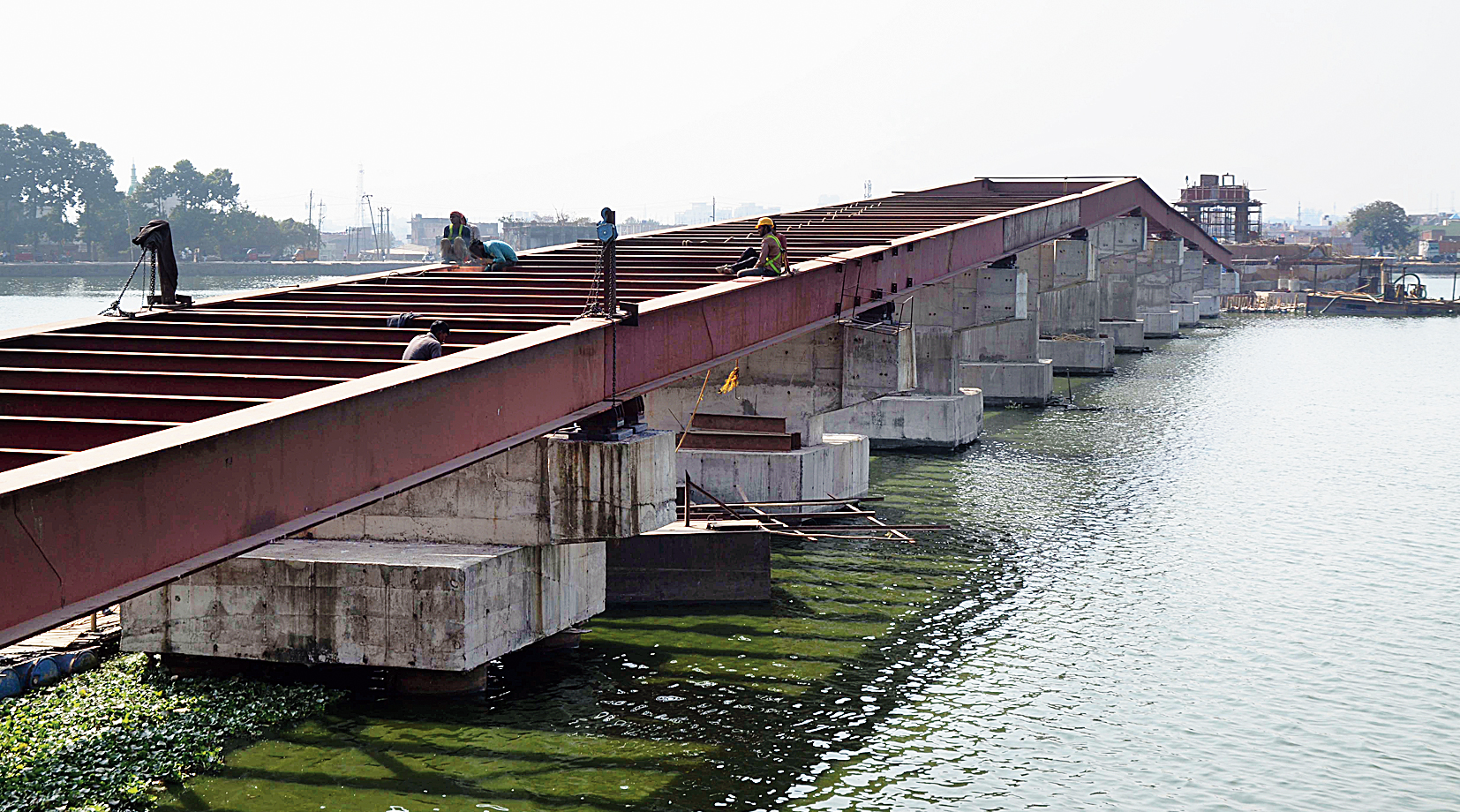 ---
Ranchi
|
Published 07.12.18, 08:45 PM
|
---
The long wait for a 33ft Swami Vivekananda statue on Ranchi Lake is likely to end early next year with the state cabinet deciding to rope in business conglomerate Shapoorji Pallonji on nomination basis to complete the project by January 12, the birth anniversary of the reformer.
Urmila RCP Projects Private Limited, which was fielded in May 2017 and was expected to finish beautification of the landmark water body by November the same year, has managed to complete 75 per cent work. Now, Shapoorji Pallonji are expected to take over from them.
The Rs 13-crore makeover envisages among other things two bridges — one 20 metres long and six metres wide connecting the main entrance with Island-1 of the lake and the other 200 metres long and six metres wide connecting Island-1 with Island-2.
Urmila RCP has finished structural work of both bridges and readied the base of Island-2, where the statue of Vivekananda will stand. It has also done 50 per cent base work for Island-1. The new company will need to give the bridge final shape, complete the remaining 50 per cent work on Island-1, construct a pathway on Island-2, install lighting, fountains and stairs, among other things.
Jharkhand State Building Construction Corporation (JSBCCL), the supervising agency, is hoping the project will pick up pace. "Swamiji's statue could not be installed on his birth anniversary this year. We are targeting next year. Shapoorji Pallonji is already working on several projects in the state. We are hopeful," junior manager Neeraj Kumar Mahto at the project site on Friday.
Site in-charge of Urmila RCP Mohammed Hafizullah claimed red tape behind the agency not being able to finish the job on time. "The project was handed over to us in May instead of January as promised. We worked on the bridge day and night. Owing to monsoon and the festive season thereafter, work got delayed. The government is suddenly roping in another firm when we are in the final stages of completion. This is injustice," the site official said.
According to Hafizullah, the state government also hadn't cleared their bills in total. "Out of Rs 13 crore, we have received only Rs 6 crore so far," he said. Engineer Mahto contested the claim. "Bills remain unpaid because the company failed more than one deadline," Mahto said.
Planning manager of Shapoorji Pallonji Soumik Mitra, who inspected the site on Friday, said he came to know about a cabinet decision through newspapers. "We do not have a problem in taking over the project."