Home again for Ranchi homeless
Evicted slum residents to get pucca dwelling units by year-end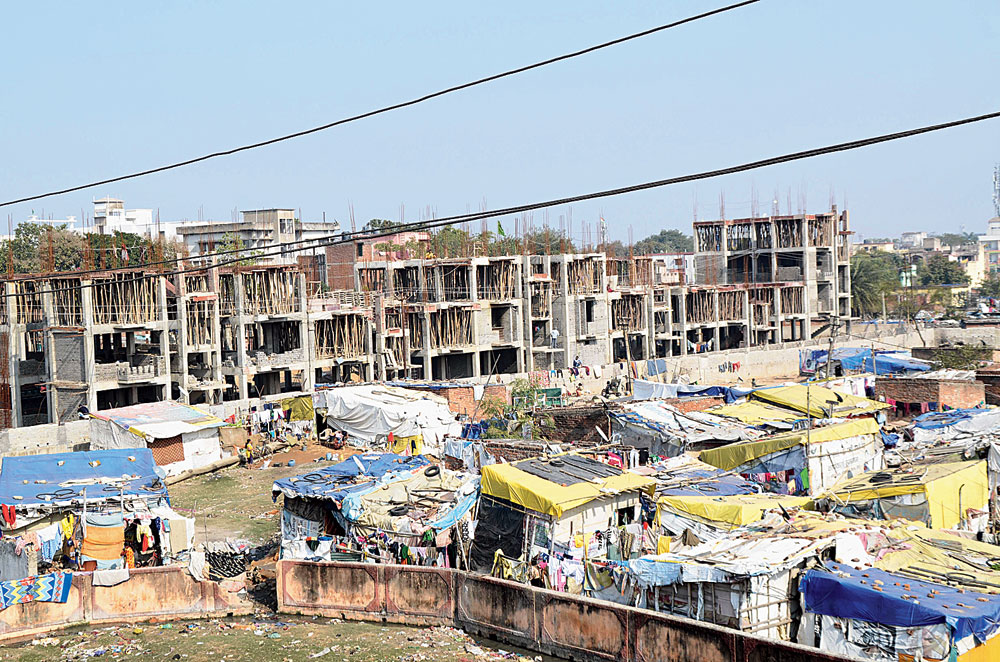 Building hope: A drive to verify the bona fides of those evicted will begin for Islam Nagar slum in Ranchi from Wednesday.
Picture by Manob Chowdhary
---
Published 01.01.19, 06:41 PM
|
---
The RMC has decided to begin the New Year on a philanthropic note.
From Wednesday, the RMC will launch an eight-day verification campaign to sieve 444 bona fide families who were evicted from government land during an anti-encroachment drive more than seven years ago.
These residents of Islam Nagar slum will be allotted pucca houses in the same area by the end of the year.
In April 2011, the erstwhile Arjun Munda government had, following orders from Jharkhand High Court, demolished illegal constructions to free government acres in both Islam Nagar and Naga Baba Khatal area.
In July, 2018, the state cabinet sanctioned Rs 33.04 crore for 444 housing units in Islam Nagar for evicted families. Jharkhand Urban Infrastructure Development Company undertook construction work within a month of the funds being released, but 50 per cent work still remains to be done.
Islam Nagar is located in the heart of Ranchi and falls under Ward 16 of RMC. The new residential colony is coming up on three acres, where each family will be provided a 300sqft home. A school and a madarsa will also be set up on the same premises.
The RMC on Monday had issued a public notice, asking all evicted families to turn up at the ward office along with supporting documents.
"The verification drive will continue till January 9. Whosoever was evicted in 2011 will have to submit an affidavit that they don't have any pucca house in any part of the country. Besides, they will have to produce their Aadhaar and PAN card, and bank account details," said deputy mayor Sanjeev Vijayvargiya.
Earlier, a list of evictees had been submitted to the high court. "But, in order to maintain transparency, a re-verification is required. No application for verification will be accepted and entertained if submitted after the deadline," Vijayvargiya added.
Ward 16 councillor Najima Raja sounded sceptical about the selection procedure.
"Since the houses will be allotted under the PM housing scheme, criterion of 'not having pucca house' is being added. Contrary to this, the high court had directed that all those evicted be given a home. Also, the RMC wants to complete the re-verification process within eight days. This is absurd, especially when it will take us at least a week to inform the families," she said.