Hemant stresses on socio-economic survey of mining areas
At meeting with Niti Aayog team, Jharkhand highlights funds crunch, complains about arbitrary auto debits from its RBI account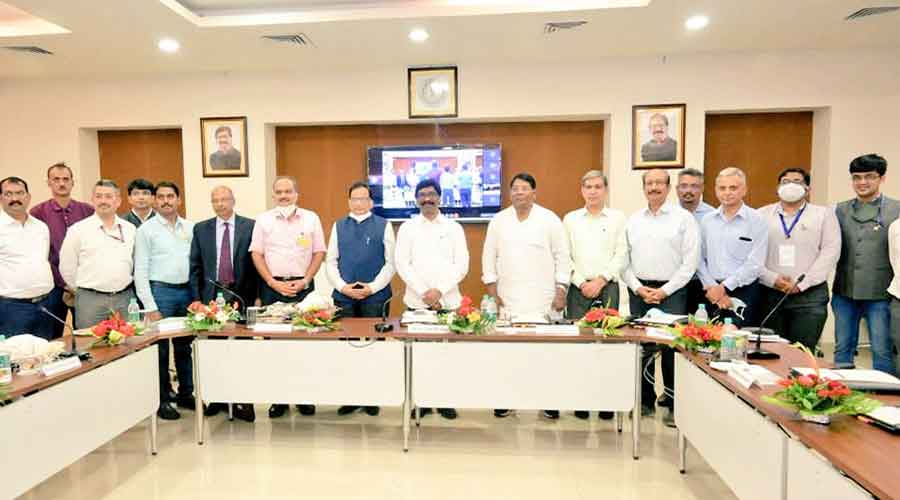 ---
Ranchi
|
Published 15.09.21, 08:33 PM
|
---
Jharkhand chief minister Hemant Soren on Wednesday stressed on the need for socio-economic surveys in all mining strongholds of the state to evaluate the living conditions of local inhabitants so that effective intervention plans can be finalised for them. 
Speaking at a closed-door meeting with the members of Niti Aayog here, Hemant also suggested area-specific development plans as per the need of the state. Besides placing a host of demands before the Central team, he also raised the issue of dues amounting to crores the Centre and its agencies/companies owed the Jharkhand government. 
An eight-member team of Niti Aayog, under the aegis of senior member V K Paul, held its first consultation with the state government in Ranchi on Wednesday. The meeting which began at noon went on for about three hours.
Addressing the Press later, Hemant said the meeting was forward looking and expressed the hope that such interactions would help strengthen the federal structure of the country. He said discussions took place on about 22 issues across various sectors, including agriculture, roads and railway projects.
"The first and foremost issue before us was auto-debit of money from the state's RBI account by the Centre since last year against pending payments to Damodar Valley Corporation (DVC). Till date, Rs 2800 crore has been cut and Rs 2200 crore more will be taken out from our account. These deductions are arbitrary as the state government had exited the tripartite agreement. More so, the claims made by DVC has been contested by us. Till the time this is sorted out, such auto debits must stop," the chief minister said.
"On the contrary, Coal India, Central Coalfields, which operate here, haven't paid us royalties worth thousands of crores for long. Similarly, some Rs 1,800 crore is pending as GST compensation. We must get those for the state's development," Hemant added.
He said the Niti Aayog team promised to arrange a meeting with Central officials in the coming days to settle these issues.
Hemant outlined his plans for mining belts of the state. "Since mining activities are happening here for decades, I have suggested holding socio-economic survey so that we can know if at all it benefitted locals or not. This will help us plan proper schemes," he said.
The chief minister also called for special incentives for the SC/ST people. "We have demanded relaxation of GST and other kinds of taxes to SC/ST entrepreneurs so that they too can get proper assistance to pursue start-ups. There is a need for a special policy to boost SC/STs. From our end, we have recently come up with a new industrial policy to boost trade and create jobs," he said.
Hemant said he had asked for more vaccine stocks to fight Covid-19. "Against our capacity of vaccinating over 3.5 lakh people per day, we are barely doing around 1.25 lakh a day. We must get good quantity of vaccines in advance so that  we can speed up the drive," he said. 
Since Jharkhand was a rebel infested state, the chief minister urged Niti Aayog to ensure that funds to tackle left wing extremism be extended for another two years. "Earlier, 13 districts were classified as highly rebel hit. But now, the Centre has revised it to eight."