Hemant Soren to visit all jails in Jharkhand
CM made the announcement on Friday late evening after a marathon review meeting of the state home, jail and disaster management in Ranchi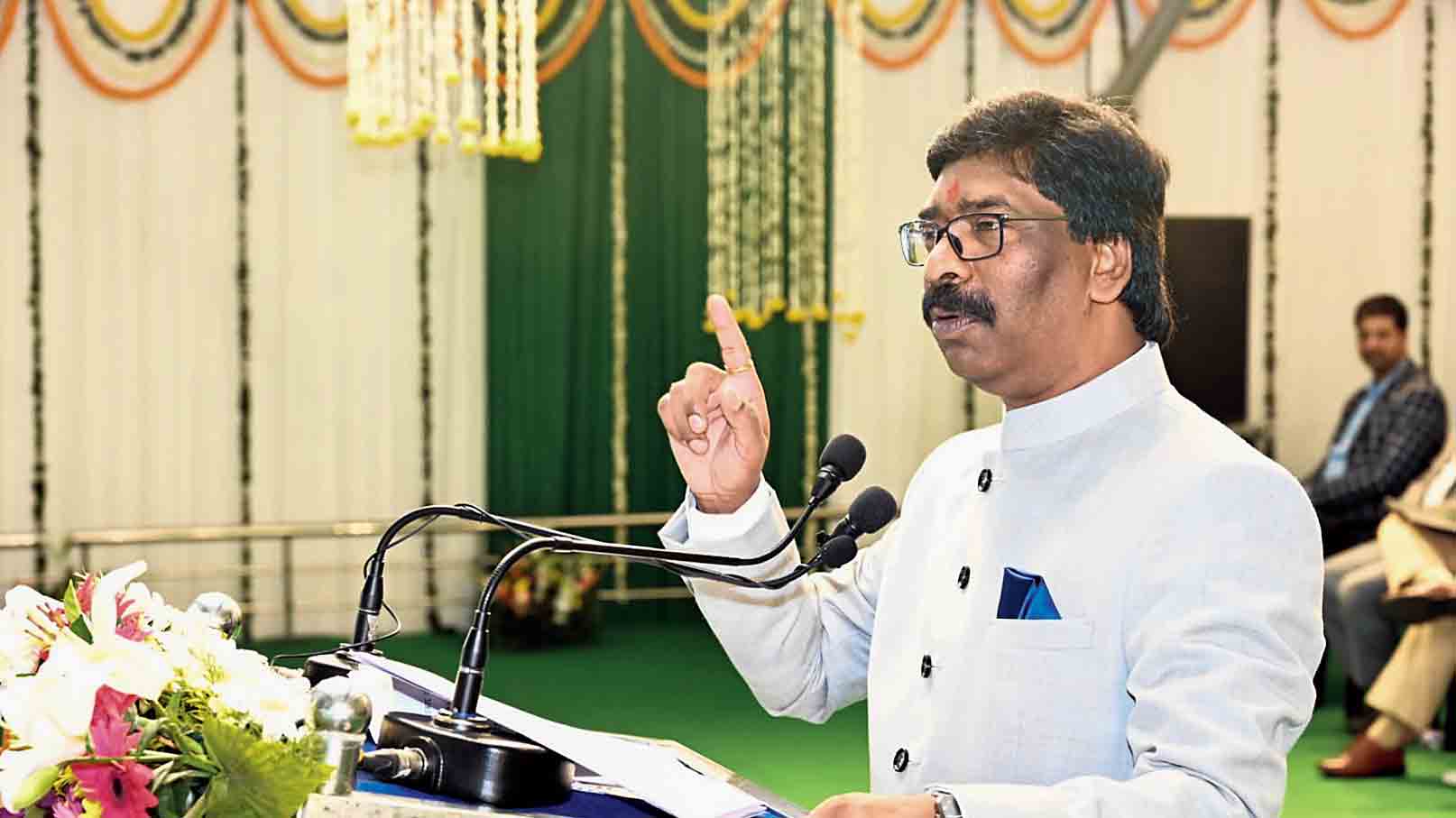 ---
Jamshedpur
|
Published 19.06.22, 12:12 AM
|
---
Jharkhand chief minister Hemant Soren will do a surprise inspection of all 31 jails in the state, a first for any chief minister of the state.
Hemant made the announcement on Friday late evening after a marathon review meeting of the state home, jail and disaster management in Ranchi.
"I will personally inspect all 31 jails in the state and see the condition of the prisoners and undertrials and the arrangements made for them in the jails," Soren said after a thorough look at the cases related to the tribal prisoners (convict) and undertrials lodged in various jails of the state.
According to the data issued by the state government to a question raised by Shikaripara JMM MLA Nalin Soren in the Jharkhand Assembly during the budget session on March 21 this year, 74 per cent of the 20,400 currently jailed inmates were undertrial and most of them were adivasis, Dalits, backwards and the elderly.
A communique issued by the chief minister's secretariat on Friday night stated that Hemant also directed the officials to take concrete steps for speedy disposal of cases of undertrial prisoners facing punishment less than three years from the court.
The chief minister also expressed concern that the number of prisoners or undertrials in the jails were more than the capacity and significant number of prisoners had sentences less than three years.
"Officers are directed to take appropriate steps in the direction of providing free legal aid through advocates to the prisoners in the case of undertrials (especially those sentenced to less than 3 years)," said Hemant.
Expressing concern at the higher number of prisoners belonging to minority, Scheduled Castes (SC) and Scheduled Tribes (ST) category in the jail and most of these cases were under trial, Soren said that the cases relating to prisoners belonging to SC and ST should be specially investigated and the process of disposal of their cases from the courts should be completed at the earliest.
Incidentally, out of 31 jails there are seven Central jails, 16 district jails and seven sub-jails.
The total capacity of all the jails in the state is 17, 421 whereas 19, 619 prisoners are lodged in these jails.
There are 14,445 undertrials in state jails, while the number of convicted prisoners is more than 5200.
Support for Stalin
Hemant Soren tweeted on Friday night endorsing the proposal of Tamil Nadu chief minister M.K. Stalin to Prime Minister Narendra Modi to hold inter-state council meetings thrice a year to seek the opinion of the state governments on policies of national interests. The Jharkhand CM expressed his solidarity by retweeting Stalin's Thursday's tweet.
I concur with @mkstalin ji in this regard. The idea of #CooperativeFederalism should be practiced in spirit by Union Government with active cooperation of all the state governments. https://t.co/MzuCy5GkXI

— Hemant Soren (@HemantSorenJMM) June 17, 2022