Hemant hears out land fears
Hemant assures villagers that no one would to harass them, asks chief secretary to take action in this matter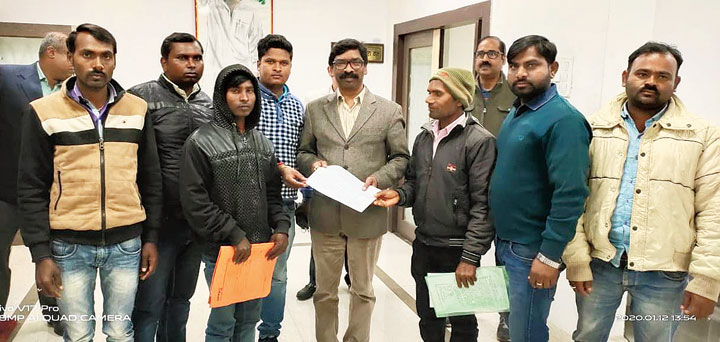 Hemant Soren with the raiyats in Ranchi on Sunday.
Picture by Vishvendu Jaipuriar
---
Hazaribagh
|
Published 12.01.20, 07:06 PM
|
---
Chief minister Hemant Soren in Ranchi on Sunday met 10 raiyats (land-holders) of Barkagaon who accused the NTPC of perpetrating "lathi raj" to acquire land.
In the meeting facilitated by Congress MLA Amba Prasad, land-owners alleged that the NTPC and its outsourced firm Thriveni Sainik had unleashed a "reign of terror" to forcibly grab land, even fertile farmland. They alleged that the NTPC and Thriveni Sainik had the backing of the district administration.
A raiyat said that even when the company and district officials called them (land-owners) for talks, it was only to threaten them with dire consequences if they created trouble in land acquisition.
Hemant told the villagers that no one would be allowed to harass them. He also talked to chief secretary D.K. Tiwari, directing him to take action in this matter. "If company or government officials threaten you, come to me," the CM said. "I will take direct action."
Amba was not present, but on coming to know that some raiyats were on hunger strike since January 8 against the alleged atrocities of the NTPC and Thriveni Sainik, she arranged this meeting with the CM.
MLA Amba told The Telegraph that the NTPC should follow the norms of the land acquisition Act 2013, compensate land-losers with commercial rates and offer jobs to local youths. "Harassment of land-owners won't be tolerated," she added.