Hearts bleed for strays
Stray animals are largely dependent on these food-stall leftovers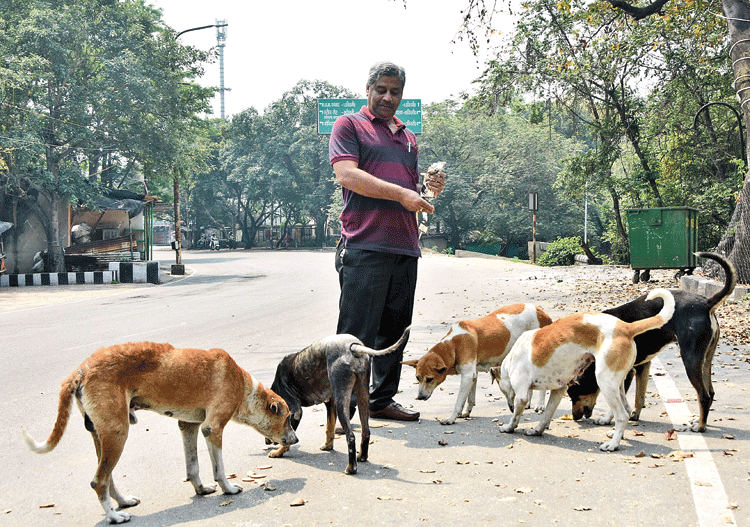 ---
|
Dhanbad
|
Published 25.03.20, 07:17 PM
---
Animal lovers of the district fear that a large number of stray animals, including dogs, may starve to death following the closure of of roadside eateries during the lockdown.
Stray animals are largely dependent on these food-stall leftovers.
A group of stray dog feeders led by hotelier Anutosh Bagchi on Wednesday approached police for passes to continue feeding dogs during the lockdown. The members were asked to meet Dhanbad subdivisional officer Raj Maheshwaram as the passes can only be issued by him. The group has decided to meet him on Thursday.
"Nobody is concerned about the stray animals. I used to feed fish and rice to the dogs, but am only offering biscuits and rotis to them now in the absence of fish in the market," Bagchi said on Wednesday.
Bagchi said he had been feeding stray dogs for over fifteen years. He also gives birth-control pills along with food to female dogs because it is less painful compared with the surgical procedure.
"The condition of stray cows and bulls is also pitiful. After the imposition of the state lockdown on March 23, I started feeding bread to them," Bagchi added.
Besides Bagchi, who feeds dogs at Luby Circular Road, Rita Dang (Jagjivan Nagar and near Carmel school) Partho Majumdar (Barmasia), Arijit Guha (JC Mallik Road), Arun Das (Saraidhela), S. Roy (Barmasia), Kirti Kohli (Bank Mor), Chandan Chatterjee (Bhuli) and Souvik Banerjee (Hirapur) are part of the group that met police.