Mukesh Kumar, a suspended sub-inspector of the 2012 batch and then officer in charge of the Barkagaon police station in Hazaribagh, has been dismissed from the service after he was found guilty of misusing his position.
He was accused of going to his native village with a police team from Barkagaon and threatening his relatives over a land dispute.
He also thrashed Dhirendra Kumar Yadav, a relative. Yadav complained to police officers, following which then director-general of police Kamal Nayan Chobey ordered an inquiry. The inquiry established that Yadav's complaint was true.
Sources said Kumar could also face action for allegedly helping gangster Aman Sahu escape from the custody of Barkagaon police.
26 containment zones notified
The Dhanbad administration on Wednesday notified 26 containment zones across the district in areas such as Jharia, Topchanchi, Baghmara and Govindpur after the detection of Covid-19 patients. Curfew has been clamped in these areas.
Dhanbad subdivisional officer Raj Maheshwaram said: "Auto-rickshaws, taxis, motorcycles, buses, e-rickshaws and cycle rickshaws will not be allowed in the containment zones and all offices, commercial establishments, factories, warehouses, markets, etc. will remain closed."
Section 144 in Bokaro
Chas subdivisional officer Shashi Prakash Singh on Wednesday imposed Section 144 in urban and rural areas of Bokaro to ensure complete lockdown amid the Covid-19 pandemic till August 31.
The gathering of five or more persons is banned under the guidelines. Strict action will be taken against those found on the road without valid reason or if they are not wearing masks.
Timely salaries for doctors, healthcare staffers
Dhanbad deputy commissioner Uma Shankar Singh on Wednesday instructed civil surgeon Dr Gopal Das and others, including Patliputra Medical College and Hospital superintendent Dr Arun Kumar Chaudhary and principal Dr Shaildendra Kumar to ensure regular payment of salary and wages to all doctors and other health workers deputed on Covid-19 duty.
The officials have been asked to ensure payment of salaries to doctors and other staffers within the first week of every month.
Four guest houses acquired to accommodate doctors
The Dhanbad district administration on Wednesday took over four government guest houses to accommodate doctors fighting the Covid-19 pandemic.
Dhanbad deputy commissioner Uma Shankar Singh said there had been an increase in the number of doctors treating Covid-19 patients as the case count has risen. "It was, therefore, imperative to make housing arrangements for them."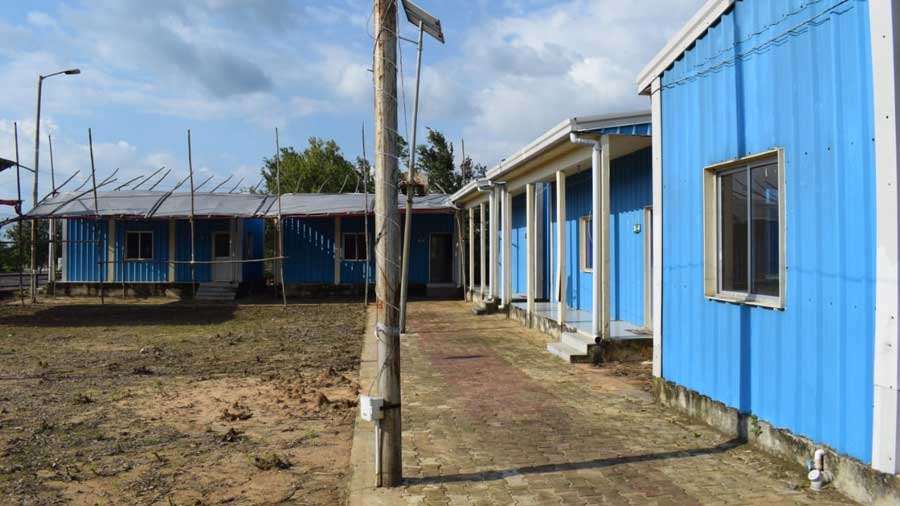 The structure in Bokaro Telegraph picture
New Covid care centre
The Bokaro district administration has sought permission from the state tourism department to convert a pre-fabricated structure at Mirdha in Chandankyari block at the Jharkhand-Bengal border into a Covid-19 care centre for asymptomatic patients.
The structure was developed on land belonging to the tourism department on the outskirts of the city.
Patients staying at the facility can choose to live in the dormitory or a suite. They will be provided a healthy balanced diet. Apart from TV, carom, ludo and other forms of recreation will be available to them.
In view of the rising number of coronavirus cases, the district administration has come up with a plan to develop paid isolation centres under the private-public partnership (PPP) model.
On Wednesday, deputy commissioner Rajesh Singh, additional collector Vijay Gupta, Chas subdivisional officer Shashi Prakash Singh, civil surgeon A.K. Pathak and top officials inspected the spot.
"The structure will be a 20-bed isolation care centre," said the deputy commissioner.
There is a rising demand for private isolation or quarantine centres in the district.
The district administration has already declared Zaika Resort situated close to the spot an isolation centre.
The resort has eight deluxe rooms. Asymptomatic patients are being charged Rs 4,500 a day for a deluxe room.
The resort is the only paid isolation centre in the district.
Two caught over ATM thefts
Two persons have been arrested in Palamau in connection with several ATM thefts.
Munna Kumar, from Nalanda in Bihar, and Shyam Ram, from Palamau, are returnees from Delhi where they worked as labourers.
The duo are accused of duping ATM card holders at several places in Bihar but they remained scot-free. However, their luck ran out after they allegedly duped Janeshwar Mehta in Palamau's Hussainabad of Rs 28,000.
Police found eight ATM cards, two cell phones and Rs 3,070 in cash, among other articles, on the duo.
They were remanded in judicial custody on Wednesday.