Hatia dam: water rationing to end from Wednesday
Recent rainfall has caused the water level to rise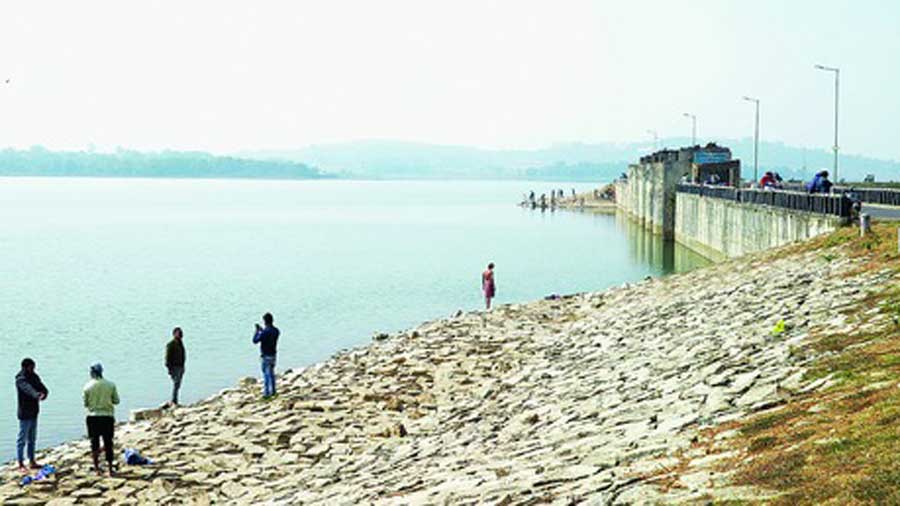 The Hatia dam reservoir
File picture
---
Ranchi
|
Published 22.09.20, 10:34 PM
|
---
Over two lakh residents dependent on the Hatia dam for water supply for domestic use can heave a sigh of relief as the authorities have decided to end water rationing effective from Wednesday. 
Residents living in Hatia, Dhurwa, parts of Doranda, Hinoo and other localities in and around the dam's catchment area were forced to avail water supply only five days a week since April due to a fall in the reservior's water level. There was no supply on Mondays and Thursdays.
Suresh Prasad, executive engineer of the water supply department and in charge of Hatia dam, said the recent rains have improved the water level in the dam. "The dam's water level is currently over 28ft, far above the danger mark. On an average, we supply 10 million gallons of water daily. So by that rate, we now have water till July 2021. Hence, we have decided to end water rationing from Wednesday," he said. 
The dam's water levels plunged to an alarming 4ft against its total storage capacity of 39ft towards the end of July in the middle of this year's monsoon, triggering panic among officials. State water resources minister Mithilesh Thakur too had visited the dam to take stock of the situation while forming a special team to probe why the Hatia dam was drying up. The department also began working on sourcing water from the Rukka dam to feed parched areas under Hatia dam's command areas.
However, subsequent rains since then have led to an increase in the dam's water level, giving some respite to the officials. An official of the Hatia dam said the reservoir needs to be further deepened by clearing its silt in order to revive its underground water recharging capacity. "Additionally, there is a need to explore alternative options for supplying water by identifying new reservoirs to feed the entire Ranchi district which is expanding both in terms of population and size," he said.