Grilles off, grilling time for traffic
Jusco said the grilles would be re-installed soon, chaos rules the stretch for the time being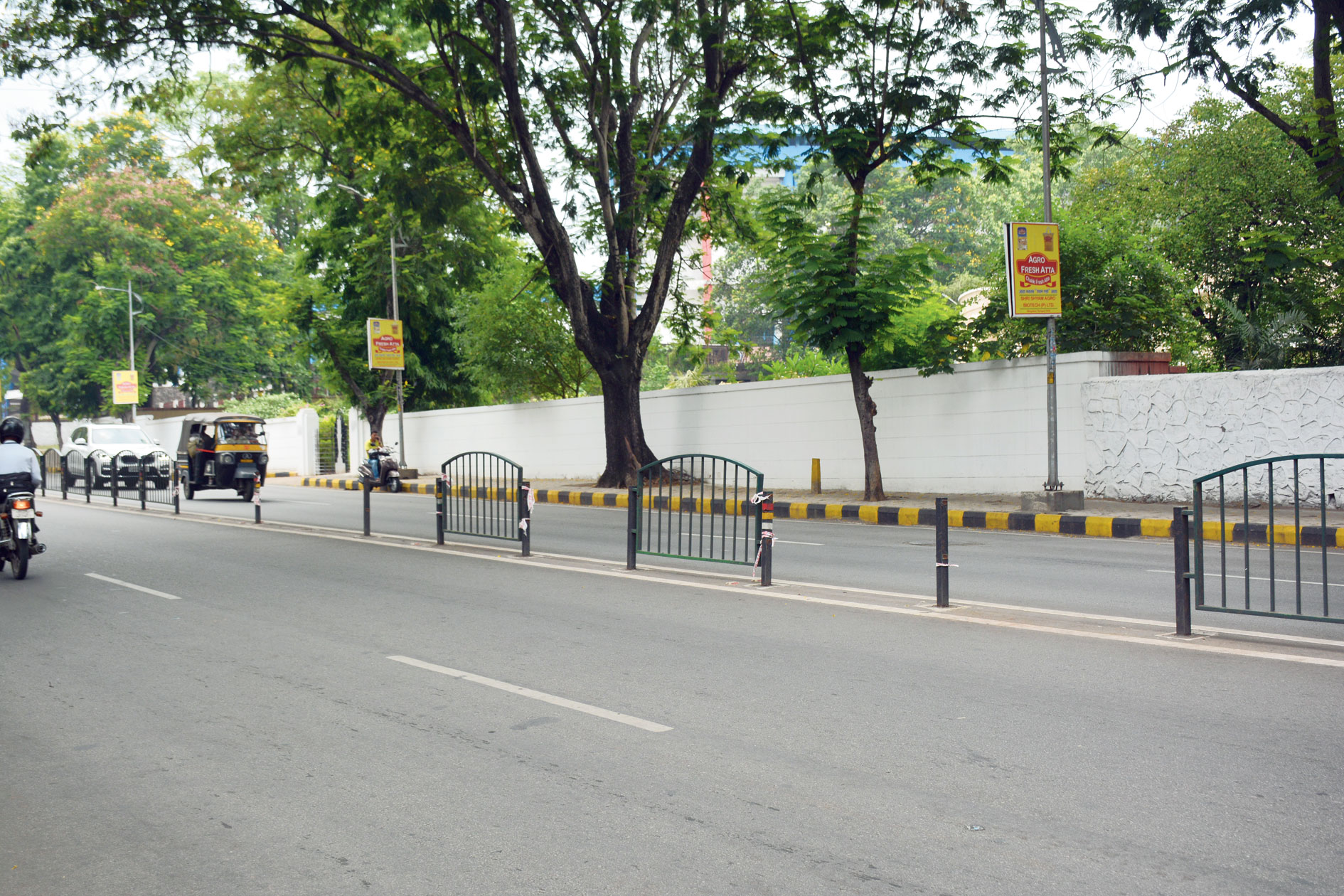 Missing iron grilles near Baug-E-Jamsheed in Jamshedpur on Saturday.
Picture by Bhola Prasad
---
Jamshedpur
|
Published 25.05.19, 06:57 PM
|
---
Road dividers on five points on the Straight Mile Road stretch linking Baug-E-Jamsheed in Sakchi with Keenan Stadium in Northern Town have been temporary removed by civic body Jusco, making it easy for bikers to take short-cuts on the four-lane and run the risk of mishaps.
Three-feet-high iron grilles in gentle arches have been removed for maintenance some 10 days ago along the 100m stretch on Straight Mile Road from Keenan Stadium to Baug-E-Jamsheed roundabout.
Though Jusco told this paper the grilles would be re-installed soon, chaos rules the stretch for the time being.
Over 30,000 vehicles ply on the stretch daily, which doubles on Sundays, especially when sports events are held at JRD Tata Sports Complex, close to Keenan. The stretch assumes significance not only as an approach road to stadiums, but also to Sacred Heart Convent, Loyola School, Church School Beldih, the Tata Main Hospital, I-T office and others.
Iron railings on 800m stretch of Straight Mile Road from Baug-E-Jamsheed roundabout to Jusco roundabout were installed in 2017, painted green with reflective tapes to enforce one-way traffic. They also gave an elegant touch to the longest thoroughfare inside the city, from Baridih and ends at Kadma, cutting Sidhgora, Agrico, Bhalubasa, Kasidih, Sakchi and Bistupur.
Soumen Chakraborty, a retired Tata Steel employee and a resident of Bhalubasa, said he felt the absence of the dividers keenly on Friday evening. "I was going to Tata Main Hospital from Sakchi-end in my car when a biker suddenly came within touching distance from the opposite end taking advantage of the gap in the central verge. Luckily, I was driving slowly," he said, adding rash bikers and cyclists took advantage of the gaps.
Agreed Atanu Mukherjee, an official in a Sakchi-based MNC, whose bike on Saturday narrowly avoided a collision with a cyclist taking a short-cut. "I just dropped my daughter at the summer camp at JRD Tata Sports Complex in the morning when a cyclist almost dashed against my bike."
Jusco senior general manager (Jamshedpur town operations) Dhananjay Mishra promised to install the road dividers at the earliest. "They had developed defects in alignment. We will get them installed in a day or two."