Gomoh: Residents recall Netaji's journey
Mahanishkraman Divas is commemorated every year with touch of nostalgia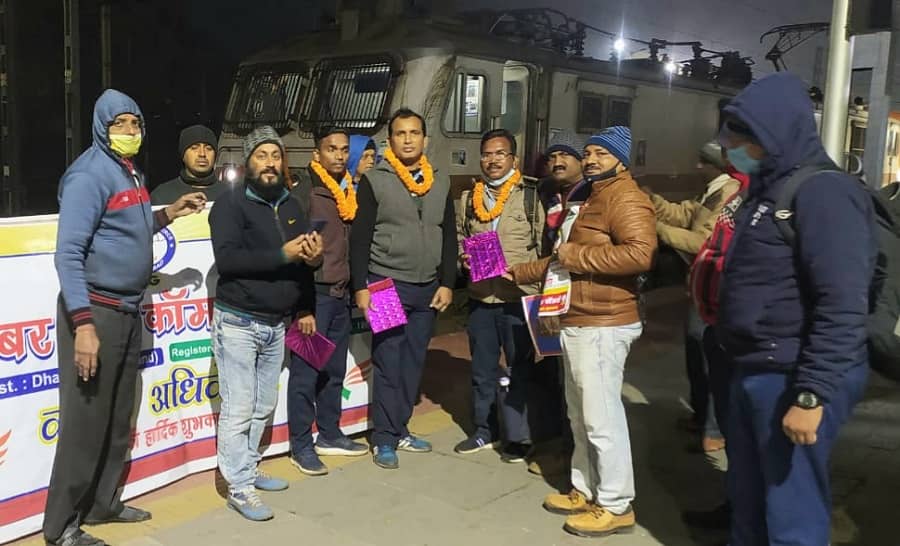 Residents of Gomoh during the occasion of Mahanishkraman Divas
Shabbir Hussain
---
Dhanbad
|
Published 18.01.22, 09:19 PM
|
---
It was a befitting tribute to people who are now part of folklore.
On Tuesday midnight when the rest of the world was in deep slumber, a group of residents of Rail town Gomoh with garlands in their hands felicitated the crew members of Netaji Express (12311) besides the station master to mark the historic Mahanishkraman Divas that comemorates Netaji Subhas Chandra Bose exit from British India. .
The local residents led by Dhiraj Kumar, President of Chamber of Commerce and Industry who reached the station last night holding posters with information related to Bose's stay in Dhanbad also stuck the posters on different bogeys of the train.
The group of social workers, members of Gomoh chamber of commerce and other local residents also shouted slogans like, "Subhash Chandra Bose Amar Rahen."
Talking to The Telegraph Online on Tuesday, Dhiraj Kumar said, "Though the scheduled arrival of the train is at 2.19 am and the departure is at around 2.24 am fortunately it arrived last night at around 2.15 am around five minutes before providing us enough time to felicitatate MK Iqbal, driver; K Lugun, Assistant driver; ML Paswan and DK Paswan, two guards and  Madhu Tiyu, station." 
"We are organising the function for the last several years as we want to keep the memories alive when Subhash Chandra Bose boarded the train here for his journey outside the country" said Kumar.
Notably Gomoh station situated under the Dhanbad division of East Central Railway was renamed on January 23, 2009 in Netaji's honour and his journey from Gomoh station out of the British Empire on the night of 17/18, 1941 through Kalka Mail now known as Netaji Express.
Coal town old timer, Partha Sengupta a private tutor of Jorapokhar Area said that Bose was a frequent visitor to Dhanbad before embarking on his last journey from Gomoh. He stayed a full long day at my house in Jorapokhar, Milan Kutir on January 17, 1941 as his grandfather, Late Satya Bimal Sengupta, a trade union leader who was close to him and established East India Workers Union, a coal workers union in 1930 under the patronage of Bose."
"During his trip to Dhanbad in 1941 which began on January 16, 1941 Bose also visited several places of Dhanbad including Barari Coke under Putki Police station of Dhanbad where his nephew, Late Ashok Bose used to work as a chemist in Barari Coke Plant," said Sengupta.