Free helmet facility at petrol pump in Dhanbad
Two-wheeler riders who forget to carry helmets can borrow them from the helmet junction for free and return them within 24 hours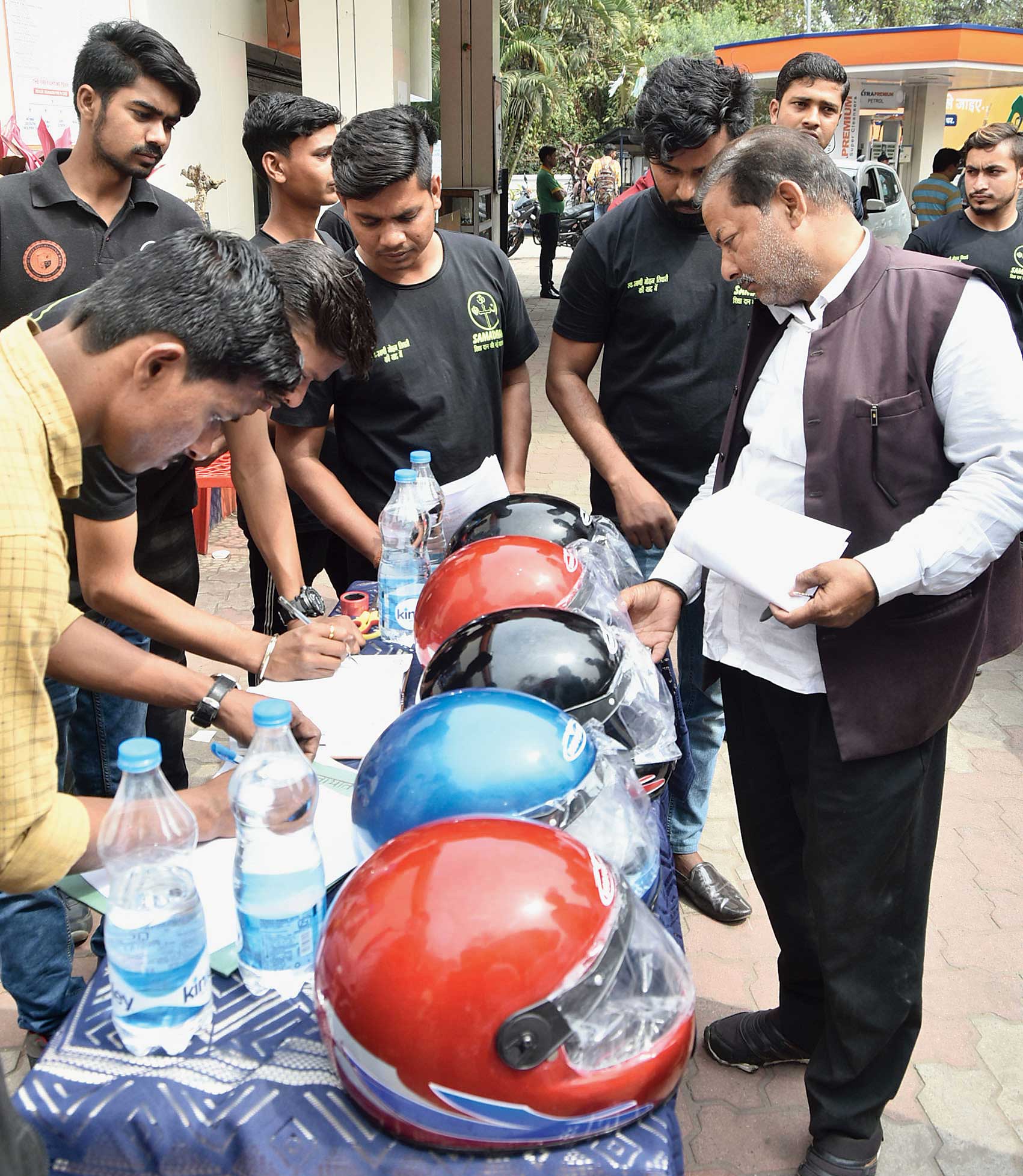 A biker checks out helmets at Green View Petrol Pump in Dhanbad on Monday.
Picture by Gautam Dey
---
Dhanbad
|
Published 24.02.20, 07:10 PM
|
---
Samadhan, a Jharia-based youth organisation, on Monday launched a "helmet junction" at Green View Petrol Pump here to help bike riders.
Two-wheeler riders who forget to carry helmets can borrow them from the helmet junction for free and return them within 24 hours.
At the junction, photographs of the number plates of bikes will be taken for record when someone borrows a helmet.
Dhanbad (rural) superintendent of police (SP) Amit Renu, who was present at the launch of the helmet junction as the chief guest, said: "Road accidents because of violation of traffic rules are on the rise. Such a step will be helpful for two-wheeler riders who forget to carry their helmets with them. It is a very good initiative and we as policemen would like to appeal to the people to obey traffic rules for their own safety."
Chandan Singh, founder of Samadhan, said the facility had been started with 16 helmets.
"We plan to roll out such facilities in 10 petrol pumps across the district," Singh added.
He said the move would not only help bikers who forget their helmets, but also help to create road safety awareness among the people.
"In the second phase of our drive, we will take Rs 10 per day from the borrowers and deploy some unemployed youths at the helmet junction. The money collected from the borrowers, will help us pay them," Singh said.
He said the benefit of the facility could be gauged from the fact that nine helmetless two-wheeler riders availed themselves of the facility within one hour of its launch.