Four Palamu college students attend pre Republic Day Parade training at Agra
A total of 30 girls and boys from 8 universities of Jharkhand joined the preparation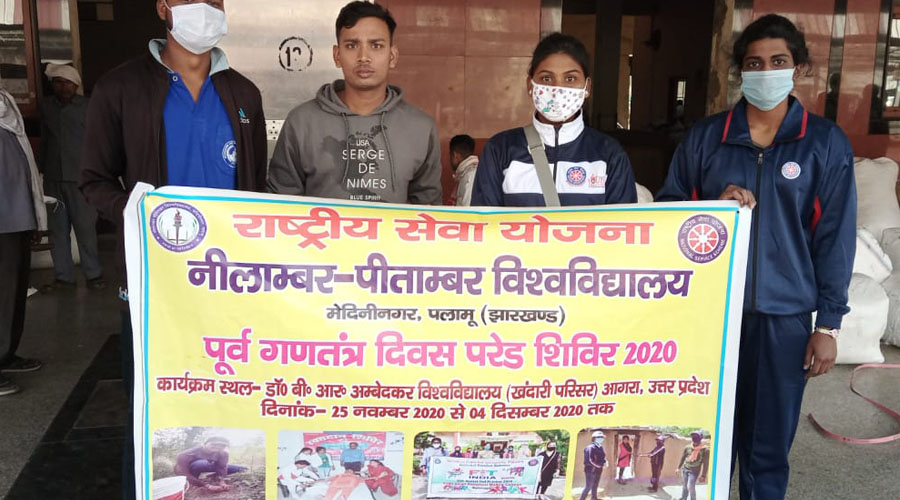 Contingent of the Nilamber-Pitamber University, Daltonganj posed before leaving for Agra.
Sourced by the correspondent
---
Daltonganj
|
Published 26.11.20, 10:29 PM
|
---
Four college girls and boys from Palamu went to Dr B R Ambedkar University, Khandari campus at Agra in Uttar Pradesh for the pre-Republic Day Parade training.
The two girls – Swati Kumari and Shewta Kumari – are from Yodh Singh Namdhari Mahila College, Daltonganj and A K Singh College, Japla respectively.
The program coordinator of the National Service Scheme of the Nilamber-Pitamber University whose four students have gone for the Pre Republic Day Parade at Agra, Dr. Vijay Kumar Prasad said pre-Republic Day Parade training has started from November 25 and will last till December 4.
Prasad said it is a big thing as parents of the four students especially the parents of the girls have shown great courage in sending their children to Agra during the pandemic.
Palamu is coming out of its age-old rudiments where girls are fighting for equal space. The two Palamu's college boys are Aniket Kumar and Ravi Ranjan.
Prasad also said a total of 30 college students from 8 universities of Jharkhand have gone to Agra.
State regional director of National Service Scheme, Patna Vinay Kumar, had written letters to the program coordinator of National Service Scheme of 8 state universities namely Ranchi University, Ranchi; VB University, Hazaribag; S K M University, Dumka; NPU, Daltonganj; Kolhan University, Chaibasa; B B Mahto University, Dhanbad and BIT Mesra to send a team of four students for the Pre Republic Day Parade at Agra.
The students have taken with them four masks and a pair of gloves besides black leather shoes and white shirts and pants. As Agra is a cold place students have also taken with them sufficient warm clothes.
Prasad said our team went to Varanasi by road, where they joined the Jharkhand contingent and then all went to Agra by train.
Ministry of Youth Affairs and Sports, Government of India conducts Pre Republic Day Parade in different regions of the country and converge in Delhi for the mega show on the Republic Day.