Four-lane commuters left in the dark
It's all dark from the point of Adityapur toll bridge crossing up to Gamharia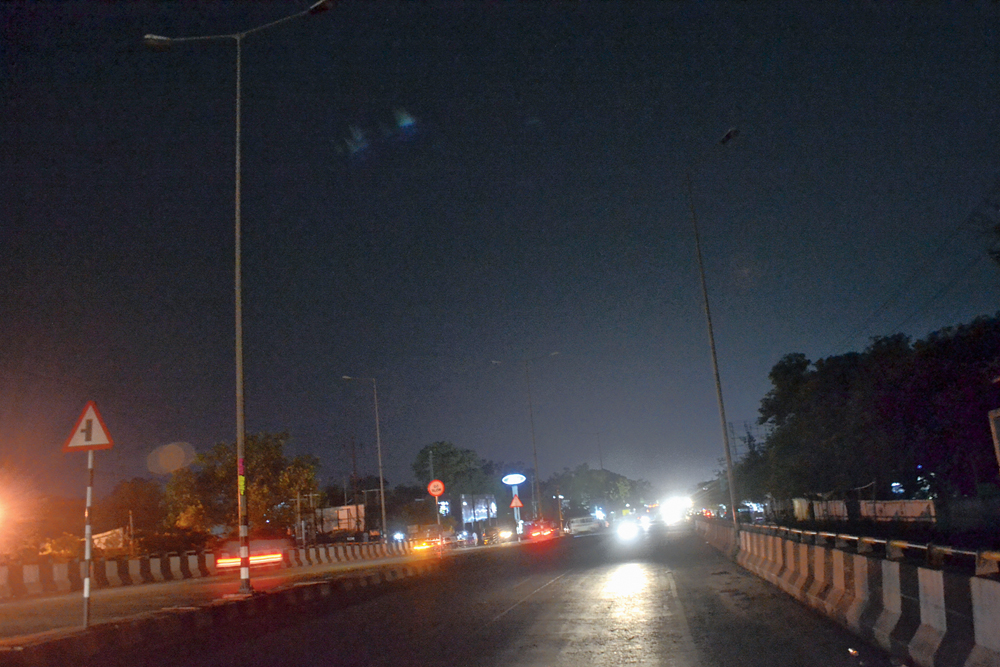 The dark stretch of the Tata-Kandra road on Tuesday
Picture by Animesh Sengupta
---
Jamshedpur
|
Published 23.07.19, 06:42 PM
|
---
Commuting through the four-lane Tata-Kandra Road after sundown is a risky affair as the 7km stretch under repair also does not have working streetlights.
Darkness prevails from the point of Adityapur toll bridge crossing in Adityapur up to TGS Company in Gamharia.
Over 1,000 trucks, trailers and other heavy vehicles cross the road daily. Though cars and SUVs drivers somehow manage to negotiate through trucks on the dark stretch, two-wheeler riders think it is suicidal.
"I can commute on Tata-Kandra Road during the day but cannot think of venturing there after sunset. The road is rocky due to repairs, streetlights don't work and headlights of bigger vehicles are blinding," said Piyush Gupta, 32, a confectionary trader of Adityapur.
Another commuter, Kadma resident Satyabrat Chaudhury, 38, who works in an industrial unit in Gamharia, was injured last week when his bike skidded off the road. "I had night shift and believe me I was very careful. But last Thursday night, when I the headlights of a heavy vehicle blinded my eyes and I skidded. I landed up with a fracture on my left leg. It could have been worse," he said.
Many commuters like Gupta and Chaudhury either avoid the stretch or are compelled to use the risky road at night. But no hope of streetlights or of early repair seems to be in sight.
Construction agency Jharkhand Accelerated Road Development Company Ltd (JARDCL), which had built the 15km Tata-Kandra four-lane in 2012, had started repairs in April 2018 but left the stretch unfinished. The company management had claimed they would finish work before December 2018, but repairs so far have not even reached the half-way mark yet.
The four-lane freeway linking Adityapur industrial area to Jamshedpur was the project of road construction department's Seraikela division, routed through construction agency JARDCL. As per an agreement between the department and JARDCL, the latter must maintain the road for 15 years and every five years relay the top layer of the road.
Road construction department (Seraikela division) executive engineer Nirmal Kumar Singh admitted that ongoing repair work on Tata-Kandra Road was very slow.
"We are aware of people's problems, including the unlit streetlights and slow pace of repairs. We will mount pressure on the JARDCL management to repair streetlights so that commuters don't have to ride through the dark," Singh said.