Forest officials reunite elephant calf with its herd in Palamau Tiger Reserve
It took 30 hours to get the eight-year-old reunited after his retrieval from the well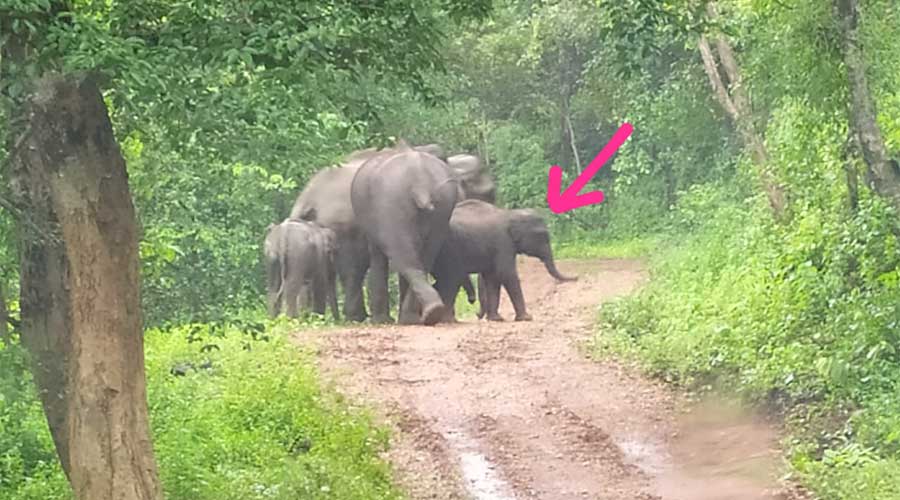 The male elephant calf rescued and reunited in the herd.
Telegraph Picture
---
Daltonganj
|
Published 17.10.21, 02:47 PM
|
---
An eight-year-old male elephant calf was reunited with his mother on Saturday after four days of separation in the jungle of Morwai under the Chhipadohar west range of the Palamau Tiger Reserve.
The calf had fallen in a village well on Ashtami which went unnoticed by the herd of the elephants. The villagers discovered the calf on Navami and rescued it with the help of saal tree poles.
The well was 15 feet deep and three kilometres away from the hot water spring Tat Ha.
Deputy director-north division of Palamau Tiger Reserve Kumar Ashish said, "We had succeeded in retrieving the elephant from the well but it was not the end of our job."
"Our job was still too enormous. It was to reunite him with his herd," added Ashish.
The elephant calf was fatigued and looked emotionally broken as he was away from his mother for huge long hours. The rescued male calf was crying for his mother.
"As the calf moved in search of his mother, our team of 8 personnel led by forester in-charge Akhilesh Kumar and forest guard Mukesh Yadav and 6 trackers followed it," said Ashish.
The calf called out while moving but for most of the time his trumpet went unanswered.
"It was in the jungle of Morwai that his trumpet was answered and we knew his mother was around. We found the herd of six elephants – three males, two females and one calf. The calf ran towards the herd and got beneath the legs of his mother," stated Ashish.
Ashish said the herd of elephants behaved like any human family. Every six of them touched the calf in sheer affection. Some touched the upper part of the body. Some his trunk. Some his tail. It was all to reassure the calf belongs to this herd only.
Ashish said it took 30 hours to get the calf reunited with the herd after his retrieval from the well.
Our forester in charge, forest guard and trackers slept for only two to three hours for three nights just to keep a watch on this calf, he said.