Eureka, Jharkhand teen inventors amaze all
Four of 10 top student innovators in state from one school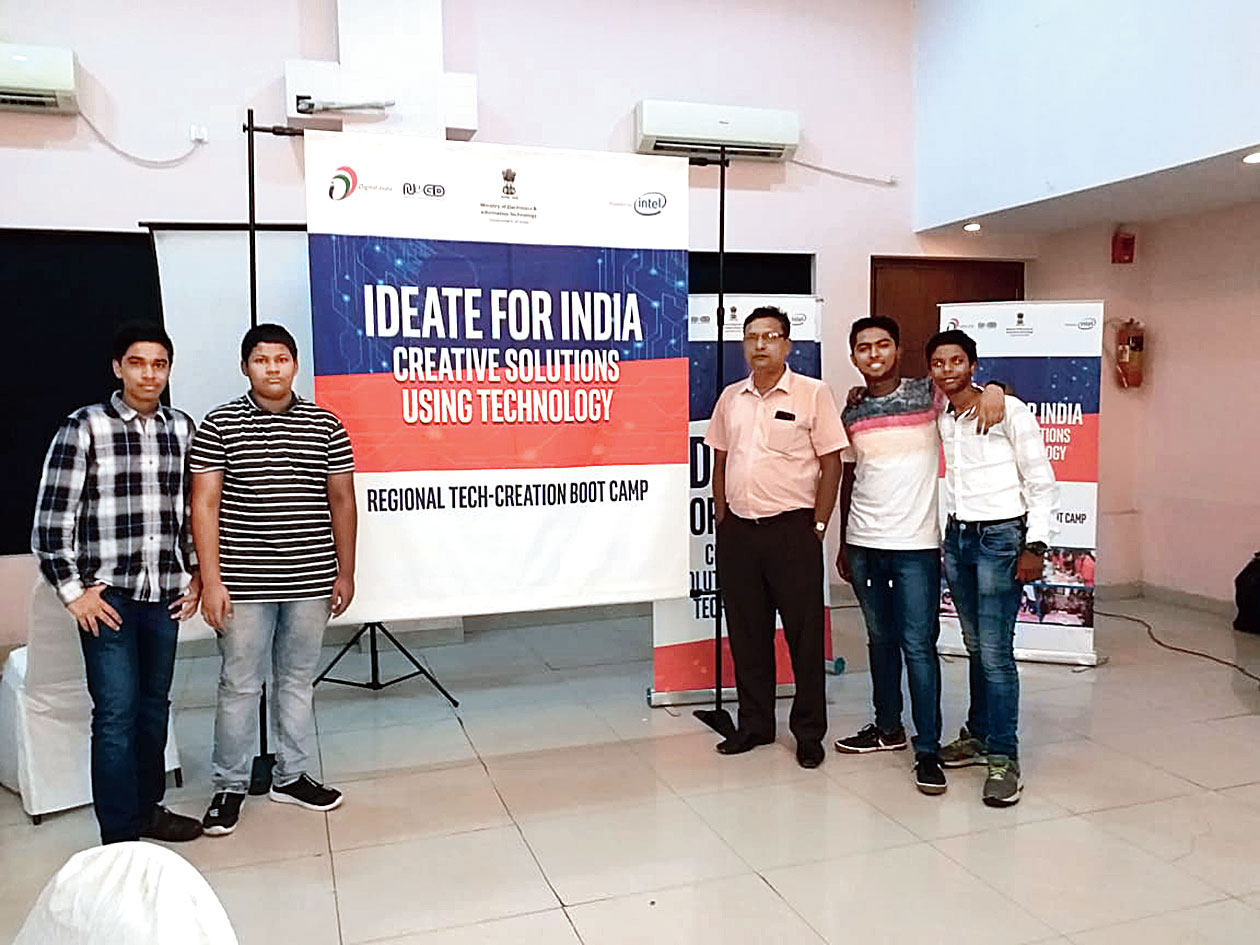 (From left) Aditya, Subhigya, their teacher Hirak Biswas, Priyansh and Kaustav at the Calcutta boot camp earlier this week.
Telegraph picture
---
Jamshedpur
|
Published 11.07.19, 07:25 PM
|
---
One school, four brilliant inventors who made the state proud with their out-of-the-box solutions to make lives of people, from miners and bike owners to the elderly and policemen, easier.
Four students of DBMS English School in Kadma — Subhigya Priyansh and Priyansh Panchal from Class IX and Aditya Khemka and Kaustav Malik from Class X — innovated technologies and made prototypes of their gadgets at their school's Atal Tinkering Lab that were selected among Jharkhand's 10 best ideas in a national contest.
These four were sent to a four-day workshop in Calcutta, the Regional Tech-Creation Boot Camp for the East Zone, between July 5 and 8, as a part of Ideate for India - Creative Solutions Using Technology, jointly under the aegis of national e-governance division of the ministry of electronics and information technology and Intel India. The challenge was open to students from Classes VI to XII across the country to give them a platform and an opportunity to become solution creators for problems they see around them.
Ten best ideas from each state were selected for the regional boot camp.
Atal Tinkering Laboratory instructor of DBMS English School, Hirak Biswas, said the whole school was thrilled that their four students were among the 10 best student innovators from Jharkhand.
"What can I say, it's a proud feeling," said Biswas, who accompanied the students to Calcutta. "Their solutions were analysed and their prototypes polished. We will know soon if any make it to the national camp. But all four have come up with ideas that are extremely original and helpful to society."
Asked about them, Biswas said Subhigya Priyansh designed a project on human nerve impulse energy which converted mechanical energy from the human pulse to electrical energy to charge any electronic device.
Priyansh designed a small GPS-fitted drone camera that can reach hard-to-reach places especially for the police to help them in fighting crime.
Aditya designed a doorbell especially for the elderly or disabled who typically takes some time to answer the door, whereby the remote-controlled bell can send a message on a LCD screen outside the door for the person waiting.
Kaustav invented two solutions, a 'fingerprint key', whereby a person can use his or her fingerprint to start the ignition of his or her motorcycle and prevent bike theft, and a methane-and-carbon-dioxide sensor in mine areas to alert people about the toxic gases.
Back in Jamshedpur, students said the Calcutta boot camp was extremely rewarding.
On why a small drone camera for the police, Priyansh displayed great maturity for a Class IX student. "Police forces are short-staffed everywhere in our country, so I wanted to help them fight crime," smiled the student.