Electrification work on key rail link with Odisha begins
Once complete, MEMU trains will run on Tatanagar-Badampahar section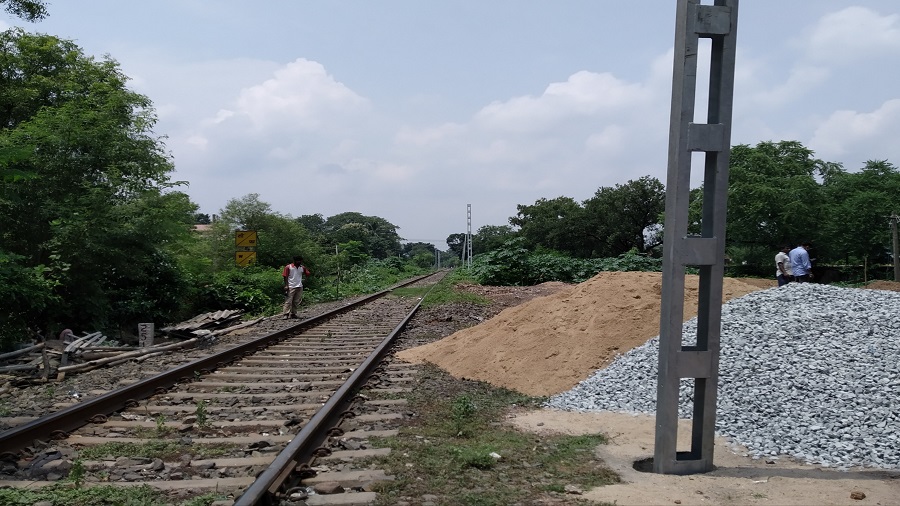 ---
---
Electrification work of the Tata-Badampahar railway section under the Chakradharpur railway division of South Eastern Railway (SER) has begun in right earnest.
The electrification work of the route that connects Jharkhand with Odisha began last month. Once done, it will not only help introduce MEMU (Mainline Electric Multiple Unit) passenger trains, but also help improve speed of trains moving in that section.
The survey work of the ambitious project took about a year and was completed in December last year.
Railway officials of Chakradharpur division said the electrification work of the nearly 89km route between Tatanagar and Badampahar got delayed because of the Covid pandemic. "The work of installing poles for drawing overhead lines has begun. We are expecting the project to completed in another year, " said Tatanagar station director H.K. Balmuchu.
He said over Rs 75 crore would be spent in the project.
Currently, the lone passenger train that plies between the two places is the Tata-Badampahar DEMU (Diesel Electric Multiple Unit) Passenger. A few goods trains also operate on the route.
The Tata-Badampahar section assumes significance as Gorumahisani, which is famous for iron-ore mines, is on that section. Gorumahisani is the first iron-ore mine developed in India in 1910. Later, the mine was leased to Tata Steel. It is also considered as the mother mines for the steel major.
Apart from historical importance, the place also has commercial value.
Tatanagar station director, Balmuchu said electrification would help in augmenting speed of trains to 100kmph and above. Currently, the lone passenger train and the goods train run at an average speed of 50-60kmph on that section.
Welcoming the electrification work, Arun Tiwari, a senior functionary of Chhotanagpur Passenger Association, said, "Apart from improving rail connectivity it will also ensure better economic development of the area."