Eco-restoration done as BCCL inaugurates park in Katras
Children's playground and over 14,000 fruit trees, 20,000 ornamental and medicinal plants part of the project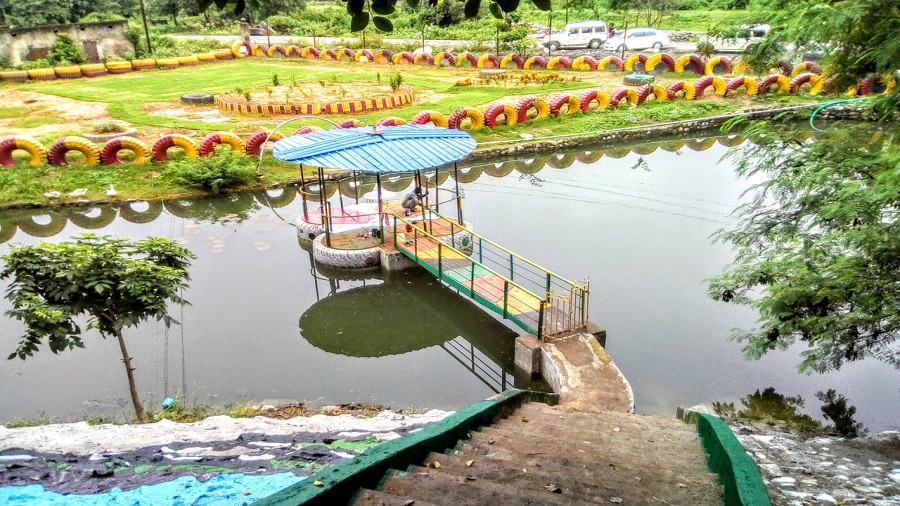 ---
|
Dhanbad
|
Published 23.07.20, 08:36 PM
---
The Bharat Coking Coal Limited (BCCL) in Katras converted a mountain of rock, earth, soil and sand, into a park studded with a wide variety of flowering, fruit, and ornamental plants, which was inaugurated on Thursday.
The new Parasnath Park, situated on 4.5 acres of land in Ramkanali, was inaugurated online by the union minister of home affairs Amit Shah along with union coal minister Prahlad Joshi, and Coal India Chairman, Pramod Agarwal as part of a nationwide plantation drive launched in New Delhi.
The area, which also has a children's park, was inaugurated along with 12 similar parks across the country.
The park has over 14,000 fruit plants and as many as 20,000 ornamental and medicinal plants.
An extension of the area, called Sneh Smriti Park was developed by BCCL to allow its officials as well as other residents to carry out the plantation in memory of their ancestors and loved ones who have passed on.
"Though a majority of work has been completed, a lot of lot work will continue in the future as we will be adding new facilities to park, and a larger number of local flora," said director technical (planning) of BCCL, Chanchal Goswami.
BCCL general manager of Katras, Jitendra Mallik said that the park, which was developed according the model of the Parasnath hill in Giridih, a Jain pilgrimage site, is akin to the Gokuldham in Dhanbad, which was also developed by the company in Lodna on around 17 hectares of land.
The area was a wasteland, and plantation began here in June 2015 under the leadership of then project officer, S Chatterjee.
A wide variety of trees like bamboo, mango, guava, sesame, bel, neem, and kachnar has been planted as part of the plantation project.
The park has been developed based on a three-layered model with the upper layer having a canopy-like structure, allowing visitors to have a view of the entire surrounding area from a higher altitude.
On the middle-level there is a children's playing arena, while on the lowest level, an intense plantation of large trees has been carried out.
Shah, during the inauguration, appealed to people not to forget our culture of respecting earth as our mother.