E-waste dump centre rolls
The first e-waste management centre of Jharkhand has started in Jamshedpur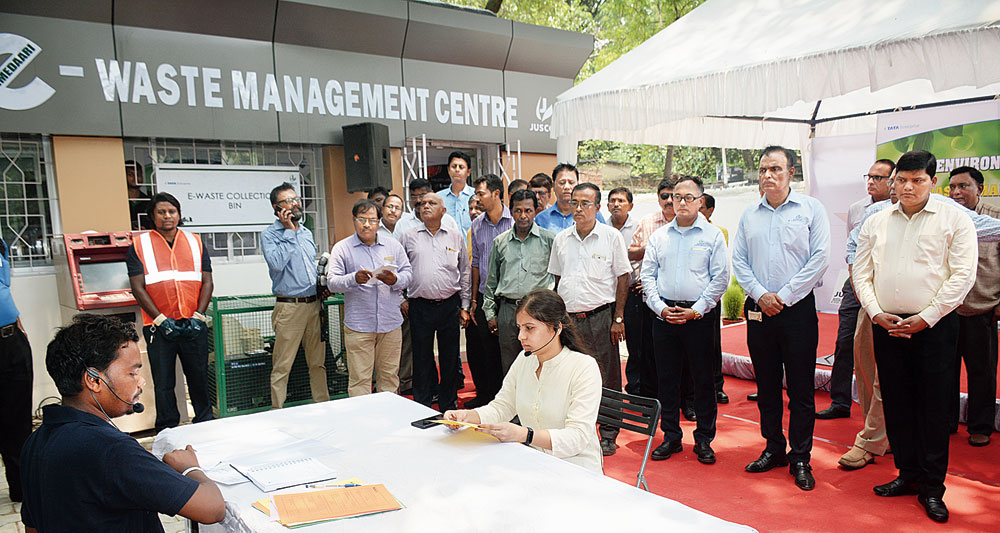 ---
---
Are you saddled with your old laptops and mobile phones just because you don't know how to dispose of them? Fret not; the first electronic waste (e-waste) management centre of the state has started in the city.
On World Environment Day, Tata Steel's civic utility arm, Jusco, in association with Calcutta-based Hulladek Recycling, inaugurated the e-waste centre on Birupa Road in Sakchi.
East Singhbhum DC Amit Kumar, Tata Steel vice-president (corporate services) Chanakya Chaudhary, Jusco managing director Tarun Daga and representatives of Hulladek were present on the occasion.
Electronic and electrical gadgets, if not disposed of in a scientific way, release hazardous and toxic substances such as lead, cadmium, chromium and nickel into the environment.
According to Hulladek Recycling, Jamshedpur generates about 1,500-2,000 metric tonnes of e-waste annually.
To deposit unused gadgets at the centre, one has to fill up a form. The centre will assess the value of the waste and transfer the money to the person's bank account. The entire process was explained through a short skit by Hulladek volunteers on Wednesday.
Apart from this, door-to-door collection of -e-waste will take place on Fridays, Saturdays and Sundays.
According to the rate chart, laptops, notebooks, cell phones and its spare parts will fetch Rs 78.80 per kg, including GST. Television sets will fetch Rs 15.80 per kg, and refrigerator and washing machines will fetch Rs 10.5 per kg.
The gadgets will be segregated and sent to Calcutta for processing, which includes extraction of metals.
Six people from Hulladek have been employed full-time at the Jamshedpur centre.
"Started in 2014, we have our centres in Guwahati, Agartala and Bhubaneshwar," said Hulladek Recycling CEO Nandan Mall.
"In Jamshedpur, we will have six employees to manage the centre. This is the first e-waste collection centre in Jharkhand," he added.
DC Kumar appreciated the initiative. "We have been trying to do our bit for the environment. I appreciate the collaboration between Jusco and Hulladek, which is also approved by the Central Pollution Control Board. This system will ensure disposal in an organised and scientific way. We will also extend our support in case anyone proposes to start a recycling unit," Kumar said.
He also planted a sapling and released a leaflet on e-waste management before flagging off the e-waste collection vehicles that will be roaming around the city.