Durga send-off with Covid protocol in Jharkhand
No Ravana effigies were burnt on Dussehra anywhere in state on Friday for the second year in a row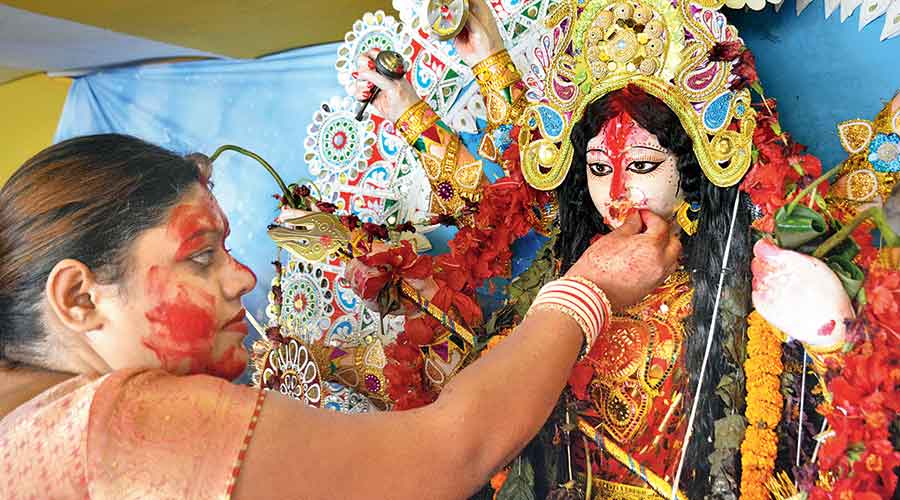 A woman devotee performs sindur khela ritual on Dashami at a pandal in Jamshedpur on Friday.
Bhola Prasad
---
Jamshedpur
|
Published 16.10.21, 03:31 AM
|
---
Immersion of Durga idols took place on Friday without elaborate processions in keeping with the Covid-19 protocols in Jharkhand.
Adhering to Covid guidelines, no Ravana effigies were burnt on Dussehra anywhere in Jharkhand on Friday for the second year in a row.
Organisers in Jamshedpur, which hosts the maximum number of Durga Puja pandals in the state, had immersed all the idols by 8pm except the state's tallest idol (26 feet) at Sonari.
"The tallest idol at Sonari could not be immersed in time as the idol got stuck in electric wires and had to be taken back over fear of the vehicle getting electrocuted. The idol was supposed to have been immersed at the Domuhani ghat on the bank of the Kharkai," said Rambabu Singh, patron of the Jamshedpur Kendriya Durga Puja Samiti, the apex body that coordinates Puja festivities in the city with the support of the district administration.
The East Singhbhum administration had given conditional permission to the Puja organisers at Rocky Maidan in Sonari for the 26-feet idol, making an exception to Jharkhand's Covid guideline that had capped the idol height at five feet, as the organisers had a religious vow.
There was no report of any untoward incident anywhere in the state during the immersion ceremony.
"The immersion ceremony passed off peacefully across Jharkhand. Elaborate security arrangements had been made at communally-sensitive pockets and also at immersion points along major ponds and river banks," said Jharkhand police spokesperson and IG (operations) A.V. Homkar.
In Jamshedpur, Dhanbad, Ranchi and other big cities, the administration had arranged local divers at all the river banks for any eventualities during the immersion
as most of the rivers are in spate following rains that continued till the first week of October.
Most of the Puja organisers did not undertake massive processions with tableaus and instead opted for traditional dhakis to keep crowds at bay.
There was no Ravan Dahan on Friday.
"This was the second year in succession that there has been no Ravan Dahan in Ranchi or in any other parts of Jharkhand following the government guidelines on Covid-19," said Munchun Rai, convener of Ranchi Zilla Durga Puja Samiti.