Dumka labourers stranded in Nepal cry out for help in video message
SoS message talks of 26 workers, many with Covid symptoms, lying cramped in a room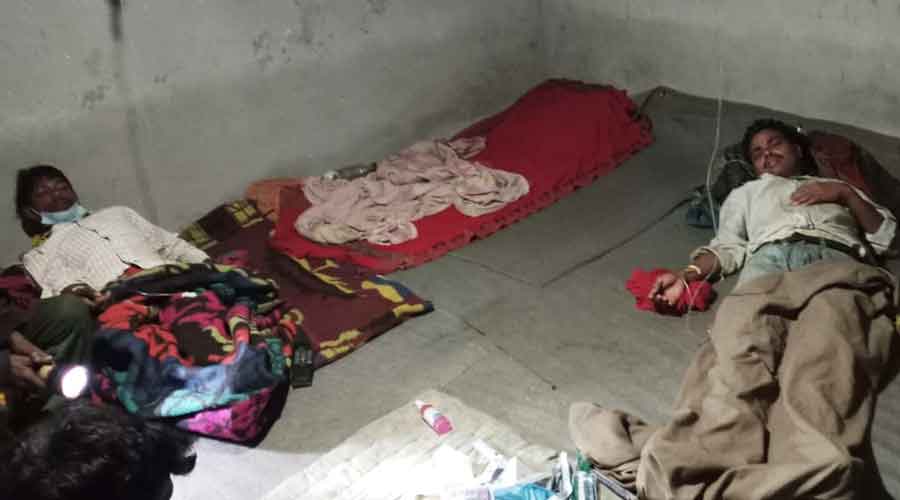 A few labourers taking saline drips while lying on the floor of their room.
The Telegraph picture sent via Whatsapp
---
Ranchi
|
Published 20.05.21, 08:41 PM
|
---
A group of 26 labourers from Dumka district of Jharkhand has sent an SoS from Nepal using a video message urging the Hemant Soren government to rescue them.
In the video, which went viral on social media on Thursday, one of the labourers is seen saying that many of his co-workers are down with Covid-19 like symptoms but aren't getting any help from the local administration. Nor is their local employer helping. he said they were short of money and that it seemed their employer had abandonded them.
 All the labourers, working in a hydro power project at Sindhupal district of Nepal, are between 25 and 40 and belong to villages of Ramgarh and Jama block in Dumka, a tribal dominated district of Santhal Pargana. They are holed up in a single room at Gauri village for many days without any assistance, for many weeks due to the Covid-19 induced lockdown in Nepal.
One of the labourers, Narayan Das of Ramgarh, told The Telegraph Online on Thursday evening that they had come to Nepal about two and-a- half months back to resume work. "But soon after coming here, a lockdown was imposed and we ran out of work. The contractor who employed us too isn't helping. Many of us have been down with fever and other ailments for the last few days. The nearest health centre is about 7km downhill from where we live," he said, appealing to the authorities back home to coordinate with the Nepal government and organise their return.
Notably, many of the workers who are stranded were rescued by the state government during the previous lockdown. But Das said that they had to return after their employer called them for work. "There wasn't enough work in our villages back home so we had to come back," he said.
Another labourer Shankar Mahto added, "Our contractor hadn't paid full money last year so we had to return to claim that and send to our families back home."
The labourers had first contacted Dumka social worker Sachidanand Soren on Wednesday night and sent him their video, after which it went viral.
Amalji, block development officer of Rampur, said he wasn't aware of stranded labourers from his district, but promised to look into it. "So far one family member of the labourers has contacted the district administration. We will try to find out more and take appropriate steps," he said.