Doctors to visit Covid patients in home isolation
A team of 24 experts formed in Ranchi to ensure those are ill get the right treatment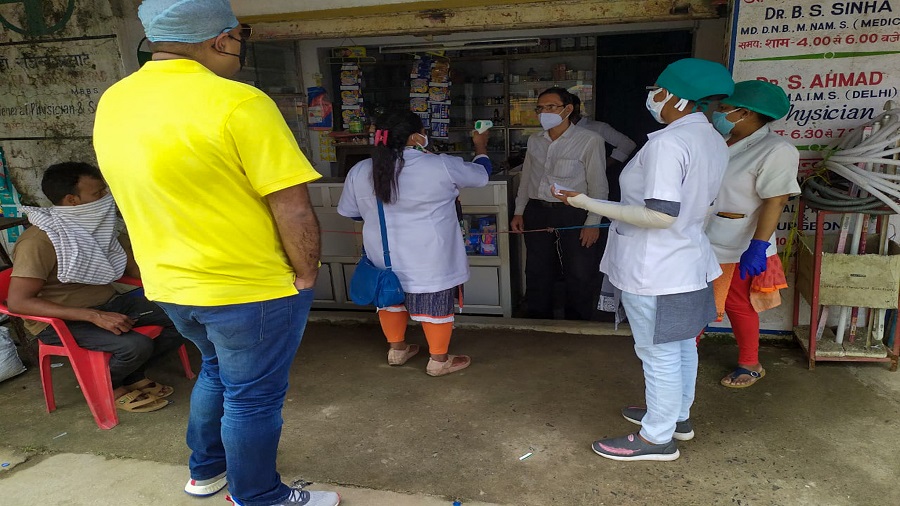 Health workers on a Covid testing drive in Ranchi on Thursday
Manob Chowdhury
---
Ranchi
|
Published 24.09.20, 06:34 PM
|
---
Covid-19 patients staying in home isolation in Ranchi will now be visited by a government doctor twice in 10 days to keep a tab on their health, officials from the district administration said on Thursday.
The district administration has constituted a dedicated team of 24 doctors for this purpose. These doctors, officials said, have been treating Covid-19 patients since the appearance of the virus in Jharkhand and have expertise in dealing with Covid cases.
"One of our 24 doctors will visit the house of a Covid patient, who decides to stay in home isolation, as soon as the person tests positive. The doctor will check the patient's condition and keep in touch with him/her over phone," said Ranchi Deputy Development Commissioner Ananya Mittal. "The same doctor will revisit the patient within the next 10 days and examine his or her condition," Mittal added.
The doctors, officials said, will also interact with patients over video calls and ensure timely admission to a hospital if he or she starts developing severe symptoms that cannot be treated at home.
As per government data, as many as 16,574 people have been infected by the novel coronavirus in Ranchi so far, and at least 3,491 of them were still battling the infection. In Ranchi, a majority of the patients were asymptomatic and staying in home isolation, officials said.
The district administration here has also started providing free of cost medical kits to Covid patients in home isolation in a bid to ensure that all such patients have access to necessary medications, including some anti-malarial drugs and a 1 per cent hypochlorite solution to clean floors. The patients, who do not have thermometers at home, are also provided with one by the district administration, the DDC said.
"All Covid patients may not be able to afford medication, so we decided to provide free medicines to them at home," said Mittal.
The state health department had earlier constituted a team for checking oxygen level in Covid patients staying in home isolation. This team is active in Ranchi, and visits patients, who do not have an oximeter at home.
Ranchi is among the worst-affected districts of Jharkhand in terms of Covid cases and fatality rate. As many as 102 people have died of Covid-19 in the district and some of them were initially in home isolation, officials said.