Diversity on display - Rotary Club releases heritage calendar
Read more below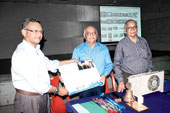 ---
---
The calendar being released at Beldih Club on Monday. Picture by Bhola Prasad
Heritage Calendar, released on Monday at Beldih Club, is a visual chronicle of the industrial city's secular credentials.
An effort by The Rotary Club of Jamshedpur, the calendar was released by N.G. Goswami, chief scientist and head (information management and dissemination centre) at National Metallurgical Laboratory (NML).
Each of the 500 calendars released costs Rs 200.
The freeze-frames — a montage of the secular fabric of the steel city — shows several holy places of different faiths across decades.
Apart from evocative photographs, the calendar has interesting facts about each.
While 108-year-old Nag Temple on Beldih Golf course reigns as the oldest in the calendar, Sri Sai Centre built in 2012 is the newest entry.
The other entries include St George's Church (built in 1914), Jama Masjid(1935) and the Fire temple (1960).
The cover of the calendar features snaps of Sakchi Gurudwara, Sakchi Durgabari and St Mary's Church in Bistupur, reinforcing the city's cosmopolitan credentials.
Mumbai documentary filmmaker Rajat Ghosh clicked pictures, helped by Siddharth Seshadri, a twelfth grader of Carmel Junior College.
"We started out by clicking random pictures. But, while capturing images of the Parsee fire temple, we were struck with the idea of making holy places as the theme of the calendar," Ghosh said.
Interestingly, the NML building has been included in the heritage sites as a tribute to Jawaharlal Nehru, who termed the laboratory "a temple of modern India" while inaugurating it in 1950.
The calendar has interesting nuggets. Few know Ratan Tata gifted Rs 10 lakh for construction of NML building and that the flame atop the fire temple was brought from Navsari, Gujarat, where Tata founder J.N. Tata was born.