Diversion collapses after heavy rain, cuts off Tandwa town
Geruwa river washes away key link for the third time in a month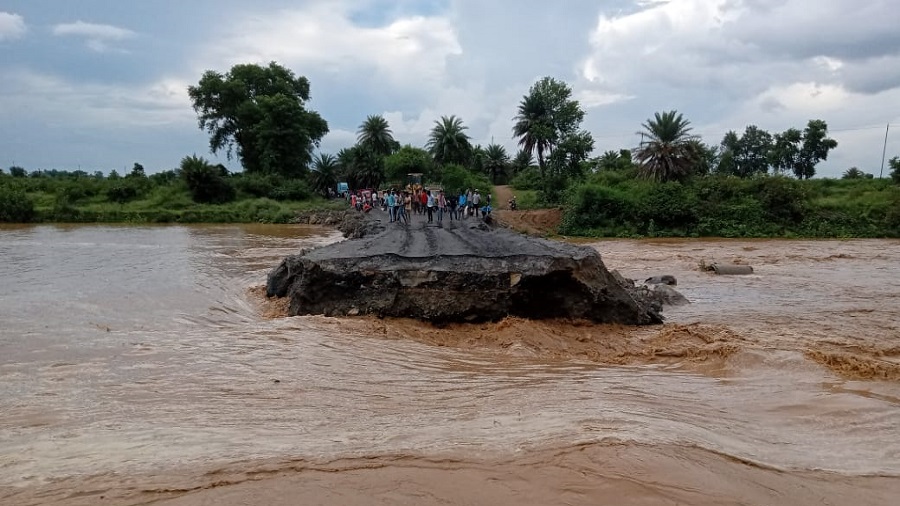 ---
---
A key diversion in Tandwa town of Chatra was washed away by the rising tide of the Geruwa river, in spate due to days of heavy rain, cutting off over 50 villages from the district headquarters for the third time in a month on Sunday.
Tandwa, 30km from Chatra district headquarters, is an industrial town where NTPC is constructing a power plant. It is also home to two CCL mines. A 25-year-old bridge which, as its only motorable link fit for heavy vehicles, collapsed on March 14, leaving the diversion as the only way villagers and light vehicles to reach the district headquarters.
Now, the diversion is no more.
The 200 feet-long, 50 feet-high bridge, built in 1995 to withstand a cumulative load of 50 tonne, was, however over-used to transport heavy machines and by
coal-laden trucks. This led to its collapse on March.14.
On Saturday evening, a few people who were on the diversion heard a rumbling sound, followed by severe vibrations. They were able to run to the side before the diversion collapsed. It was the third time that the diversion had failed villagers who accused the administration of turning a blind eye to substandard work.
The diversion was washed away for the first time on May 31 but was repaired on a war footing. But on June 7, it was washed away again.
There is another alternative route for nearby villagers. It is a narrow road, a detour of 8km via Shahid Chowk-Amrapali. But it is of little use to NTPC as only light vehicles can use the detour.
Simaria MLA Kishun Das, whose constituency covers Tandwa town, has sought a proper diversion to be built. He has also met chief minister Hemant Soren with his demand. But so far, nothing has come of it.
Block officials said tenders were floated to build a robust diversion but there was no bidder. They promised to do something soon.
Simaria SDO Deepu Kumar refuted the claim that Tandwa had become an island. "We have made Shahid chowk-Amprapali road motorable by constructing an approach road. Now, light vehicles are using it," he said, but admitted that heavy vehicles had stopped plying.