Diploma engineers protest for jobs in Dhanbad
Agitators meet chief inspector of mines to express safety concerns in coal sector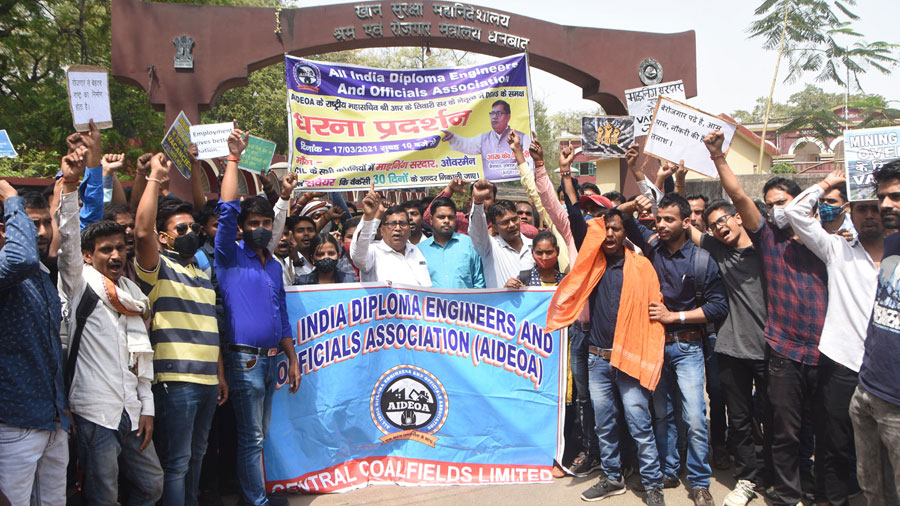 Diploma engineers demonstrate in front of the DGMS head office, in Dhanbad on Wednesday.
Gautam Dey
---
Dhanbad
|
Published 17.03.21, 04:15 PM
|
---
More than 400 diploma engineers from the across the country on Wednesday carried out a day-long demonstration at the headquarters of mines regulator, Directorate General of Mines Safety (DGMS) in Dhanbad today demanding jobs in various subsidiaries of Coal India Limited (CIL) and Singareni Collieries Company Limited (SCCL).
The agitators, who even underwent post diploma practical training but have been unemployed for several years, carried out the agitation under the banner of All India Diploma Engineers and Officials Association (AIDEOA).
They also held a meeting with chief inspector of mines of DGMS, Prabhat Kumar demanding him to put pressure on coal companies to carry out immediate recruitment on statutory post of mining sirdar, overman and surveyors, claiming the mines operation without required manpower on statutory posts may endanger the safety of mines.
Talking to The Telegraph Online, Dulal Mahto, a protestor who completed his mining diploma in 2015, underwent one year post diploma practical training and cleared the DGMS certification exams in 2017, said, "Several thousand diploma engineers from the across the country who have obtained DGMS certificates since 2017 are unemployed. We are compelled to carry out the protest today as the maximum age for recruitment may expire permanently for several candidates who will be deprived of the job."
"Our parents have invested their hard earned money on our education and training to see us succeed but they are also losing patience off late due to the lack of vacancy and appointment," Mahto, a native resident of Katras in Dhanbad, said.
"Even the coal companies are facing huge shortage of manpower on the statutory posts of Mines suveryor, overman and mining sirdars but instead of recruiting new persons to fill up the positions, they have been putting strenuous pressure on existing limited workforce," said an overman of a coal company requesting anonymity, adding that they are also participating in demonstration today along with job seekers to ensure the filling of vacancies. 
"We chose to carry out the protest at mines regulator DGMS office today because being the regulator, they are entrusted with the task of carrying out the risk assessment of mining activities of the coal companies" said the protestor.
The mines surveyors are entrusted with the task of making maps and plans of mines with accurate measurement and also to carry risk assessment and viability study of the potential mine sites. The mining overman coordinates and supervises the drilling and blasting work in mines within the budgeted cost while the mining sirdar assists the overman in supervising the drilling work.