Dhanbad youths practise yoga and aerobics on Chhath Ghat after cleanliness
Volunteers of Samadhan join efforts to save water bodies of Jharia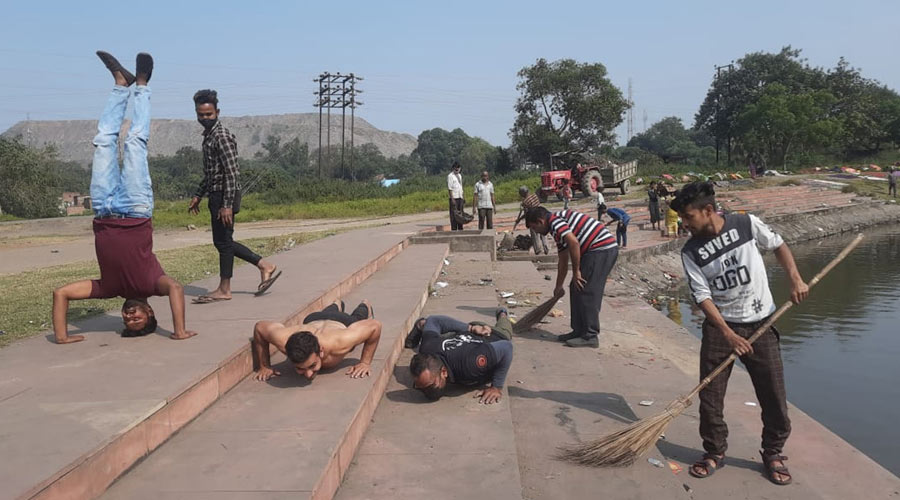 Volunteers of NGO "Samadhan" perform Yoga and Aerobics as they start Chhath ghat cleaning during their cleanliness awareness programme at Tejan Singh Talab in Jharia.
Picture by Gautam Dey
---
Dhanbad
|
Published 06.11.21, 08:03 PM
|
---
A group of youth, engaged in providing free of cost education to more than 2,000 students of the district who belong to the socially and economically backward section of society, practised yoga and aerobics at a pond in Jharia after carrying out the cleanliness of its ghat.
The drive at one of the biggest ponds – Tejan Singh Pond – has been carried out for more than four hours by 10 volunteers of Samadhan in association with a team of Dhanbad Municipal Corporation.
Talking to The Telegraph Online on Saturday, Chandan Singh, founder of Samadhan, said, "We started the drive on Saturday with the aim of inculcating the habit of maintaining round the year cleanliness of the water bodies so that there is no requirement for special drives during occasions like Chhath."
"We cleared the frames of idols of goddess Kali immersed in the pond yesterday as well as other puja paraphernalia dumped in the pond," said Singh and added that the plastic bottles, etc. have also been cleared.
"We also showed the local people the puja-related wastes taken out from the pond in order to show the fate of things they throw in the pond," said Singh and appealed to them not to dump at least the non-biodegradable materials in the pond.
Divulging into more details he said, "We will continue the drive till Chhath and our ladies team will be carrying the cleanliness drive at historic Raja Talab pond of Jharia followed by music and dance session on the pond ghat performed by them."
"The message is very clear that the stinking ponds which due to neglect round the year are treated as a most dreaded place to visit can serve as a place for cultural activity or yoga or exercise destination if proper cleanliness is maintained," said Ravindra Verma, another volunteer of Samadhan and added that every year they carry out the cleanliness drive in ponds after Diwali and ahead of Chhath to spread the same message among the common people.