Dhanbad residents face water crisis ahead of summer
More than 10 lakh people of Jharia and Katras are worst affected due to the shortage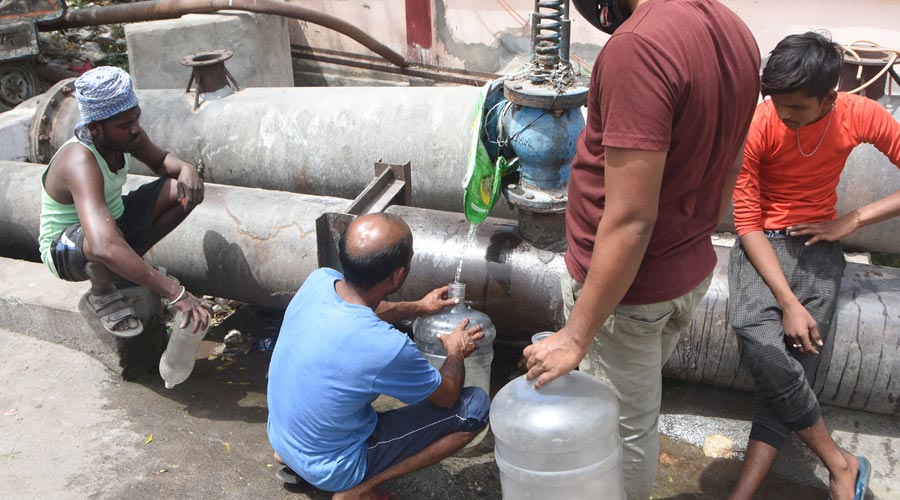 Residents of Dhanbad collecting water from a leakage water supply pipe in Dhanbad on Monday.
Pictures by Gautam Dey
---
Dhanbad
|
Published 21.03.22, 09:11 PM
|
---
Lack of pre-emptive steps to beef up water supply ahead of summer by plugging the loopholes in the existing water supply system has started affecting the residents of different localities of Dhanbad even before the onset of the peak summer season.
The worst affected are more than 10 lakh residents of Jharia and Katras, dependent on the river Damodar water supply by the oldest civic body of Dhanbad, Jharkhand Mineral Area Development Authority (JMADA).
In Jharia, the residents of some pockets like Baniahir, Koiri Bandh, Fatehpur, Poddar Para, Rajmata Colony have already started feeling the brunt of water shortage.
Similar is the situation in some parts of Katras including Maheshpur Colliery where the local residents deprived of water supply for the last five days carried out demonstrations in their locality today.
Talking to The Telegraph Online on Monday, Prem Bachchan Das, a resident of Baniahir locality said, "Water comes in the tap for less than 15-30 minutes in our locality twice or thrice in a week compelling us to bring water from the nearby pond." "Many people stay awake the whole night near the public water stand post (public tabs) waiting for water which is adversely affecting their effort to concentrate on earning a livelihood," charged Das and held the leakage in the main water supply pipelines of JMADA at several places including Upperkulhi, Baniahir, Horiladih, Bhaga, Jorapokhar and Digwadih as the reason for the lack of regular water supply in Jharia.
"Though at several places the leakages have been caused due to rusting of the old pipeline which was laid more than 50 years ago, at some other places the leakages have also been caused deliberately by local groups for collecting water for their own usage and as well as for selling water in the water-scarce locality at the rate of Rs 1 per litre," stated Das.
Raj Mali, another Jharia resident while raising the issue of lack of regular water supply in Jharia, said "The leakages in main water supply lead to low pressure in water supply pipeline and consequently water could not reach many of such localities which are situated on upland or localities situated on higher even at slightest higher altitudes."
Talking to The Telegraph Online, Indresh Shukla Executive engineer of JMADA said, "Several factors like lesser generation of filtered water compared to requirement, increased water usage and old water supply system turning inefficient are responsible for the water shortage" and added that they are working on multipronged strategy like interconnecting the water treatment of Dhanbad Municipal Corporation at Petia in Jamadoba for ensuring improved water supply.