Dhanbad Olympic Association president re-elected
3 new district sports associations, including hockey, table tennis and fencing, also granted affiliation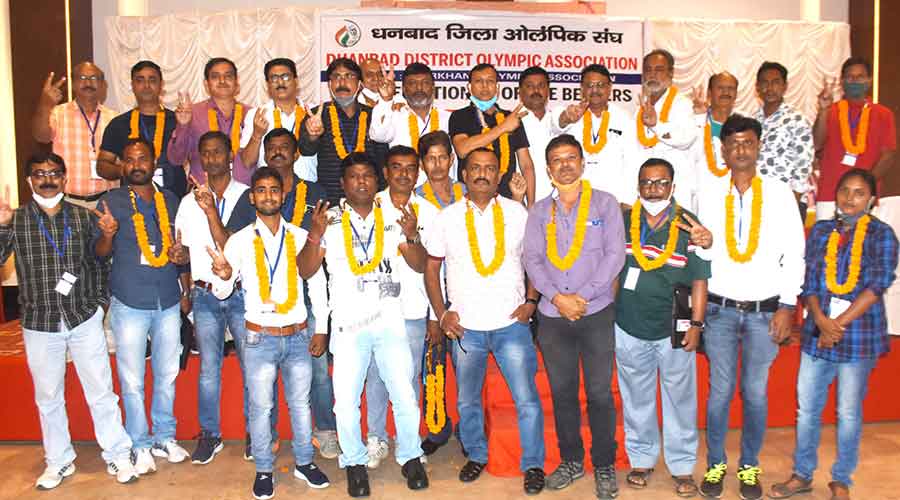 The newly elected office bearers of Dhanbad District Olympic Association on Sunday.
Gautam Dey
---
Dhanbad
|
Published 26.09.21, 09:05 PM
|
---
Syed Matloob Hashmi has been re-elected as president while Ranjeet Keshri was re-elected as General Secretary for a period of four years of Dhanbad District Olympic Association after the elections and Annual General Meeting held on Sunday.
The event was held at The Reet of Dhanbad during which three new district sports associations including, hockey association, Table Tennis and Fencing Associations were also granted affiliation.
Hashmi who is also the former general secretary of Jharkhand Olympic Association secured 36 votes out of 52 polled on Sunday defeated B.C. Thakur who secured 16 votes while Ranjeet Keshri also secured the same number of 36 votes against his opponent Asit Sahay who was polled 16 votes.
Elections were held through ballot on altogether 21 posts including one each of president, general secretary and treasurer; six posts of vice president; four posts of joint secretary; three posts each of senior Vice President and executive member and two posts of additional secretary.
Talking to Telegraph Online, Hashmi who is also the acting president of Jharkhand Olympic Association said, "Our priority during the next tenure is to reach to the remotest corner of the district to  bring out sporting talents with the help of our over 30 affiliated associations, including three which were granted affiliation today."
"We will be also concentrating on organizing the district Olympic Games regularly in order to provide a platform to talented players to showcase their talents and also to create a sporting environment in the district," said Hashmi.
"We organised a series of events during the first 2 ½ years of last tenure of DDOA but due to Covid constraints there was some break in series of events which will again resume under the new committee very soon," said Ranjit Keshri.
"In order to reach remote rural areas of the district we will try to hold the sports events in these areas," said Keshri and added that the elections were held peacefully under the observation of Bipin Kumar Singh of Jharkhand Olympic Association.
Meanwhile on three post of Vice President, Md Zubair Alam, Pramod Kumar Kapoor and Reza Ishtiyaz were elected while on six spots of Vice president, Madan Kumar Roy, Anupam Mahata, Santosh Kumar Singh, Kiran Rani Nayak, Kallol Samanta and Sunil Kumar Pattnaik were elected.
Pawan Kumar Burnwal was elected as Treasure of DDOA while Suraj Prakash Lal and Manoj Kumar Sharma were elected as two additional secretaries. On the three posts of executive members Kusum Mahto, Ranjeet Kumar Yadav and Shiv Kumar Mahto were elected while on the four posts of joint secretaries Pratush Kumar Rao, Pappu Kumar, Syed Wasim Hashmi and Pankaj Kumar were elected.